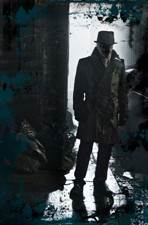 The "Watchmen" saga continues. The Associate Press has announced that 20th Century Fox plans on continuing their quest for a court order to delay the release of the film.

The law appears to be on the side of Fox at the moment. Last week, U.S. District Court Judge Gary Feess had agreed that Warner Bros. infringed upon Fox's copyrights by developing the film. Warner Bros. says that Fox doesn't have any entitlement to distribution of the film.

A trial will be held on January 20 to settle any remaining issues with the case.

The film is set currently set to open March 6th of this year.