Watchmen (2009)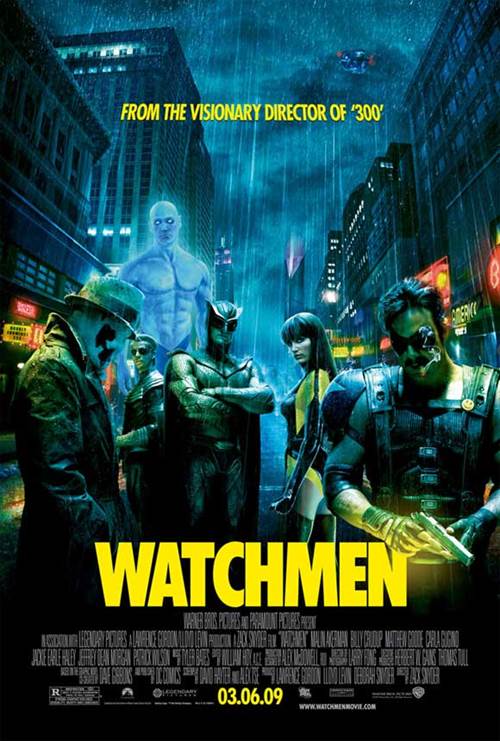 | | |
| --- | --- |
| Director: | |
| Cast: | |
| Released: | Friday, March 6, 2009 |
| Length: | 303 minutes |
| Studio: | Warner Bros. |
| Genre: | Sci-Fi/Fantasy, Action/Adventure |
| Rating: | Under 17 requires accompanying parent or adult guardian. |
Watchmen Synopsis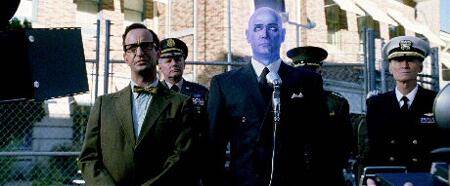 A complex, multi-layered mystery adventure, the film is set in an alternate 1985 America in which costumed superheroes are part of the fabric of everyday society, and the "Doomsday Clock" – which charts the USA's tension with the Soviet Union – is permanently set at five minutes to midnight. When one of his former colleagues is murdered, the washed-up but no less determined masked vigilante Rorschach sets out to uncover a plot to kill and discredit all past and present superheroes. As he reconnects with his former crime-fighting legion – a ragtag group of retired superheroes, only one of whom has true powers – Rorschach glimpses a wide-ranging and disturbing conspiracy with links to their shared past and catastrophic consequences for the future. Their mission is to watch over humanity…but who is watching the Watchmen?
Watchmen images are © Warner Bros.. All Rights Reserved.
Watchmen Property Being Developed As An HBO Series
6/21/2017 4:01 PM EST
In what can easily be considered a highly anticipated project, HBO is supposedly in talks with The Leftovers' Damon Lindelof to develop an adaptation of the popular comic book series Watchmen. While there was a 2009 feature film and a previous attemp...
| Full Article
Is There A Watchmen Prequel In The Works?
5/2/2012 11:36 AM EST
Watchmen fans can debate all they want about DC's plans for the "Watchmen" prequel, "Before Watchmen."  While some may be for it, and others against it, there is undeniable interest in the project, which reports say will include seven different minis...
| Full Article
Watchmen Mobile Website
2/3/2009 10:42 PM EST
Thanks to Warner Bros., you can now have access to the "Watchmen" mobile website.  Now, you can access ringtones, trailers, wallpapers, production video blogs, and more.  You will also receive movie updates and trivia, sent directly to your phone.Sim...
| Full Article
Watchmen Movie Will Be Released As Planned
1/16/2009 11:32 AM EST
According to The Hollywood Reporter, the ongoing court dispute between Warner Bros. and 20th Century Fox has been settled.  20th Century Fox is said to have received a substantial amount of money, but the terms of the agreement have not been disclose...
| Full Article
20th Century Fox Tries To Delay Watchmen Release
1/1/2009 9:39 PM EST
The "Watchmen" saga continues. The Associate Press has announced that 20th Century Fox plans on continuing their quest for a court order to delay the release of the film.  The law appears to be on the side of Fox at the moment.  Last week, U.S. Distr...
| Full Article
Watchmen Trial Set For January 2009
9/3/2008 11:16 AM EST
A trial date has been set for the Fox/Warner Bros. "Watchmen" lawsuit, which will take place on January 6, 2009. Depositions proceedings will also take place throughout this year.Judge Feess says that he would like the case to move quickly and has ca...
| Full Article
Watchmen (Director's Cut) Physical Media: DVD Review
I know what you are thinking -- you are thinking, 'Gee, I really liked Watchmen; as FlickDirect.com said, it is probably a better Watchmen than we deserve -- and definitely the best one we were going to get; but do I really want 24 more minutes of it?'And then you think --&nbsp...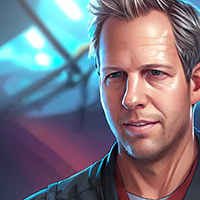 Movie / Film Review
An apology to the fans of the acclaimed Graphic Novel. For the uninitiated, "Watchmen" is an absolute chore to watch. Before you read any further, sorry. Nostalgia for the source material might be deep rooted, and the film may be faithful to a fault with respect to its 1986 origins. But th...
SPONSORED LINKS