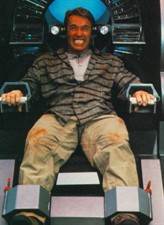 According to The Hollywood Reporter, the 1990 sci-fi film, "Total Recall" is going to be getting a facelift. Columbia Pictures along with Neal H. Moritz and his company, Original Films, are currently developing a newer version of the film that originally starred Arnold Schwarzenegger.

The film follows the story of a man who has recurring dreams about going to Mars. He then decides he will buy the dream from a company that implants memories. He then believes that he is a secret agent who ends up on a Martian Colony and must overthrow the ruler. It is based upon the book, "We Can Remember It for You Wholesale", written by Philip K. Dick.

Moritz is hoping to give the story a new and fresh outlook with the technology that is available today.

The original grossed approximately $261 million worldwide, and was originally released by Tri-Star.