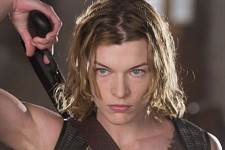 Casting for "Resident Evil:Afterlife", the fourth in the franchise's series, is starting to take shape. According to Blackfilm, Wentworth Miller (Prison Break) and Ali Larter (Heroes) have joined the cast.

Boris Kodjoe, who is also in the film, told Blackfilm a little about the upcoming project. He said, "I play the leader of the survivors in Los Angeles. Milla Jovovich's character, Alice, is roaming the world looking for survivors and she's wound up in LA, which has been burning for three years. She comes across an LA jail surrounded be these half-dead with a couple of survivors trapped inside. She lands on top of the roof and partners up with me to fight the guys that are coming after them. We're trying to get all of the survivors out of the jail to safety."

Ali Larter will be reprising her role as Claire Redfield, and Wentworth Miller will be playing a person who is imprisoned because they aren't sure if he has contracted the virus or not.