Resident Evil: Afterlife (2010)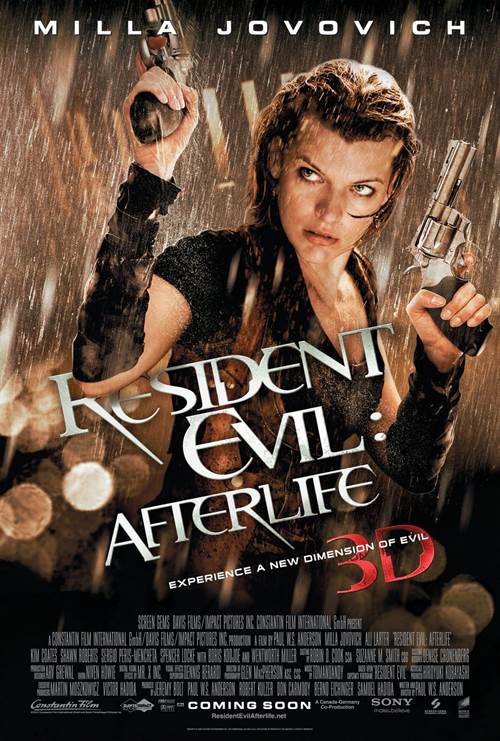 Share this:
| | |
| --- | --- |
| Director: | |
| Writers: | |
| Cast: | |
| Released: | Friday, September 10, 2010 |
| Length: | 100 minutes |
| Studio: | Screen Gems |
| Genre: | Horror, Sci-Fi/Fantasy |
| Rating: | Under 17 requires accompanying parent or adult guardian. |
Synopsis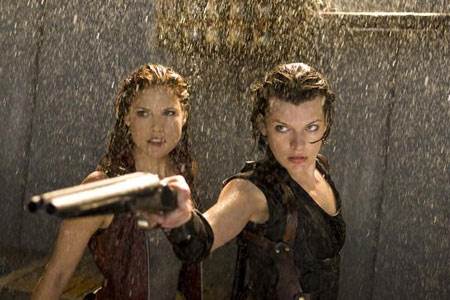 In a world ravaged by a virus infection, turning its victims into the Undead, Alice continues on her journey to find survivors and lead them to safety. Her deadly battle with the Umbrella Corporation reaches new heights, but Alice gets some unexpected help from an old friend. A new lead that promises a safe haven from the Undead leads them to Los Angeles, but when they arrive the city is overrun by thousands of Undead and Alice and her comrades are about to step into a deadly trap.

Purchase DVD/Blu-ray/4K UHD physical copy of Resident Evil: Afterlife today at Amazon.com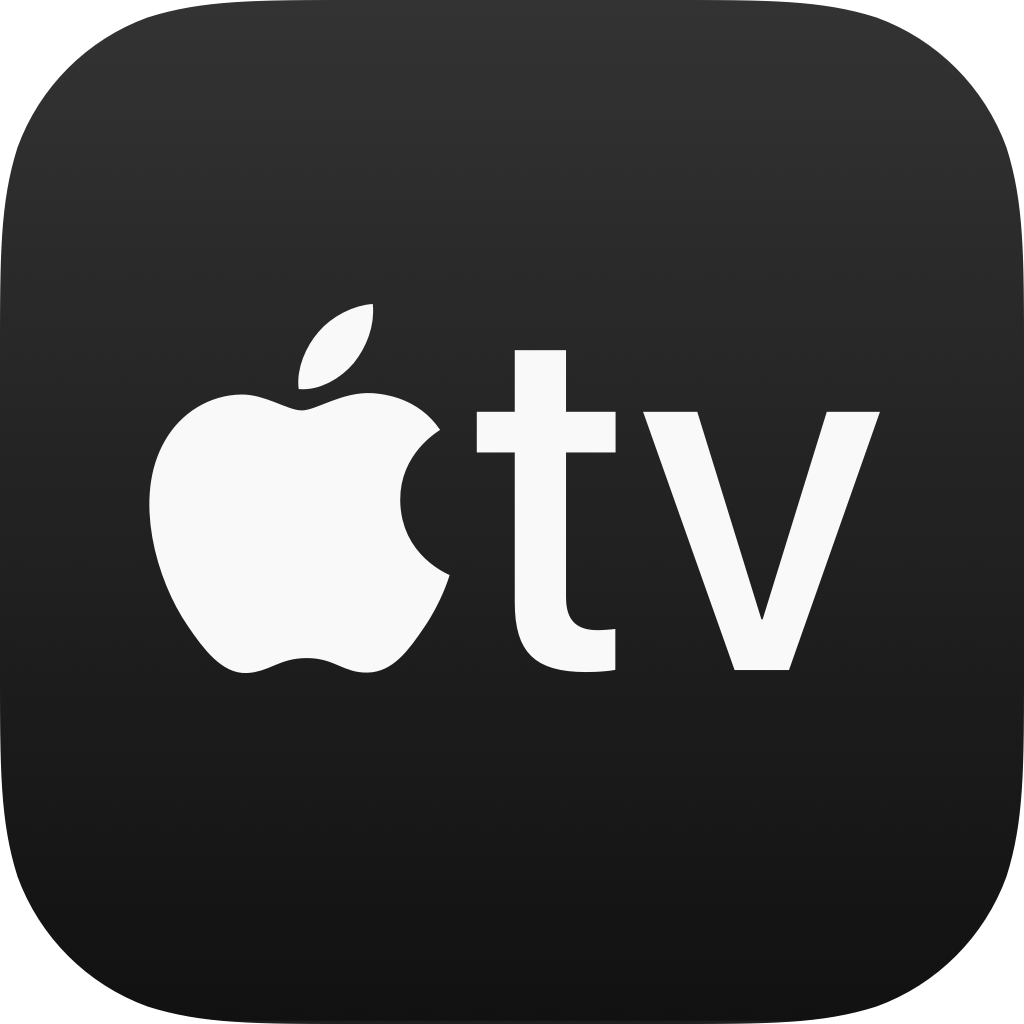 Download Resident Evil: Afterlife in Digital HD/4K from the iTunes store.
Resident Evil: Afterlife images are © Screen Gems. All Rights Reserved.
Resident Evil Origin Film in the Works
10/6/2020 4:50 PM EST
Another "Resident Evil" film is in the works. Constantin Film and writer-director Johannes Roberts have said that an official origin story is currently in the works."With this movie, I really wanted to go back to the original first two games and re-create the terrifying visceral experience I had when I first played them whilst at the same time telling a grounded human story about a small dying Ame...
More>>
Resident Evil Series Coming to Netflix
8/27/2020 11:38 AM EST
The "Resident Evil" franchise has now expanded to television. The series has been greenlit by Netflix for 8 episodes. The series has been written by Supernatural executive producer and co-showrunner Andrew Dabb and will feature two new storylines."Resident Evil is my favorite game of all time. I'm incredibly excited to tell a new chapter in this amazing story and bring the first-ever Resident Evil...
More>>
Resident Evil Franchise Will Continue After All
5/21/2017 11:01 PM EST
Fans of Resident Evil rejoice! It was confirmed at Cannes by Martin Moszkowicz, chairman of the board at Constantin Film, that there will be more to the successful franchise.  There haven't been any details released about casting, plot or director, but fans will no doubt flock to the theaters to see the reboot. "Resident Evil: The Final Chapter", which was slated to be the last film in the franchi...
More>>
Paul W.S. Anderson to Direct Sixth Resident Evil
3/14/2013 4:11 PM EST
It has been reported that Paul W.S. Anderson has been confirmed to be directing the upcoming sixth film of the "Resident Evil" franchise.The film begins production this fall, and will once again star Milla Jovovich.  There is no word yet on any other cast members at this point.  This is said to be the last film of the franchise."Resident Evil 6" is slated for a September 12, 2014 release. Countdow...
More>>
Twelve Injured On Set of Resident Evil: Retribution
10/12/2011 4:34 PM EST
It has been reported that there were some mishaps on the set of the upcoming film "Resident Evil: Retribution". Production is currently taking place in Toronto at Cinespace Film Studios.Apparently, while filming a scene on a high wheeled platform, some extras fell as they were being moved to another platform. Twelve people were taken to the hospital, but no life threatening injuries occurred. Give...
More>>
Another Installment of "Resident Evil" Due Out in 2012
3/5/2011 11:10 AM EST
Sony Pictures has announced that they will be releasing a fifth installment of the "Resident Evil" franchise.Despite mediocre reviews, the franchise has managed to increase sales with each release. Last year's "Resident Evil Afterlife" earned about $10 million more domestically, and approximately $139 million more worldwide, than its previous release.The fifth installment will be released on Septe...
More>>
Screen Gems posts plotline for Resident Evil: Afterlife
10/12/2009 8:17 PM EST
Screen Gems has recently posted a plotline for the upcoming film, "Resident Evil: Afterlife". The film is scheduled to be released on August 27, 2010. The film will be starring Milla Jovovich, Ali Larter, Spencer Locke, Wentworth Miller, Shawn Roberts, Boris Kodjoe, Kim Coates, Norman Yeung and Kasey Barnfield. The following is what Screen Gems had posted: In a world ravaged by a virus infection, ...
More>>
Resident Evil:Afterlife Casting Update
9/23/2009 12:50 PM EST
Casting for "Resident Evil:Afterlife", the fourth in the franchise's series, is starting to take shape. According to Blackfilm, Wentworth Miller (Prison Break) and Ali Larter (Heroes) have joined the cast.Boris Kodjoe, who is also in the film, told Blackfilm a little about the upcoming project.  He said, "I play the leader of the survivors in Los Angeles. Milla Jovovich's character, Alice, is roam...
More>>
Resident Evil: Degeneration Website Launched
7/17/2008 12:21 PM EST
The official website for the CG-animated film "Resident Evil: Degeneration" has been released by Sony Pictures Home Entertainment. The site includes a production Blog, trailer and synopsis. They also gave this description of the film on the site:The "Umbrella Incident" that took place in Raccoon City was ended with the eradication of the deadly virus by a missile attack ordered by the government. ...
More>>
Resident Evil: Afterlife Theatrical Review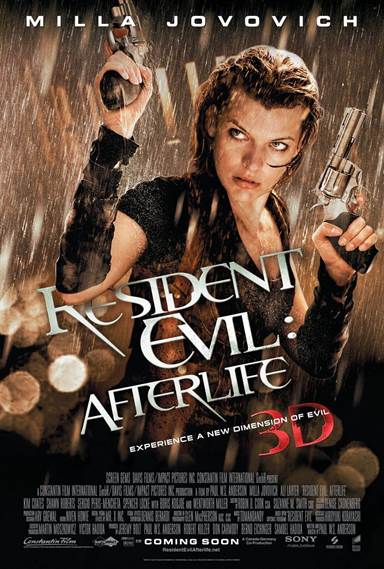 There have been a lot of movies based off of video games. It is as common today as the comic book movie. Quite frankly though, most of these movies have never been very good. They almost always come off even more cartoonish and cliché than the games they are based on.

Resident Evil is a game that has been around for many years, going back to the original Playstation system. The plot of the game is simple. The Umbrella Corporation released a virus that in turn created a horde of zombies and ravaged the world. Naturally as comic books and video games became more popular it was only a matter of time before this game was thrown up onto the big screen. The first movie was alright as movies go. For anyone who didn't know the game it was essentially an introduction to who are our main characters are and how they came to be involved in this situation. Not long after it came out a sequel was made. And then another was made, and then another. Now we have Resident Evil: Afterlife, in 3D no less and at this point it is getting a little redundant. Mila Jovovich returns as Alice, an unwitting victim of the Umbrella Corporations machinations, who now is out to get revenge for what they did to her and the world.

Along the way Alice runs into an old friend of hers (Ali Larter) and they set off for L.A. where they seek a safe haven from the hordes of undead that roam the world. Why they would head for a major city that boasts a huge population and will more than likely be swarming with zombies is a question we don't have the chance to ask. Naturally when they get to L.A. things are not as they hoped and Alice must take on new and deadly monsters while trying to protect her friends.

At this point you have to wonder what Hollywood is thinking when they continue to make movies such as these. Sure they do have somewhat of a following but it can hardly be enough to warrant this many sequels. Resident Evil: Afterlife wants to come off like a fun action/horror movie but it completely misses the mark. Mila Jovovich is a great leading lady. She is very attractive, a good actress and knows what her fans want from her. Unfortunately she can't keep this movie afloat. Anyone with half a brain won't want to sit for 90 minutes to wait and see how the movie ends. If you are somewhat curious, then you are better off waiting for the Blu-ray to come out.

For more reviews please visit our film/television review section.
In a world ravaged by a virus infection, turning its victims into the Undead, Alice continues on her...
SPONSORED LINKS