Resident Evil: Afterlife Theatrical Review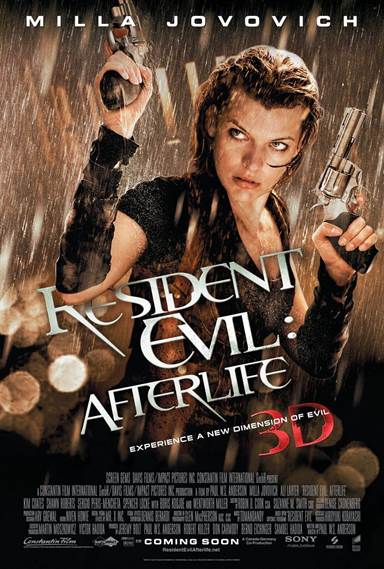 There have been a lot of movies based off of video games. It is as common today as the comic book movie. Quite frankly though, most of these movies have never been very good. They almost always come off even more cartoonish and cliché than the games they are based on.

Resident Evil is a game that has been around for many years, going back to the original Playstation system. The plot of the game is simple. The Umbrella Corporation released a virus that in turn created a horde of zombies and ravaged the world. Naturally as comic books and video games became more popular it was only a matter of time before this game was thrown up onto the big screen. The first movie was alright as movies go. For anyone who didn't know the game it was essentially an introduction to who are our main characters are and how they came to be involved in this situation. Not long after it came out a sequel was made. And then another was made, and then another. Now we have Resident Evil: Afterlife, in 3D no less and at this point it is getting a little redundant. Mila Jovovich returns as Alice, an unwitting victim of the Umbrella Corporations machinations, who now is out to get revenge for what they did to her and the world.

Along the way Alice runs into an old friend of hers (Ali Larter) and they set off for L.A. where they seek a safe haven from the hordes of undead that roam the world. Why they would head for a major city that boasts a huge population and will more than likely be swarming with zombies is a question we don't have the chance to ask. Naturally when they get to L.A. things are not as they hoped and Alice must take on new and deadly monsters while trying to protect her friends.

At this point you have to wonder what Hollywood is thinking when they continue to make movies such as these. Sure they do have somewhat of a following but it can hardly be enough to warrant this many sequels. Resident Evil: Afterlife wants to come off like a fun action/horror movie but it completely misses the mark. Mila Jovovich is a great leading lady. She is very attractive, a good actress and knows what her fans want from her. Unfortunately she can't keep this movie afloat. Anyone with half a brain won't want to sit for 90 minutes to wait and see how the movie ends. If you are somewhat curious, then you are better off waiting for the Blu-ray to come out.

Purchase your copy of Resident Evil: Afterlife today at
Download Resident Evil: Afterlife from the iTunes Store in Digial HD.