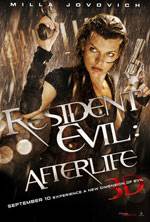 It has been reported that there were some mishaps on the set of the upcoming film "Resident Evil: Retribution". Production is currently taking place in Toronto at Cinespace Film Studios.

Apparently, while filming a scene on a high wheeled platform, some extras fell as they were being moved to another platform. Twelve people were taken to the hospital, but no life threatening injuries occurred. Given the zombie costumes the extras were wearing, it made it difficult for responders to determine the extent of injuries.

"Resident Evil: Retribution" is slated for September 14, 2012 release.