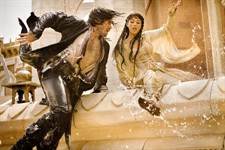 BURBANK, Calif. (April, 2010) - In recognition of his remarkable body of work, Sprint (NYSE:S) is pleased to present A Cinematic Celebration of Jerry Bruckheimer on May 17, 2010 in Hollywood. Five Bruckheimer-produced blockbusters will screen in Hollywood during this special event celebrating the producer of some of the most successful motion pictures of the last 35 years. Each screening will be introduced by an actor or director who helped make the film so memorable. The event will coincide with the Hollywood premiere of Bruckheimer's newest epic action-adventure, the much-anticipated "Prince of Persia: The Sands of Time," starring Jake Gyllenhaal, at the historic Grauman's Chinese Theatre. Proceeds from ticket sales will benefit the American Film Institute (AFI).
The films and artists confirmed to take part in the celebration are:
"Prince of Persia: The Sands of Time" (2010) - Hollywood Premiere
Grauman's Chinese Theatre, 7:30 p.m.
Talent from "Prince of Persia" and the other Bruckheimer films screening during the evening will walk the red carpet beginning at 6 p.m. "Prince of Persia" opens in theaters nationwide May 28, 2010.
"Pirates of the Caribbean: The Curse of the Black Pearl" (2003)
El Capitan Theatre, 7 p.m.
Orlando Bloom, Jack Davenport, Jonathan Pryce, and director Gore Verbinski will reunite to introduce the film that kicked off one of the most successful franchises in movie history, and a cultural phenomenon.
"Armageddon" (1998)
Mann Chinese 6, 7 p.m.
Bruce Willis and Michael Clarke Duncan will introduce this blockbuster film which raised the bar for action and visual effects.
"National Treasure" (2004)
Mann Chinese 6, 7 p.m.
Nicolas Cage, Jon Voight, and Justin Bartha join director Jon Turteltaub to present Jerry Bruckheimer's most recent franchise-launching motion picture, which helped to make American history exciting again to millions of people around the world.
"Top Gun" (1986)
Mann Chinese 6, 7 p.m.
The film's director, Tony Scott, will introduce the smash hit that helped launch Tom Cruise's career. Actor Tom Skerritt will also be on hand to celebrate this classic.
"Beverly Hills Cop" (1984)
Mann Chinese 6, 7 p.m.
Eddie Murphy will present the much-imitated but never improved-upon action-comedy that catapulted him to superstardom.
"Jerry Bruckheimer is one of the most prolific producers of our time, and Disney is thrilled to be a part of this event," said Rich Ross, chairman of the Walt Disney Studios. "His history of success and collaboration with the Walt Disney Studios is unparalleled and in honor of Jerry's accomplishments, Disney has established an endowed scholarship in his name at the AFI Conservatory."
"Across the history of American film, few film producers have earned a place in the cultural pantheon as a household name. Jerry Bruckheimer is one of those rare exceptions," said Bob Gazzale, AFI president and CEO. "His name is synonymous with the kind of heart-pounding, cinematic spectacle that has driven masses of film lovers around the world to experience the pure and explosive joy of the movies. And most significantly, his legacy will continue in support of the art form thanks to Disney's establishment of a Jerry Bruckheimer scholarship at the AFI Conservatory."
"We are delighted to honor Jerry Bruckheimer for his contributions to the culture of cinema over the last 35 years. This celebration is especially meaningful because it is an investment in the future of the American Film Institute, an indispensable cinematic institution that has nurtured the careers of some of our most acclaimed filmmakers," said Dan Hesse, CEO of Sprint. "Just as Jerry Bruckheimer has used cutting-edge technology to bring his audiences the best in entertainment, Sprint continues to break new ground and lead the 4G revolution with the upcoming availability of HTC EVO 4G, America's first 4G phone. EVO 4G takes mobile multimedia, live video streaming, gaming and picture downloads to a whole new level."
About "Prince Of Persia: The Sands Of Time"
"Prince Of Persia: The Sands Of Time" is an epic action-adventure about a rogue prince (Jake Gyllenhaal) who reluctantly joins forces with a mysterious princess (Gemma Arterton) in a race to safeguard an ancient dagger that can reverse time and allow its possessor to rule the world. Directed by Mike Newell ("Harry Potter and the Goblet of Fire"), it also stars Sir Ben Kingsley and Alfred Molina. The screenplay is by Boaz Yakin and Doug Miro & Carlo Bernard from a screen story by Jordan Mechner. In theaters Memorial Day Weekend, 2010. Rated PG-13.
About Jerry Bruckheimer
The producer of motion pictures that are uniquely American yet beloved by audiences around the world, Jerry Bruckheimer's films have been honored with 41 Academy Award® nominations and six Oscars®. Bruckheimer's films have earned worldwide revenues of over $15 billion in box office, video, and recording receipts and an amazing 16 of them have exceeded the $100 million milestone at the domestic box office.
After four years at New York advertising agency BBD&O and not quite 30 years old, Bruckheimer set his sites on Hollywood where he began producing such memorable films as "Farewell, My Lovely," "American Gigolo" and 1983's "Flashdance." The latter film changed his life by grossing $92 million in the U.S. alone and pairing him with Don Simpson, who would be his producing partner for the next 13 years. Together, the Simpson-Bruckheimer juggernaut produced one hit after another, including "Top Gun," "Days of Thunder," "Beverly Hills Cop," "Beverly Hills Cop II," "Bad Boys," "Dangerous Minds" and "Crimson Tide."
In 1996, Bruckheimer produced "The Rock," reinventing star Nicolas Cage as an action hero. The film grossed $350 million worldwide and was Bruckheimer's last movie with Simpson, who died during production. Now on his own, Bruckheimer scored again in 1997 with "Con Air," which grossed over $230 million while earning a Grammy® and two Oscar nominations. Next came the megahit "Armageddon," starring Bruce Willis and directed by Michael Bay. It was the highest grossing movie of 1998, taking in nearly $560 million worldwide.
By the end of the millennium, Bruckheimer had produced "Enemy of the State," starring Will Smith and Gene Hackman, and "Gone in 60 Seconds,"starring Cage, Angelina Jolie and Robert Duvall, which both grossed over $225 million worldwide; "Coyote Ugly," whose soundtrack album went triple platinum; and the NAACP Image Award-winning "Remember the Titans," starring Denzel Washington. In 2000, his peers in the Producers Guild of America acknowledged Bruckheimer with the David O. Selznick Award for Lifetime Achievement in Motion Pictures.
The producer began the 21st century with triple Oscar-nominee "Pearl Harbor." In addition to multiple award nominations and the Oscar for Best Sound Editing, it earned over $450 million in worldwide box office and has topped $250 million in DVD and video sales. "Black Hawk Down," the story of the 1993 Battle of Mogadishu, was honored with multiple award nominations, two Oscars, and rave reviews.
In 2003, Bruckheimer unveiled "Pirates of the Caribbean: The Curse of the Black Pearl." Starring Johnny Depp, Orlando Bloom, Geoffrey Rush and Keira Knightley and directed by Gore Verbinski, the comedy-adventure-romance grossed more than $630 million worldwide, earned five Academy Award nominations and spawned two sequels: "Pirates of the Caribbean: Dead Man's Chest" and "Pirates of the Caribbean: At World's End," both of which became even bigger hits than the first. Collectively, the franchise has brought in close to $2.7 billion at the worldwide box office. A fourth installment, "Pirates of the Caribbean: On Stranger Tides," is due in theaters in 2011.
"National Treasure" (2004), starring Cage and Sean Bean in a roller-coaster adventure that grossed more than $335 million worldwide, also sparked a smash sequel that surpassed the original's total U.S. box office total after only 18 days in release. In 2006, the Bruckheimer-produced "Glory Road" was honored with an ESPY Award for "Best Sports Movie of the Year" and its screenwriters received a Humanitas Prize for their work.
On July 16, 2010, the Jon Turtletaub-directed action-adventure "The Sorcerer's Apprentice," starring Nicolas Cage, Jay Baruchel ("How to Train Your Dragon"), and Monica Bellucci, will open nationwide.
About the American Film Institute:
AFI is America's promise to preserve the history of the motion picture, to honor the artists and their work, and to educate the next generation of storytellers. As a national, public-supported educational and cultural organization, AFI provides leadership in film, television and digital media and is the only non-profit organization dedicated to initiatives that engage the past, the present and the future of the moving image arts.
AFI preserves the legacy of America's film heritage through the AFI Catalog of Feature Films, an authoritative and scholarly record of American films made from 1896 to the present, and the AFI Archives, which contains rare and previously unseen footage from AFI's 40-plus year history.
AFI honors the artists and their work through a variety of programs and special events during the year, including the annual AFI Life Achievement Award and AFI Awards. For 37 years, the AFI Life Achievement Award has remained the highest honor for a career in film while AFI Awards, the institute's almanac for the 21st century, honors the most outstanding motion pictures and television programs of the year. AFI's 100 Years…100 Movies series and definitive movie reference lists, as well as Target Presents AFI Night at the Movies, have introduced and reintroduced classic American movies to millions of film lovers.
And as the largest nonprofit exhibitor in the United States, AFI offers film enthusiasts a variety of events throughout the year, including AFI Fest presented by Audi, the longest-running international film festival in Los Angeles; AFI-Discovery Channel Silverdocs, the largest documentary festival in the US; and year-round programming at the AFI Silver Theatre in the Washington D.C. area.
AFI educates the next generation of storytellers at its world-renowned AFI Conservatory, offering a two-year Master of Fine Arts degree in six filmmaking disciplines: Cinematography, Directing, Editing, Producing, Production Design and Screenwriting. AFI also explores new digital technologies through AFI Conservatory curriculum and workshops and at AFI Digifest, and showcases the work of young storytellers through AFI ScreenNation and emerging filmmakers through AFI Project: 20/20.
Additional information about AFI is available at AFI.com.
About Sprint Nextel
Sprint Nextel offers a comprehensive range of wireless and wireline communications services bringing the freedom of mobility to consumers, businesses and government users. Sprint Nextel is widely recognized for developing, engineering and deploying innovative technologies, including two wireless networks serving more than 48 million customers at the end of the fourth quarter of 2009 and the first and only 4G service from a national carrier in the United States; industry-leading mobile data services; instant national and international push-to-talk capabilities; and a global Tier 1 Internet backbone. The company's customer-focused strategy has led to improved first call resolution and customer care satisfaction scores. For more information, visit www.sprint.com. To learn more about America's first 4G phone, HTC EVO 4G, visit www.sprint.com/evo.