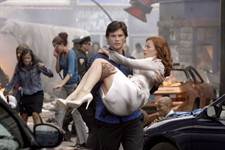 "Smallville", the long running CW show will be ending it's incredible run after it's 10th season. Allison Mack, who plays Chloe Sullivan on the show, recently told Entertainment Weekly that she will only be in a few episodes of the final season.

"It's amazing to think that Chloe Sullivan and I have been one in the same for over a third of my life. I'm truly humbled by the love and loyalty of all the fans whose enthusiasm has carried me - along with a cast and crew which has become my second family - over the past 9 and a half years. Out of respect for the amazingly loyal fans and the place I will always have in my own heart for Chloe, I'm coming back for several episodes next season to tie up Chloe's 'Smallville' legacy properly. It's been a life-changing ride,and I look forward to what lies ahead with the strength of a 'superhero' as my foundation."

The show's 10th season begins this fall.