Smallville (2001)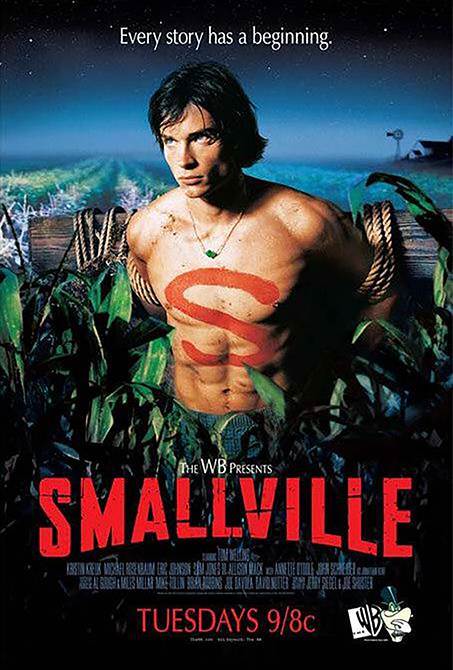 Share this:
| | |
| --- | --- |
| Created By: | |
| Cast: | |
| Air Date: | Tuesday, October 16, 2001 |
| Studio: | Warner Bros. |
| Genre: | Television |
| Rating: | This program contains some material that many parents would find unsuitable for children under 14 years of age. |
Synopsis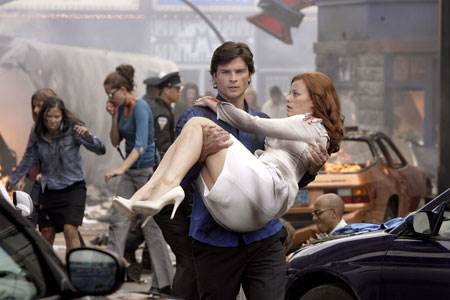 Season one sees the introduction of the regular cast, and storylines that regularly included a villain deriving a power from kryptonite exposure; the one-episode villains were a plot device developed by Gough and Millar. The first season primarily dealt with Clark trying to come to terms with his alien origins, and the revelation that his arrival on Earth was connected to the deaths of Lana's parents. After the first season, the series used fewer villain of the week episodes, focusing more on story arcs that affect each character and explore Clark's origins. Main story arcs include: Clark's discovery of his Kryptonian heritage; the disembodied voice of Clark's biological father Jor-El is introduced, communicating to Clark via his space ship, setting the stage for plots involving the fulfillment of Clark's earthly destiny; Clark seeking out three Kryptonian stones, at the instruction of Jor-El, which contain the knowledge of the universe and form his Fortress of Solitude; Clark battling Brainiac in his attempts to release the Kryptonian criminal General Zod; other escaped Phantom Zone criminals that Clark must either capture or destroy; the arrival of Clark's biological cousin Kara; and Lex finally discovering Clark's secret. The eighth season features storylines involving the introduction of Davis Bloome, who is Smallville's interpretation of Doomsday, and a woman named Tess to replace the exit of Lex Luthor from the series. Justin Hartley reprises his role as Oliver Queen/Green Arrow, being upgraded to a series regular.
Purchase DVD/Blu-ray/4K physical copy of Smallville today at
Download Smallville in Digital HD/4K from the iTunes store.
Smallville images are © Warner Bros.. All Rights Reserved.


Tom Welling to Become a Marvel Character?
5/12/2011 3:14 PM EDT
Tom Welling, star of CW's "Smallville", will have a lot of time on his hands after he finishes up his 10 year run playing Clark Kent. The question on everyone's mind is "what's next?"Well, according to What's Playing, Welling has been offered to play a character from the Marvel universe. Superman is a D.C. character, so Welling may be crossing over, as they say.There is no word on what role he has...
More>>
Smallville Season 10 To See Very Little of Allison Mack
5/24/2010 1:23 PM EDT
"Smallville", the long running CW show will be ending it's incredible run after it's 10th season. Allison Mack, who plays Chloe Sullivan on the show, recently told Entertainment Weekly that she will only be in a few episodes of the final season. "It's amazing to think that Chloe Sullivan and I have been one in the same for over a third of my life. I'm truly humbled by the love and loyalty of all t...
More>>
Smallville: The Complete Eighth Season Blu-ray Review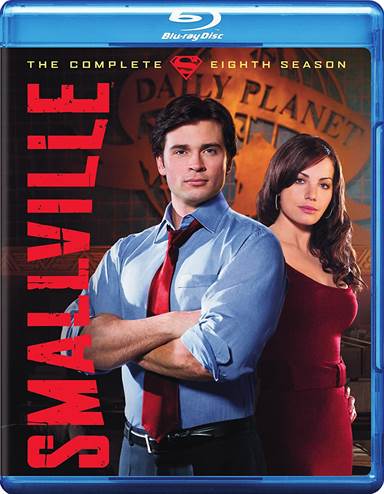 The man of Steel has been part of our worldwide culture since the 20th century. During that time, we have seen Superman in print, film, and on television. It's latest television incarnation is a series entitled, Smallville, which shows Superman's humble beginning as the small town boy, Clark Kent. It has become a popular success, and is the longest, running superman series ever. Now it's 8th season has flown into our living rooms on Blu-ray.
In Season Eight, starring Tom Welling, Allison Mack, Erica Durance, Aaron Ashmore, Cassidy Freeman, Sam Witwer and Justin Hartley, there is a new reporter at the Daily Planet: Clark Kent. He shares a workspace with Lois Lane. There is a new hero in Metropolis, too. No one knows who he is. But Jimmy Olsen was on the scene of one of the do-gooder's exploits, and he snapped a blurred photo of the hero in super-speed action – a hero everyone now calls the Red- Blue Blur.
Red-jacketed, blue-shirted Clark Kent draws closer to his Superman destiny, and another Kryptonian destiny also takes shape as Davis Bloome begins to realize he is Doomsday. His mission on Earth: kill Clark Kent.
While most shows in their eighth season seem to run out of steam, Smallville is the exception, in fact, ever since Clark Kent started to work in metropolis, the show has been getting better and better. The introduction of Doomsday by the creators was a great move and showed a troubled being who did not necessarily want to be evil. The show also shocked us many times this season with unexpected deaths, and even options for some of the characters that seemed very much out of character.
Warner Bros Home Entertainment has delighted fans by releasing Smallville Season 8 in Blu-ray. This is the second season that fans of the show will now be able to see their favorite superhero in glorious 1080p. Hopefully seasons 1-6 will come out sooner than later as well in this superior format. The multi-disc set contains all 22 episodes of the show, some great bonus features, including some unaired footage from the season, and the making of one of Superman's deadliest foes, Doomsday.
Smallville Season 8 Blu-ray is the perfect companion for any Smallville fan -- whether it be a casual viewer or the die-hard fan. This is definitely a must have for all.
Read More Smallville Reviews
Chris Rebholz (B) (Smallville: The Complete Ninth Season Blu-ray Review)
For more reviews please visit our film/television review section.
SPONSORED LINKS
Comments

Courtesy of
Movie Hype App
movieguynathan
Season 2 episode 5. Been binge watching since Batman v Superman.
4/18/2016 10:54 PM EDT
ampayne71
The final season
8/22/2013 10:52 PM EDT