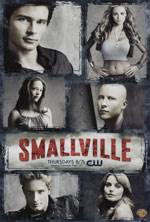 Tom Welling, star of CW's "Smallville", will have a lot of time on his hands after he finishes up his 10 year run playing Clark Kent. The question on everyone's mind is "what's next?"

Well, according to What's Playing, Welling has been offered to play a character from the Marvel universe. Superman is a D.C. character, so Welling may be crossing over, as they say.

There is no word on what role he has been offered, but he isn't in short supply of film offers. He was recently considered for a role in "Snow White and the Huntsman", and his "Smallville" associate, Alfred Gough has said that he had interest in working with Welling on an "Allan Quatermain" reboot.