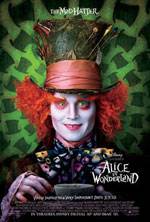 BURBANK, Calif. - May 27, 2010 - Tim Burton's epic fantasy adventure "Disney's Alice in Wonderland" reached a historic milestone today, passing the $1 billion dollar mark in global box office. "Alice" becomes only the sixth title to join this exclusive list and the third most popular non-sequel in motion picture history behind only "Titanic" and "Avatar."

"We feel incredibly fortunate to be able to showcase such an amazing 3-D film from visionary director Tim Burton and the creative talents of Johnny Depp, Mia Wasikowska, Helena Bonham Carter, and Anne Hathaway," said Rich Ross, Chairman of The Walt Disney Studios. "Our marketing teams joined with our exhibition partners to find every opportunity to bring this creative masterpiece to fans around the world."

"Alice" began setting records during its opening weekend (March 5-7), becoming the biggest March opening in industry history, the biggest 3-D opening ever and biggest career opening for director Tim Burton. It also became The Walt Disney Studios' biggest opening for a non-sequel.

Domestically, "Disney's Alice in Wonderland" has surpassed $332 million at the box office and is officially the third highest-grossing film in The Walt Disney Studios' history, behind only "Pirates of the Caribbean: Dead Man's Chest" and "Finding Nemo." It currently ranks as the 19th most successful film in domestic box office history.

Simultaneously, "Alice" began to conquer audiences around the globe, tallying more than $667 million to date, en route to becoming Disney's biggest overseas release of all-time. In Japan alone, "Alice" has maintained its #1 position for six weeks, resulting in more than $108 million to date. The United Kingdom added more than $64 million, while France, Russia and Italy all have topped $42 million. Germany , Australia, China and Mexico have surpassed the $30 million mark, while Spain and Brazil's cumulative totals each exceeded $25 million. The movie continues to entertain theatrical audiences in many countries throughout the world.

Just as the film crosses the $1 billion global theatrical box office threshold, consumers will now be able to own this historic film for themselves. "Disney's Alice in Wonderland" makes its home entertainment debut as a Disney 3-Disc Blu-ray Combo Pack (Blu-ray + DVD + Digital Copy), 1-Disc Blu-ray and 1-Disc DVD on Tuesday, June 1, 2010 in North America, China, Mexico and Italy. Availability in other international markets will occur throughout June, July and August starting with Belgium (June 2), the Netherlands (June 2), the United Kingdom (June 4) and Argentina (June 9).