Alice In Wonderland (2010)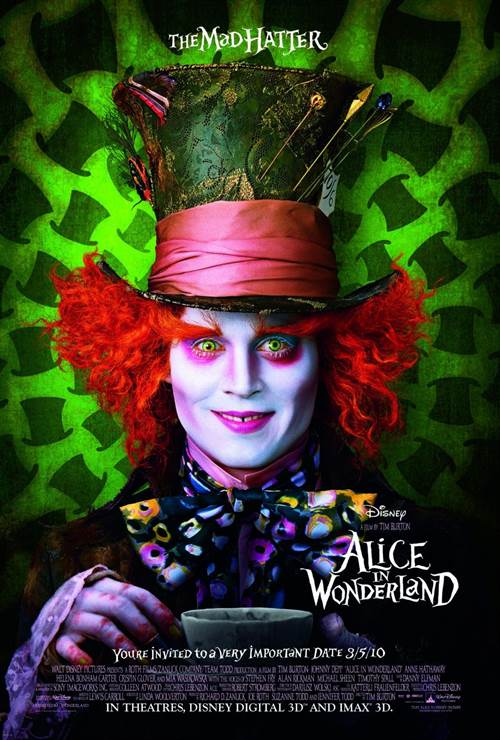 | | |
| --- | --- |
| Director: | |
| Writers: | |
| Cast: | |
| Released: | Friday, March 5, 2010 |
| Length: | 109 minutes |
| Studio: | Walt Disney Pictures |
| Genre: | Sci-Fi/Fantasy, Family |
| Rating: | Some material may not be suitable for children. |
Alice In Wonderland Synopsis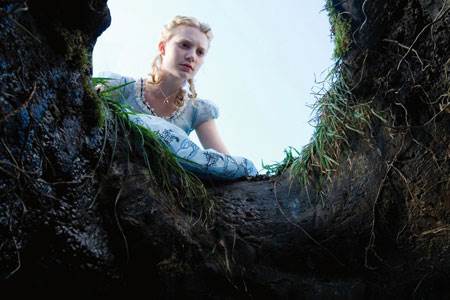 From Walt Disney Pictures and visionary director Tim Burton comes an epic 3D fantasy adventure ALICE IN WONDERLAND, a magical and imaginative twist on some of the most beloved stories of all time. JOHNNY DEPP stars as the Mad Hatter and MIA WASIKOWSKA as 19-year-old Alice, who returns to the whimsical world she first encountered as a young girl, reuniting with her childhood friends: the White Rabbit, Tweedledee and Tweedledum, the Dormouse, the Caterpillar, the Cheshire Cat, and of course, the Mad Hatter. Alice embarks on a fantastical journey to find her true destiny and end the Red Queen's reign of terror.
Alice In Wonderland images are © Walt Disney Pictures. All Rights Reserved.
James Bobin to Direct Wonderland Sequel
5/31/2013 3:00 PM EST
James Bobin is currently in talks to direct the sequel to Tim Burton's 2010 film for Disney, "Alice in Wonderland".Bobin is currently working on "The Muppets … Again!" and will reported meet soon with  Joe Roth, Suzanne Todd and Jennifer Todd, produc...
| Full Article
Woolverton Returns to Disney's Wonderland for Sequel
12/10/2012 9:23 AM EST
Linda Woolverton will be returning to pen a sequel to 2010's Tim Burton's "Alice in Wonderland", which starred Johnny Depp and Mia Wasikowska.  The film was a success, earning more than $1 billion worldwide as well as Oscars for art direction and cos...
| Full Article
Disney's Alice In Wonderland Reaches Exclusive $1 Billion Global...
5/27/2010 2:05 PM EST
BURBANK, Calif. - May 27, 2010 - Tim Burton's epic fantasy adventure "Disney's Alice in Wonderland" reached a historic milestone today, passing the $1 billion dollar mark in global box office.  "Alice" becomes only the sixth title to join this exclus...
| Full Article
Disney's Alice In Wonderland Slays the Box Office
3/7/2010 8:25 PM EST
The perfect amalgamation of story, special affects, acting, and directing created history this weekend.  And our favorite Pirate turned Mad Hatter, Johnny Depp, helped to create it, with the feature film Disney's Alice in Wonderland. Let's take a loo...
| Full Article
Disney Shortens the Theatrical Run of Alice In Wonderland
2/10/2010 11:06 AM EST
According to The Hollywood Reporter, Walt Disney Studios has decided that they will be running the upcoming film, "Alice In Wonderland", for only 12 weeks in North American and The U.K., as opposed to the original window of 17 weeks. While this chang...
| Full Article
Movie / Film Review
Words alone cannot express how amazing this film is, the only way to truly appreciate it is to treat yourself and see it yourself in theaters this weekend.
SPONSORED LINKS