Alice In Wonderland Theatrical Review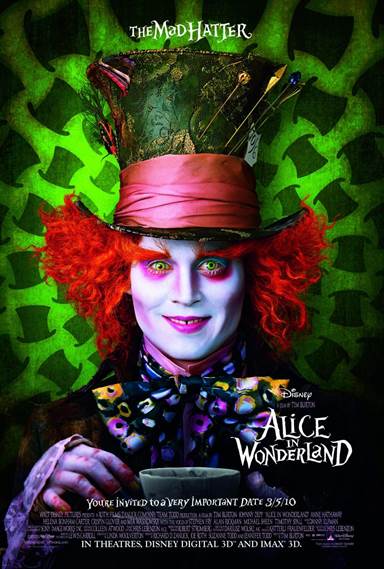 One of 2010's most anticipated films, Alice In Wonderland, arrives in theaters this Friday, March 5th.
Directed by Tim Burton, this new Alice In Wonderland film has Alice returning to Wonderland as a 19-year-old, reuniting with her childhood friends: the White Rabbit, Tweedledee and Tweedledum, the Dormouse, the Caterpillar, the Cheshire Cat, and of course, the Mad Hatter. Alice embarks on a fantastical journey to find her true destiny and end the Red Queen's reign of terror.
Tim Burton's favorite Johnny Depp is back portraying the ever so insane Mad Hatter; Mia Wasikowska as the now grown up Alice; Helena Bonham Carter as the Red Queen; and Anne Hathaway as the White Queen.
On a scale of 1-10, it is almost impossible for a movie to ever be a perfect ten. There is always something that could be perfected with any film. However, Alice in Wonderland comes pretty close to achieving this perfection.
The screenplay by Linda Woolverton is simply genius and probably could not be better written by Lewis Caroll himself. The idea of an adult, Alice, returning to the place from her youth helps open up the story to an entire new audience, and allows it to go in directions that one could never imagine if Alice was still the young girl normally is.
As far as directing, Tim Burton still has it! Known for always having a strange direction on his projects, Disney was secure enough to let Burton play to all his strengths; and it really shows. All the characters (including the CG ones) have amazing depth and literally jump off the screen.
The combination of Alice in Wonderland's special effects and Disney Digital 3D have achieved the perfect eye candy for the viewer. Most of the time, I had a hard time even dissecting how most of the effects were achieved in the film.
Last but certainly not least, is the amazing score by longtime Burton collaborator, Danny Elfman. The mixture of the on-screen images combined with Elfman's score illicitness some pretty powerful emotions.
Words alone cannot express how amazing this film is, the only way to truly appreciate it is to treat yourself and see it yourself in theaters this weekend.
Purchase your copy of Alice In Wonderland today at
Download Alice In Wonderland from the iTunes Store in Digial HD.
About Nathan M Rose
comments powered by

Disqus
Today's iTunes Digital HD Deals