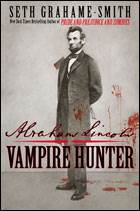 Rufus Sewell has been cast in the upcoming Tim Burton produced, "Abraham Lincoln: Vampire Hunter", according to Variety. He will be playing the role of the villain, Adam.

Sewell joins the cast, which already includes Benjamin Walker, Mary Elizabeth Winstead and Dominic Cooper. The film is based on the book of he same name, and chronicles Abraham Lincoln's mission to rid the world of vampires.

The film is slated for June 22, 2012 release.