Jun 02, 2011 04:23 PM EST
"Hangover" 3 In the Works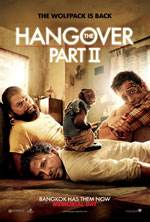 The popularity of the two "Hangover" films has prompted a third to be written.

Craig Mazin will be writing the next installment, just as he did with the first two (Scot Armstong co-wrote part II). "Hangover II", released by Warner Bros., grossed over $205 million since opening last Thursday. It was their best comedy premiere to date.

Mazin also penned "Scary Movie 3" and Scary Movie 4".