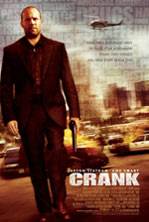 "Crank", the franchise starring Jason Statham, will be seeing a third installment hit theaters.

Mark Nevedine recently was quoted as saying that the film is in the works, and that he already knows he would like Idris Elba to be in the film. Elba most recently starred in "Thor" as Heimdall. "We joking-but-not-quite-jokingly joked about that with Idris while we were over in Romania and Turkey. Just trying to figure out a way of getting him into Crank 3. There are so many different ways that Crank 3 could go. We've been talking about the top 50 ideas we what to do for Crank 3, so we're just trying to pair them down. By the way, Crank 3 is going to happen, the studios are really excited about it - it's just all about timing", said Nevedine.

Not too worry, though. Statham will be back as the indestructible Chev Chellios. Nevedine said, "With Crank, basically, you insert another quarter and you play the game again. It's kind of like what thrills me and Brian, it's whatever we feel like doing there in the moment, whatever we wanna do, we just do and make it happen. The important thing is what powers Chev. It was adrenaline that kept him alive in the first one, it was electricity in the second one, you know, it's all about what will keep him alive in the third one. It's just fun slinging those ideas around."