Crank (2006)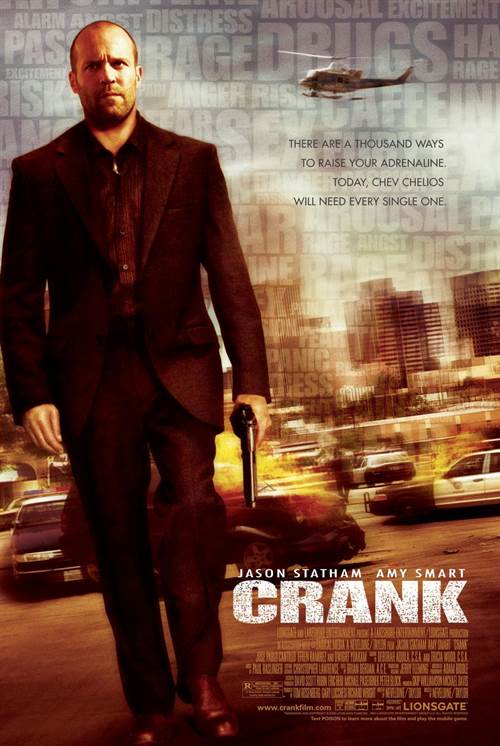 | | |
| --- | --- |
| Director: | |
| Writers: | |
| Cast: | |
| Released: | Friday, September 1, 2006 |
| Length: | 83 minutes |
| Studio: | Lionsgate |
| Genre: | Action/Adventure |
| Rating: | Under 17 requires accompanying parent or adult guardian. |
Crank Synopsis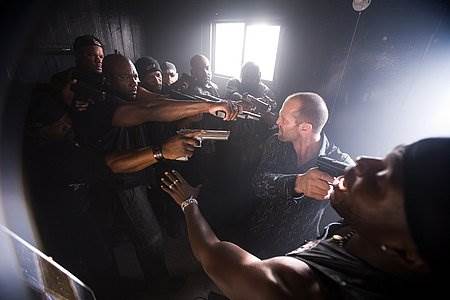 Chev Chelios is about to begin his morning with an unexpected wake-up call. Groggy, practically unable to move and with a heart that's barely beating, he hears the voice of thug Ricky Verona, who reveals Chev has been poisoned in his sleep and only has an hour to live.

As it turns out, Chev is a hit man who freelances for a major West Coast syndicate. A run of the mill job the night before instead went awry: he let his target slip away in an effort to quit professional killing and start a new life with his girlfriend Eve.

Now, Chev must keep moving to stay alive: the only way to prolong the poison from stopping his heart is to keep his adrenaline flowing. As the clock ticks, Chelios cuts a swath through the streets of Los Angeles, wreaking havoc on those who dare stand in his way. He must rescue Eve from danger, stay two steps ahead of his nemeses and search for an antidote to save his own life.

Purchase DVD/Blu-ray/4K UHD physical copy of Crank today at Amazon.com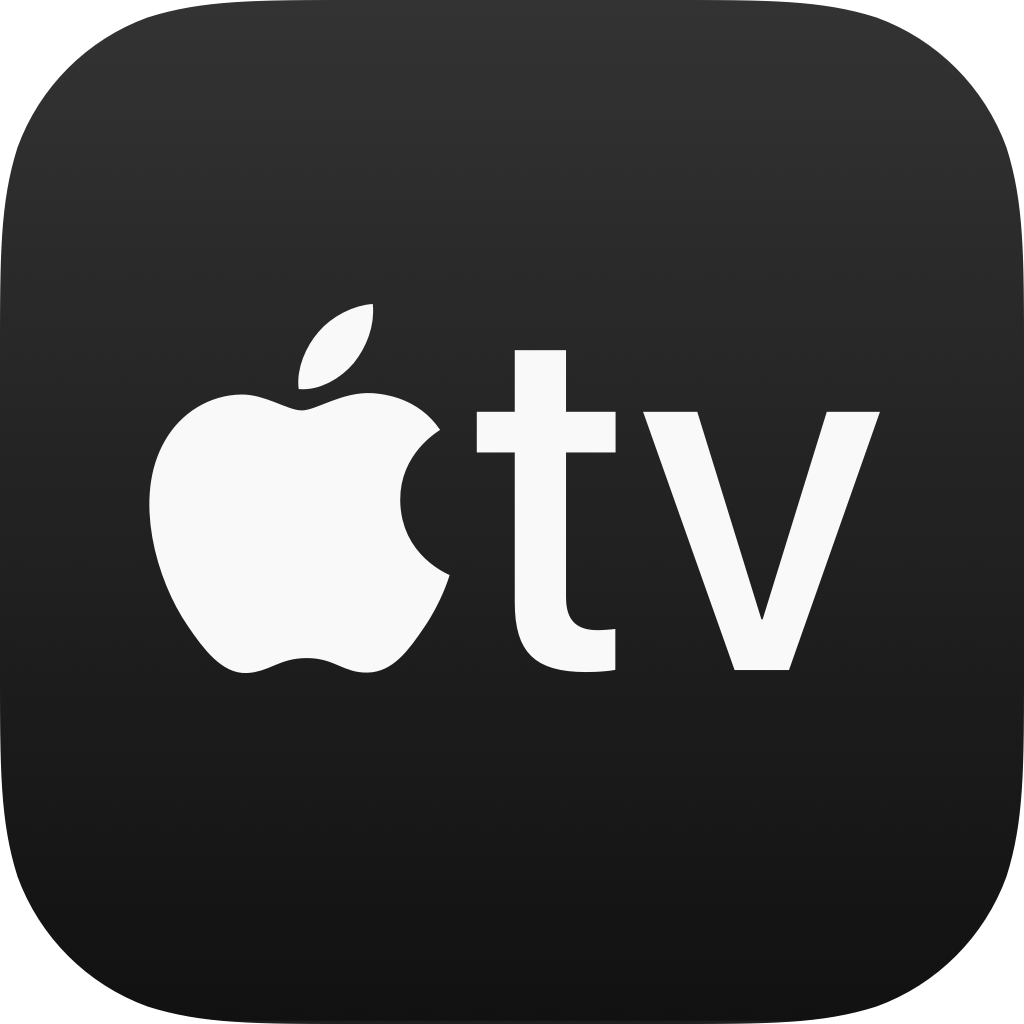 Stream Crank in Digital HD/4K from the AppleTV store.
Listen to the Crank soundtrack on Apple Music.
Crank images are © Lionsgate. All Rights Reserved.
Crank 3 In the Works
12/14/2011 4:00 PM EST
"Crank", the franchise starring Jason Statham, will be seeing a third installment hit theaters.Mark Nevedine recently was quoted as saying that the film is in the works, and that he already knows he would like Idris Elba to be in the film. Elba most recently starred in "Thor" as Heimdall.  "We joking-but-not-quite-jokingly joked about that with Idris while we were over in Romania and Turkey. Just ...
More>>
Crank 4K Review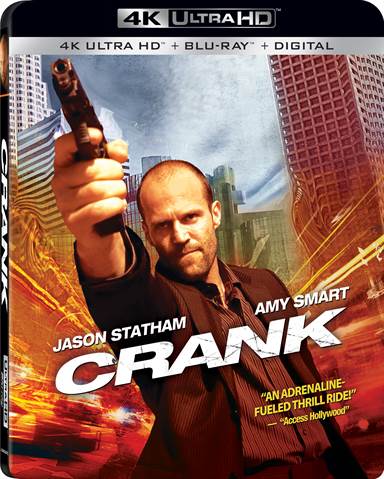 Jason Statham (
The Meg
) is one of the most popular action movie stars around. After starting his career with a few film roles working for director Guy Ritchie (
Aladdin
), he landed the lead in
Transporter
, which was truly his breakout film. He proved that he was able to hold an audience's attention and was believable with his action stunts. After
Transporter 2
in 2005, he really proved that he was a draw at the box office and after that landed 2006's
Crank
. Now, you can bring home some his best action scenes with the release of Crank on 4K UHD Blu-ray.
In Crank, Statham plays Los Angeles based English hitman Chev Chelios. He is employed by an organized crime group led by Don "Carlito" Carlos (Carlos Sanz; Terminator: The Sarah Connor Chronicles). After Chelios is contracted by Carlos to kill the leader of the Triads, Don Kim (Keone Young; Men in Black 3), he soon finds out that now HE is the next target in an attempt to cover up the murder of Don Kim. He is injected with a poison that will kill him unless he is able to keep his adrenaline up. if not, the poison will stop his heart and he will die. Chelios must do everything he can - from taking drugs to getting into fights - to keep his adrenaline pumping.
Crank is classified as an action film, but honestly, it should have its own genre. It is such a hyper-stylized, unique film that really nothing before it and, to this day, nothing has ever been made that can compare. One driving force behind the film it seems was for the directors/writers of the film, Mark Neveldine (Gamer) and Brian Taylor (Ghost Rider: Spirit of Vengeance) to take the very popular video game Grand Theft Auto, and turn it into a live action movie. Each scene filmed in this movie is almost unnatural, with buildings literally flexing, shootouts occurring with very little police response, and backstory or exposition appears on screen in some very odd and unique places.
Aside from Statham, Crank has an eclectic cast of characters that shine in their own right in the film, including Chelio's girlfriend (Amy Smart; Rat Race), Verona (Jose Pablo Cantillo; Disturbia), Carlito (Sanz), and Orlando (Reno Wilson; Transformers films). However the two most fun and unique roles that really stood out were that of Chelio's doctor (Dwight Yoakam; Sling Blade), and his side-kick Kaylo (Efren Ramirez; Gamer) who were so out of this world, you longed for more screen time with them.
Crank is presented in Dolby Vision in its original aspect ratio of 1.78:1 with 2160p lines of resolution. Grading the video clarity of Crank is really a sliding scale. With the hyper-stylized look of filming that Neveldine / Taylor used, some of the things viewers might notices as glitches or errors are actually done on purpose while at times the colors get over-saturated as well as the noise and grain on the film seem intentional. However, while saying that, Crank still gets a great upgrade in terms of overall flesh tones and sharpness. Details never seen on the Blu-ray or DVD, come through in this release.
This 4K release of Crank really shines with its Dolby Atmos audio upgrade. With an already unique audio audiotrack, this upgrade truly makes your room part of the film. The new Atmos surround sound and height speakers make the film envelope the room. The dialog is still crisp and clear on the front speakers, but the rest of the speakers are dedicated to pounding your ears every second with an element in the film.
Cranks special feature appears to be an import of the original Blu-ray release. These include:
Shooting Crank - A look at the digital shooting of the film.
The Stunts of Crank - This is a look at the stunts performed in the film including Jason Statham's helicopter stunt.
Pushing Crank – This feature takes a look at the marketing that went on for the film including posters and various uses of the internet.
Crank @ Comic-Con - A Q&A with Jason Statham from 2006.
More Stories from Crank - Cast, and crew discuss various stories about the making of the film.
Crank is a high-energy film that keeps your interest throughout. Statham is a quintessential action star taking audiences along on his crazy antics film after film. If you're looking to escape after a long, hard day "Crank" is a great way to pass the time and will make a great addition to your home entertainment collection.

Grade: A-
For more reviews please visit our film/television review section.
SPONSORED LINKS