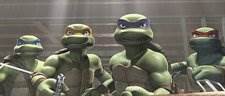 Since the news of that The Teenage Mutant Ninja Turtles were once again returning to the big screen there has been much speculation what the new reboot of the film would offer, but there was outcry amongst the fan community last week when Michael Bay stated that the new Turtles would have originated from aliens. So much was the outcry there is even a Facebook page called 'Teenage Mutant Ninja Turtles Are Not Aliens Michael Bay' formed by disgruntled fans.

With filming rumoured to be starting in the fall in North America, now it seems director Jonathan Liebesman has shot to the defence of the Transformers director, Liebesman, who was speaking at a Wrath of the Titans press event, said -

"Look, it's so funny. If everyone was such a die-hard fan, they would know that the TCRI canister's where the ooze comes from, that is alien ooze. Now I'm not saying what Michael said is exactly what the movie is, because we're sitting in a room now figuring everything out. So we don't know, but we are, like Michael said, we're expanding it, and the expansion will be true to the mythology. I promise you, fans will love it."
Liebesman also told the event that the original creator of TMNT, Kevin Eastman will be involved with the development process of the new movie he said-

"Whatever mythology we're building on or expanding is coming from that guy, Kevin Eastman's head, who created the Turtles in the first place. And so everything will tie in with the mythology. Fans will be extremely excited with what we're coming up with. A lot of it is stuff he's wanted to do for a long time, but just hasn't had the opportunity because now we have the budget and things on this film to expand it in the right way. And so, I'm happy that everyone is extremely passionate, and they will not be disappointed. It's all coming from the best possible place for this franchise."

Hinting that motion capture might be used on Leonardo, Raphael, Michelangelo and Donatello the director said, "All I'll say is that I love how they did (Rise of the Planet of the Apes). That was exceptional." Something else that was hinted upon is the camaraderie between the Turtles, "We're definitely into the action, but for me what's more important than that is that it's a story about brotherhood and friendship and responsibility. Right now, I'm with the characters because those are what attracted me to the movie. They're the best characters I'll have had a chance to deal with."

Whether those comments are enough to allay the fans, who knows but with a release date of December 2013 these will not be the last snippets we hear about this movie.