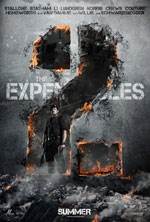 In a recent interview with BJJ Addict, "The Expendables" star Randy Couture spoke about the future of the franchise.

"we're probably going to start shooting Expendables 3 in the fall after 'The Expendables 2' comes out in August", said Couture. Great news for "Expendables" fans, but we have yet to hear an official confirmation about a third film.

"The Expendables 2", starring Sylvester Stallone, Jason Statham, Randy Couture, Arnold Schwarzenegger, Bruce Willis, Jean-Claude VanDamme, Terry Crews and Dolph Lundgren, is slated for an August 17, 2012 release.