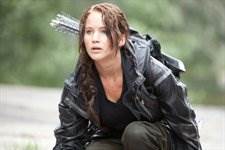 In recent days there have been reports on various media sites that The Hunger Games director Gary Ross had withdrawn his services for the much talked about sequel Catching Fire. Now it seems that those stories may have been a little wide of the mark, as it appears that Gary Ross is on a family vacation and he was in no position to be reached, and the stories that were appearing online were wholly incorrect.

The fact many thought Ross, who had been working since late last year with The Hunger Games author Suzanne Collins on the sequel Catching Fire, would walk away from a project that he had invested so much time and effort into seemed unbelievably. So much time and effort, that the duo even enlisted the help of Slumdog Millionaire screenwriter Simon Beaufoy. This was to give Ross more time to work on the post production of The Hunger Games. Maybe it was this disbelief that caused the story to spread so quickly.

It has been well documented that Ross lobbied hard to get the green light for the Hunger Games which has become a box office sensation taking over $400 million worldwide so far. Add to this the good relationship Ross had with everyone else on the project, and the fact Catching Fire will undoubted be as much of a hit as The Hunger Games, it now seems he will not walk away from the follow up, maybe this for all involved is a good thing.

Another story that had broken towards the end of last week was the tug of war struggle between Lionsgate and Fox over the services of Jennifer Lawrence. Well the muddy waters may have cleared on that one too. Although Fox had the option set in place for Lawrence to reprise her role of Raven/Mystique for the upcoming X-Men First Class sequel first, it seems that Lionsgate will indeed get the services for the sort after star first, due to the fact that the script for Catching Fire is already completed.

Countdown to the release of Catching Fire, with the iPhone Movie Clock App.