The Hunger Games: Catching Fire (2013)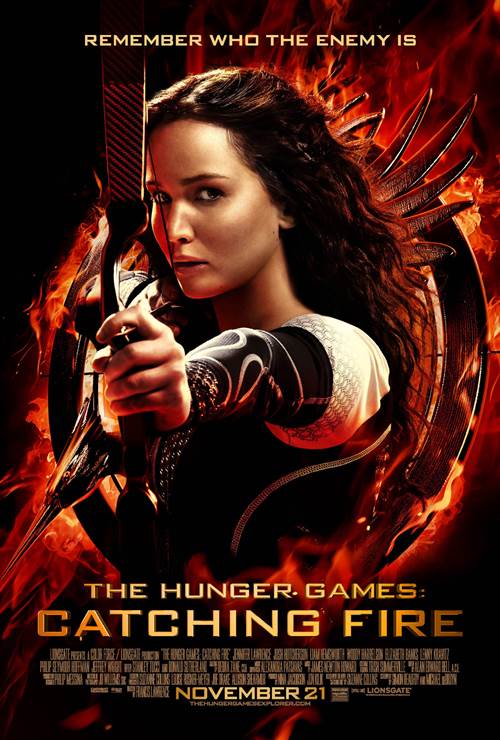 Share this:
| | |
| --- | --- |
| Director: | |
| Writers: | |
| Cast: | |
| Released: | Friday, November 22, 2013 |
| Length: | 146 minutes |
| Studio: | Lionsgate |
| Genre: | Sci-Fi/Fantasy, Action/Adventure |
| Rating: | Some material may be inappropriate for children under 13. |
Synopsis
THE HUNGER GAMES: CATCHING FIRE begins as Katniss Everdeen has returned home safe after winning the 74th Annual Hunger Games along with fellow tribute Peeta Mellark. Winning means that they must turn around and leave their family and close friends, embarking on a "Victor's Tour" of the districts. Along the way Katniss senses that a rebellion is simmering, but the Capitol is still very much in control as President Snow prepares the 75th Annual Hunger Games (The Quarter Quell) – a competition that could change Panem forever.

Purchase DVD/Blu-ray/4K UHD physical copy of The Hunger Games: Catching Fire today at Amazon.com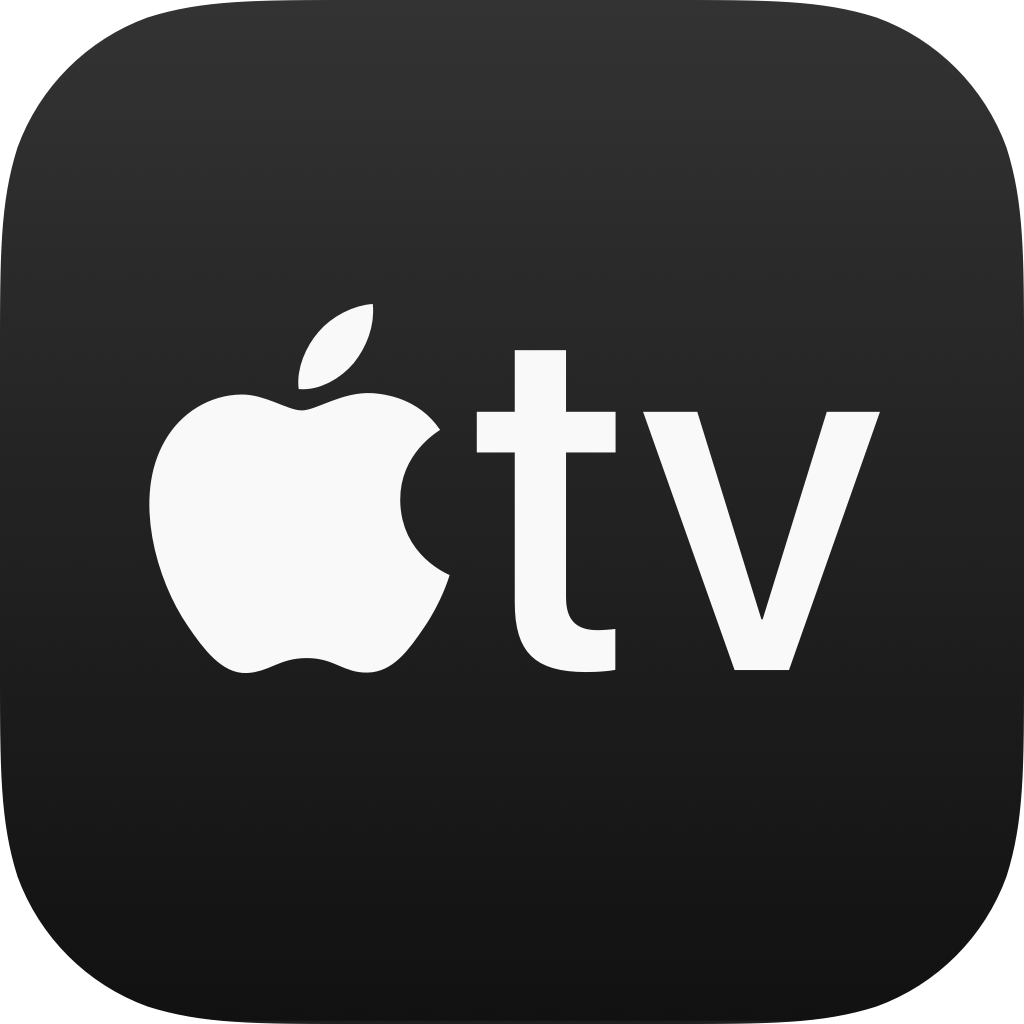 Download The Hunger Games: Catching Fire in Digital HD/4K from the iTunes store.
The Hunger Games: Catching Fire images are © Lionsgate. All Rights Reserved.
Mockingjay Crew Discuss 'The Hunger Games Experience'
3/8/2016 10:02 AM EST
The Hunger Games series was not just four films; it was an experience. That is never more clear than when watching the behind the scenes features on The Hunger Games: Mockingjay - Part 2 Blu-ray. At a sneak preview of a few of the extras on the Blu-ray (available on March 22) director Francis Lawrence and make-up artists Ve Neill, Glenn Hetrick, and Nikoletta Skarlatos were on hand to talk more ab...
More>>
Are Prequels in the Future for Hunger Games Franchise?
12/8/2015 1:54 PM EST
Lionsgate is looking into extending the Hunger Games franchise, according to their Vice Chairman Michael Burns.During the UBS Global Media and Communications Conference in New York, Burns stated that the franchise "will live on and on."  While he didn't comment on exactly how this would happen, he did say that there seemed to be interest in the arena sequences and that "If we went backwards there ...
More>>
Lionsgate To Unveil Catching Fire With World Premiere In London
8/13/2013 4:42 PM EST
Santa Monica, CA and London, UK August 13, 2013 - With 100 days and counting until the November 22 worldwide launch of The Hunger Games: Catching Fire, the second installment of Lionsgate's global blockbuster Hunger Games franchise, the Company announced today that it will host a Catching Fire world premiere in London on November 11.Countdown to the release of The Hunger Games: Catching Fire, with...
More>>
Catching Fire Teaser Trailer to Air on MTV Movie Awards
4/3/2013 3:15 PM EST
"Catching Fire", the upcoming second installment of the "Hunger Games" trilogy, is set for a November 22 release, but you can catch a teaser trailer for the film on the 2013 MTV Movie Awards.On April 14, the show will feature Liam Hemsworth presenting the first trailer to eager fans. However, in case you want a sneak peek, one has become available through MTV.  Below is the 10 second preview of th...
More>>
Danny Strong tapped to write 'Hunger Games' Finale
10/2/2012 3:02 PM EST
Danny Strong, who just won two Emmys for writing and co-exec producing HBO's "Game Change", has been chosen to pen the two part "Hunger Games" finale, title "Mockingjay".     "Hunger Games" has earned more than $685 million worldwide. "Catching Fire", the sequel, will be released on November 22, 2013.     "Mockinjay", the finale, will be released in two parts - the first being Nov. 21, 2014 and th...
More>>
Hunger Games: Catching Fire Begins Production
9/11/2012 8:04 AM EST
Tuesday 11th September, 2012.  Principal photography started yesterday on the highly anticipated sequel to the worldwide blockbuster film THE HUNGER GAMES. THE HUNGER GAMES: CATCHING FIRE will shoot primarily in existing locations in and near Atlanta, Georgia.  The film will subsequently be shot on location in the beaches and jungles of Hawaii before wrapping in late December, 2012. Countdown to t...
More>>
Target to Sell Exclusive Hunger Games Merchandise
8/7/2012 4:30 PM EST
Target will be going all out for the Hunger Games Blu-ray and DVD release.The store has announced that it will be selling some pretty pricey products based on items from the film.  You can buy a  solid 14-K gold Mockingjay pin, like the one Jennifer Lawrence's Katniss wears in the film, $999. Or, you can a replica of Katniss's leather jacket for $349. A lithograph, that is signed by 10 Hunger Game...
More>>
Hunger Games Blu-ray Release Date Set For 12:01 AM 8/18/2012
5/23/2012 1:40 PM EST
SANTA MONICA, CA, May 23, 2012 -Lionsgate's The Hunger Games juggernaut will arrive on home entertainment at 12:01 A.M. on Saturday, August 18, as the first film in Lionsgate's (NYSE: LGF) The Hunger Games franchise, which has already grossed nearly $400 million at the North American box office and is approaching $650 million at the worldwide box office, debuts on 2-disc DVD (plus digital copy), 2...
More>>
Robert Pattinson Being Courted For Hunger Games Sequel
5/23/2012 1:34 PM EST
Robert Pattinson best known as heartthrob Edward from Twilight, is looking for new projects as the series comes to a close.   According to Total Film, it is rumoured Lionsgate wants him for the next installment of the Hunger Games franchise, " Catching Fire" for the role of Finnick Odair, a ladies man and former tribute, who gets himself involved in "The Third Quarter" -- a contest for Hunger Game...
More>>
Catching Fire Getting a New Writer, Script Changes
5/7/2012 12:32 PM EST
Michael Arndt is currently in talks to do some rewrites on the script for "Catching Fire", the second film in the "Hunger Games" franchise.Arndt is an Oscar winning writer, who penned the scripts for "Toy Story 3" and "Little Miss Sunshine". The need for a new script is due to  a change in directors from Gary Ross to Francis Lawrence.Filming begins for "Catching Fire" in August.Countdown to the re...
More>>
'I am Legend' Director To Helm 'Hunger Games' Sequel
4/20/2012 1:44 PM EST
Since Gary Ross confirmed he would not be directing the sequel to the hugely popular Hunger Games, Catching Fire, speculation has been rife who his successor would be. Well speculate no longer as it seems Lionsgate has gone with I Am Legend director Francis Lawrence.   There has been a handful of names linked with the project, but Lawrence has been the front runner mainly due to the fact he is not...
More>>
Confirmed: Gary Ross Will Not Direct Hunger Games Sequel, Catchi...
4/11/2012 8:34 AM EST
Over the last week there has been a game of will he won't he being played out on many entertainment website. He being director Gary Ross and whether or not he will be back to direct the sequel to the worldwide box office hit The Hunger Games, Catching Fire. The first rumours that he was to walk away from the second film soon spread globally to the dismay of many fans. This was swiftly followed by ...
More>>
The Hunger Games: Catching Fire Theatrical Review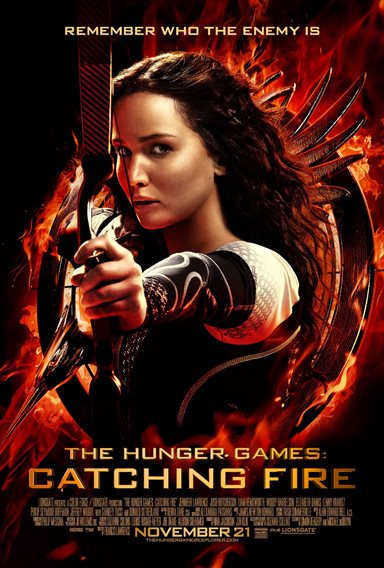 Great news for fans of The Hunger Games: the girl is on fire again and burning just as brightly as before. The second movie in the popular franchise, Catching Fire, opens where the first movie left off, with Katniss Everdeen (Jennifer Lawrence, X-Men: First Class, Silver Linings Playbook) and Peeta Mellark (Josh Hutcherson, Journey 2: The Mysterious Island, Red Dawn) back home. Victorious in the 74th Hunger Games, which saw the pair become the sweethearts of a nation, but before being able to find their way back into their "normal" lives, the pair are sent on a victory tour of the districts of post-apocalyptic Panem. This is something neither of them really feels at ease with, but in a world ruled by the totalitarian hand of President Snow (Donald Sutherland), they do like most do as is needed to survive, and toe the line.

Set to the backdrop of this tour, the tributes from District 12 see first-hand what life is like for the normal working citizen, which in some cases is little more than slavery. They witness first-hand the daily poverty many live through as a result of the barbarity of a regime that many seem wanting to change. But to Katniss's surprise, after her exploits in the game arena, many now see her as the figurehead that could force through change. President Snow, though, is not one for giving up his power-hold without a fight, and with a new game maker Plutarch Heavensbee (Philip Seymour Hoffman) by his side, he sets in place a game to put an end to the thorn in his side that is Katniss Everdeen: a "Quarter Quell" pitting victor against victor where only one will survive.

The original Hunger Games was such a phenomenal hit in 2012, there was no surprise a second movie would come along, and you'll be glad to hear thatCatching Fire is a worthy follow up. If you were a fan of the first, you will no doubt enjoy the second just as much. Production continuity is maintained well, with Francis Lawrence once again directing, with the author of the novels Suzanne Collins advising on the script by award-winning screenwriters Simon Beaufoy and Michael Arndt. Beaufoy and Arndt's script leads you straight into the story, with little need to getting to know main characters once again, but where development is needed, it's there.

Graphically, Catching Fire is superior to the first movie, sweeping vistas of both countryside and city look very impressive on the big screen — every cent spent on them was a cent worth spending. All this leads to a smooth run building up in intensity to the Quarter Quell. You know what you're going to get once into this portion of the movie, but there are subtle differences that keep the story interesting.

Jennifer Lawrence is again superb in the role of Katniss, a slightly changed role as the experiences of the games has changed the way she sees the world, a little more mature, love torn between Peeta and Gale (Liam Hemsworth), not knowing what's best for her, while still attempting to put others ahead of herself. Josh Hutcherson, Donald Sutherland, and Woody Harrelson as Haymitch Abernathy are very accomplished in reprising roles

But out of new characters, Philip Seymour Hoffman (The Master) as the new games maker and Sam Claflin (Snow White and the Huntsman) as Finnick Odair are the pick of the bunch, both slightly mysterious — you never really get to see what they are up to until the last scene, not edge of your seat stuff, but surprising if, like me, you have not read the books.

There are not many sequels that surpass their original titles and this one is no exception. Instead, Catching Fire is one of those rare gems that's equally as entertaining as its predecessor. It's a well-directed story, with great cinematography to boot, and costumes that would not look out of place in Elton John's wardrobe. Undoubtedly this will be a sure-fire hit which you will not want to miss.
-- Paul Kates
For more reviews please visit our film/television review section.
THE HUNGER GAMES: CATCHING FIRE begins as Katniss Everdeen has returned home safe after winning the...
SPONSORED LINKS