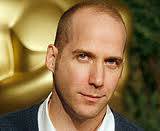 Michael Arndt is currently in talks to do some rewrites on the script for "Catching Fire", the second film in the "Hunger Games" franchise.

Arndt is an Oscar winning writer, who penned the scripts for "Toy Story 3" and "Little Miss Sunshine". The need for a new script is due to a change in directors from Gary Ross to Francis Lawrence.

Filming begins for "Catching Fire" in August.

Countdown to the release of Catching Fire, with the iPhone Movie Countdown Clock App.