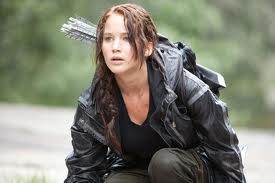 Danny Strong, who just won two Emmys for writing and co-exec producing HBO's "Game Change", has been chosen to pen the two part "Hunger Games" finale, title "Mockingjay".
"Hunger Games" has earned more than $685 million worldwide. "Catching Fire", the sequel, will be released on November 22, 2013.
"Mockinjay", the finale, will be released in two parts - the first being Nov. 21, 2014 and the second on Nov. 20, 2015.
Jennifer Lawrence, Josh Hutcherson, Liam Hemsworth, Woody Harrelson, Elizabeth Banks, Stanley Tucci, Lenny Kravitz, Toby Jones and Donald Sutherland will be returning to reprise their roles in the upcoming sequel.
Countdown to the release of Mockingjay, with the
iPhone Movie Countdown Clock App
.