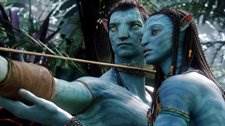 It seems that James Cameron has only one thing on his mind for the rest of his professional career and that is 'Avatar'. The Academy Award winning Director was recently talking to the New York Times and stated -- "I'm in the 'Avatar' business -- period. That's it. I'm making Avatar 2, Avatar 3, ane maybe Avatar 4; and I'm not going to produce other people's movies for them."

"I'm not interested in taking scripts, I think within the 'Avatar' landscape, I can say everything I need to say that I think needs to be said, in terms of the state of the world and what I think we need to be doing about it; able to do it in an entertaining way."

Taking time out to talk about the pre-production of the first sequel to the hugely successful, 2009 phenomenon, he said "So we've been mostly working on the tool set, the production pipeline, setting up the new stages in Los Angeles, setting up the new visual effects pipeline in New Zealand, that sort of thing; as well as "writing."

Avatar 2 is rumored to be set below the oceans of Pandora, and is due to hit the big screen sometime in 2015.