Avatar (2009)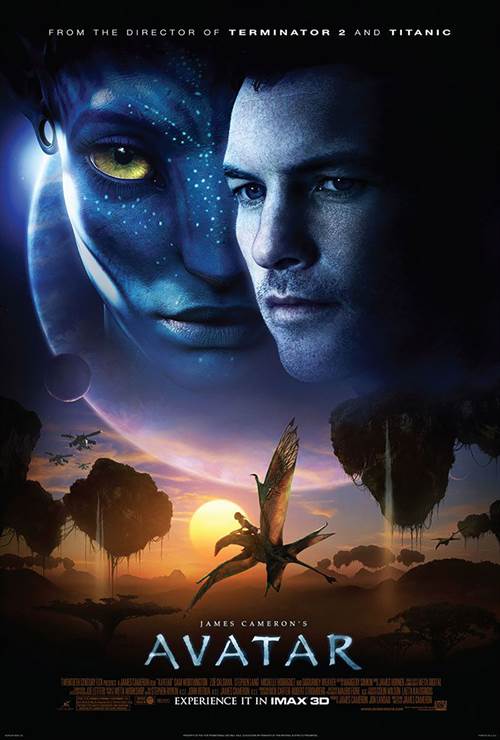 Share this:
| | |
| --- | --- |
| Director: | |
| Cast: | |
| Released: | Friday, December 18, 2009 |
| Length: | 189 minutes |
| Studio: | 20th Century Studios |
| Genre: | Sci-Fi/Fantasy, Action/Adventure |
| Rating: | Some material may be inappropriate for children under 13. |
Synopsis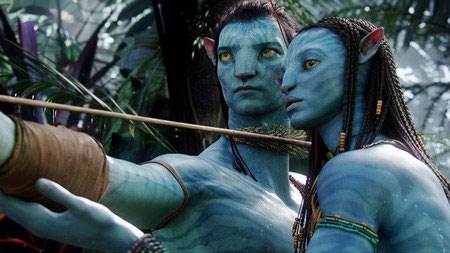 Avatar takes us to a spectacular new world beyond our imagination, where a reluctant hero embarks on a journey of redemption and discovery, as he leads a heroic battle to save a civilization. The film was first conceived by Cameron 14 years ago, when the means to realize his vision did not yet exist. Now, after four years of actual production work, AVATAR delivers a fully immersive cinematic experience of a new kind, where the revolutionary technology invented to make the film, disappears into the emotion of the characters and the sweep of the story.

Purchase DVD/Blu-ray/4K UHD physical copy of Avatar today at Amazon.com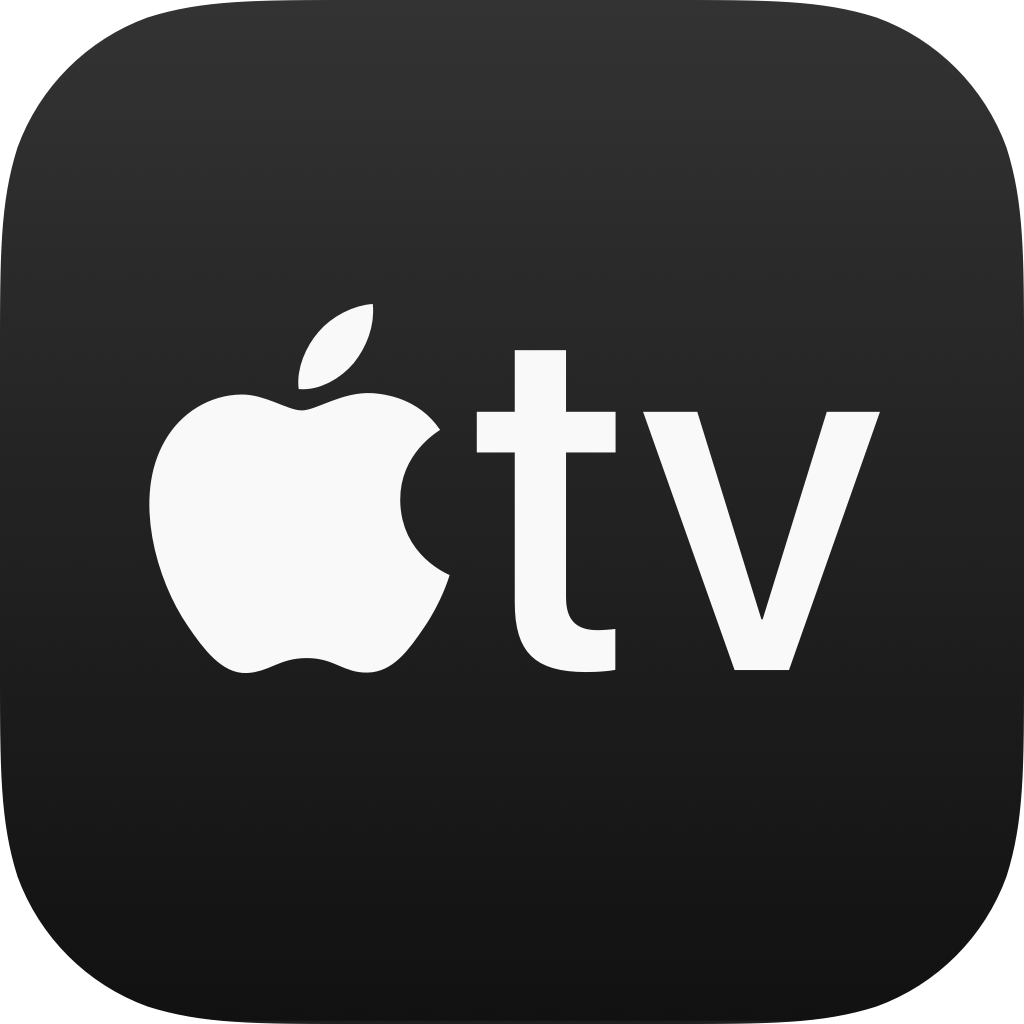 Download Avatar in Digital HD/4K from the iTunes store.
Avatar images are © 20th Century Studios. All Rights Reserved.
Zoe Saldana Talks Avatar Sequels
5/6/2013 2:43 PM EDT
Zoe Saldana, who starred in "Avatar", recently appeared on The Jonathan Ross Show, and spoke about the two upcoming films for the "Avatar" franchise.Saldana said "They're doing a part two and a part three and they're probably going to shoot it at the same time. Because if we just do two and then wait, I'll probably be 45 or 50 [years old] by the time we get to part three."Shooting is set to begin ...
More>>
Pandora Comes To Life on Blu-ray 3D This October
8/14/2012 10:35 AM EDT
LOS ANGELES, CA. (August 14, 2012) - The world of Pandora has never looked better as over 33 millionAVATAR Facebook fans were the first to learn of the upcoming release of the AVATAR Blu-ray 3D Collector's Edition, debuting globally beginning October 15, releasing in North America October 16, from Twentieth Century Fox Home Entertainment. A home entertainment experience like no other, for the firs...
More>>
James Cameron To Only Concentrate On Avatar Feature Films
5/9/2012 5:06 PM EDT
It seems that James Cameron has only one thing on his mind for the rest of his professional career and that is 'Avatar'. The Academy Award winning Director was recently talking to the New York Times and stated -- "I'm in the 'Avatar' business -- period. That's it. I'm making Avatar 2, Avatar 3, ane maybe Avatar 4; and I'm not going to produce other people's movies for them." "I'm not interested in...
More>>
James Cameron's Avatar 2 Pushed Back
4/7/2012 10:28 AM EDT
It sounds like the release date of the second Avatar movie has been pushed back yet again. At a press event celebrating the rerelease of Titanic albeit in 3D this time round, producer Jon Landau said"We're not naming dates, but I think 2014 will be a tough date for us to make. For us, it's about getting it right. Titanic was supposed to be a summer movie; it was a December movie. The first Avatar ...
More>>
James Cameron Excited For New Avatar Films
10/19/2011 5:04 PM EDT
James Cameron recently spoke with ABC News, and said that he is excited to get started on the upcoming "Avatar" projects.The director stated, "That's an ecosystem that I'm dying to start designing because it's going to look spectacular. Avatar 2 narrows the spotlight to focus a little more on ocean issues instead of just nature in general or the rainforest. We have a planet that's a blue planet. F...
More>>
James Cameron's Avatar Retuning To Theaters in August
7/10/2010 12:16 PM EDT
According to blu-ray.com, Twentieth Century Fox and James Cameron have officially announced that "Avatar: Special Edition" will be released, in a limited engagement, in theaters August 27, and exclusively in Digital 3D and IMAX 3D. Cameron stated that "Audiences repeatedly told me they wanted more of Pandora, and wished they could have stayed there longer. So we're making that possible. Avatar: Sp...
More>>
Avatar Is the #1 Movie in North America -- This Time on Blu-ray ...
4/26/2010 1:47 PM EDT
LOS ANGELES (April 26, 2010) - Twentieth Century Fox Home Entertainment announced today that James Cameron's phenomenal epic AVATAR became the best selling Blu-ray of all time after just four days in stores, with an astonishing 2.7 million units sold in North America alone.  AVATAR Blu-ray sales crushed the previous record of 2.5 million units.Retail sales of AVATAR Blu-ray and DVD Discs have exce...
More>>
Avatar From Left To Right
12/28/2009 10:58 PM EDT
The film-making approach for Avatar is spectacular.  It looks like nothing else, because it is new.  It takes CGI to a whole new level, and CGI characters to the place where they really seem to be "real". However, the plot is a different matter.  Some people found it downright insulting; even while everyone I have read thinks you have to see it.  What this post is about is how it gets analyzed ...
More>>
New Avatar Trailer To Debut This Week
10/22/2009 9:23 AM EDT
20th Century Fox has announced that this Friday, October 23, 2009, is the kick off and movie premier of "Avatar", James Cameron's next film.Unfortunately though, the trailer will not be available online until approximately a week later - around the October 29th timeframe....
More>>
Avatar Theatrical Review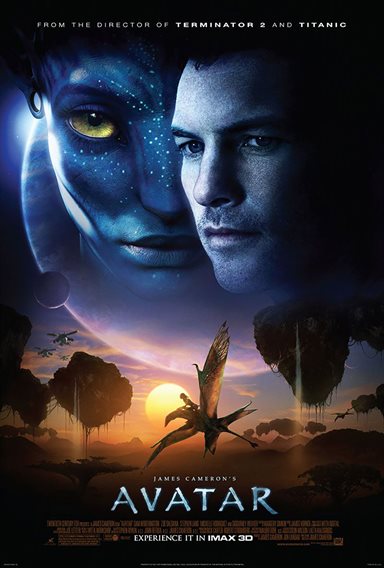 It turns out you cannot count James Cameron out. It appeared kind of telling that the trailers for the movie had to tell you who this guy was and why we should care. The likely 20-something targets for the movie were maybe 10 when Titanic came out (2007), and think of Terminator as an old movie where people have funny 80's hair. To them, Aliens was one of a mediocre 4-part quadrilogy that sometimes plays late nights. Terminator 2: Judgement Day stars that guy from California politics back when he was an actor.
So when I heard that Avatar was coming

, I wasn't that impressed. It would have been dismissed as Halo crossed with Fern Gully, and that turned out to be, for various values of Halo + Fern Gully, pretty accurate to the script or plot. In fact, the plot of the movie is in no way challenging or surprising. There is an alien world around Alpha Centuari called Pandora. It holds a resource called 'unobtanium' (this is an 'in-joke' name for a substance you know you can't get hold of).



On top of a huge deposit of it, are a tribe of primitive aliens called the Na'vi, who are three-meter-tall, blue-skinned native-American types having a deep connection to the ecology and worship a planet-goddess mother who is not called Gaia, but might as well be. The company (presumably the same one as in Aliens that is pretty much pure capitalist evil) has a giant force of para-military guys and wants to either make nice with the Na'vi or relocate them "forcibly".

There is an iron-jawed, mercenary Colonel who is overseeing the military part of the mission. There is Sigourney Weaver who reprises parts of her Gorillas In The Mist role, as well as a little from Aliens, the head science researcher who wants to protect the aliens. Sam Worthington comes in as a crippled marine who is on the mission because his twin brother, who was trained for alien contact, was killed.

Worthington, Jack Sully, is a genetic match for his brother which is important because the scientists use human-Na'vi hybrid bodies to interact with the aliens. Having the same genes means he can drive it, even if he has no experience as a scientist. What follows is a lot like Dances With Wolves. It is a little like Princess Mononoke. It is a lot like a lot of things and none of it is especially surprising.

Cameron is a consummate action director, and he has not lost his touch. I was even glad that Avatar is not as mercilessly relentless as he is capable of being. It has a high tempo, but even at two and a half hours, it held me glued to the screen the whole time. Sometimes, I could see events unfolding and realized how they would come together later as the plot developed because I knew it must. However, a lot of the time I just enjoyed the incredible sights and sounds of the alien world.

In order for me to give a movie an 'A' rating, it has to do more than just hold my attention; it has to challenge me in some way. Avatar's narrative structure simply does not. It is Hollywood all the way, and Cameron admitted as much when he talked about his inspirations for it. But that isn't all there is to the movie. Avatar is also something new.

In signature fashion

, when Cameron set out to make it, he wanted virtual actors. Technology wasn't ready, so he worked on it. He wanted to immerse the audience in a virtual world. The 3D technology wasn't up to it, so he worked on it. He created special cameras for a higher frame rate. He used a new method for virtual staging, so he could direct in real time and look at action sequences. He worked on new methods of getting life-like facial expressions from his actors into their virtual, well, Avatars -- and it all works.



When Avatar begins

, there are no credits; it simply opens in the incredible world of Pandora and the future and invites us in without telling us we are in a movie. I expect this is fully intentional. When watching the show, I forgot that these virtual actors were not on a real set. The jungle from its tiny insects to soaring trees is entirely fabricated -- nothing is real -- and we forget that. It is challenging in a way the script cannot convey. It's craft exceeds its plot.



Avatar gives us some of the first virtual actors we can really believe in. It gives us a new 3D experience that has nothing to do with making the audience duck or adding depth to a computer-animated film. It is a new way to immerse us in the story and for the entire

ly long runtime of the movie, it captivated me. I forgot that there are some questionable plot points, e.g. why does the human-Avatar link and overly obvious elements work when no other signals do? I did take notice that one of the pilots had my same last name -- but what are you gonna do?



Avatar is a new experience

, and one that demands the big screen.
-- Marco Chacon
Read More Avatar Reviews
For more reviews please visit our film/television review section.
SPONSORED LINKS