Avatar 3D Blu-ray Review
By
John Delia
,
Oct 29, 2012 10:31 AM EST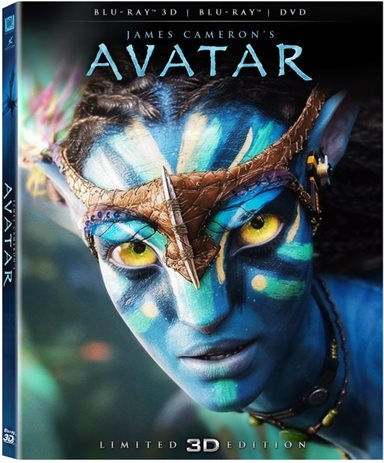 Powerful, amazing, entertaining and captivating describes the way I feel about James Cameron's Avatar, a film that's a treat for sci-fi fans and action junkies around the world. Avatar has been recently released in a combo pack that includes Blu-ray 3D, Blu-ray and DVD all in one box set. The movie gets a startlingly clear and clean transfer from screen to disc and with the exception of screen size it delivers as much creative 3D.

The story centers on Jake Sully (Worthington) an ex-GI who ends up in a wheelchair during his dedicated military career. After the death of his twin brother, a scientific group recruits Jake because of his identical genes. He then gets transported millions of miles from Earth to a strange planet called Pandora. Here a corporation is mining unobtanium a special ore that provides rich fuel for most everything on Earth. After a quick orientation he is offered a chance to use his broken body for the greater good of his planet.

There are two problems on Pandora, the air is toxic to humans and aliens called the Na'vi are living in the area where the corporation has found a unobtanium mother lode. In order to deal with the situation involving relocation of the Na'vi enabling the earthlings to mine the ore scientists send in Avatars, a remote mind controlled biological body that has been shaped to emulate a Na'vi native. Jake gets chosen to be the lead avatar on the operation and infiltrates the Na'vi. While on reconnaissance he gets attacked by a wild panther like animal and gets saved by a Na'vi native Neytiri (Zoe Saldana). Thinking Jake was sent by the gods, Neytiri introduces him to her tribe. When Jake realizes that the corporation he is working for has been feeding on greed with designs on eliminating the peaceful Na'vi Jake makes a dangerous decision.

The story deals with the greed of big corporations that will stop at nothing for what they want including the power over a peaceful alien nation. Here Avatar deals with some interesting issues including Earth's energy crisis and extermination of a peaceful alien population. Not too farfetched from today's worldwide problems, Director James Cameron tells his story in a manner that we all can understand.

With the magic of motion capture animation, CGI and other computer techniques; Cameron puts together a powerful and amazing fantasy world complete with strange wild animals, playful vegetation, and a gentle life force. Putting his audience inside the action with special 3D cameras, we are able to not only see the story played out, but experience it as well.

The acting in Avatar is extremely good making this film enjoyable to watch. Sam Worthington does a great job of portraying Jake the last hope for Na'vi salvation. But the top accolade belongs to Zoe Saldana who breathes passion, curiosity, understanding and strength into the upstart Neytiri, the central driving force within the defense of the Na'vi.

Whether it's the special computer generated characters, the creative presentation of the fantasy action thriller or three-dimensional imagery, Avatar is certainly a stunning memorable movie-making breakthrough. Brought to the home theater in high definition 3D, the amazement becomes a more personal thing. When it was released in 2009 it was nominated for 9 Oscars and won three. The film has grossed over $2.7 billion in worldwide box office receipts to date.

Avatar has been rated PG-13 by the MPAA for intense epic battle sequences and warfare, brief nudity, sensuality, language and some smoking. Your teens will have a visual feast of mystic animals (including Banshees, Direhorses, Tanators and a Leonopteryx), cool flying gunships, AMP suits and ten feet tall Na'vi tribesmen.

The Visual Quality of Avatar in the 3D format goes far beyond most of my recent reviews of home entertainment video coming out over this past year. Improvements include a crisper High Definition 1080p that ramps up the depth of field elements to an attention-grabbing level and clarifies even the smallest of creatures. While extension beyond the front of the screen isn't much, the cavernous views make the viewer feel that they can reach inside and touch the vegetation, aliens and animals. As for standard Blu-ray presentation, again the quality is above standard. The DVD viewed on my HD Television using the Blu-ray player shows some pixilation but nothing the ordinary viewer would catch.

The Sound Quality built around DTS-HD Master Audio 5.1 makes your living room a theater experience. Played through my HD TV and HD speaker system, the film's action and flying sequences are astounding high entertainment.

There are no bonus features with this release beyond the addition of 3D, but the nearly 3 hour film length film provides enough entertainment, especially with the addition of the new format. Remember that in order to play the 3D feature you must have a Blu-ray 3D player, 3D Television, 3D glasses and a High Speed HDMI 1.4 Cable.

FINAL ANALYSIS: A terrific action thriller, especially in 3D (A)


Purchase a DVD/Blu-ray/4K UHD physical copy of Avatar 3D today at Amazon.com
MPAA Rating:
PG-13
Running Time:
189 minutes
Distributed By:
20th Century Fox
For more information about Avatar visit the FlickDirect Movie Database.
Read More Reviews For Avatar
About John Delia