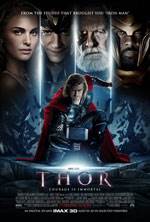 With the Avengers doing so well at the box office, Marvel seems it can do no wrong. One of the principle Avengers is Thor and there's some casting news on the up and coming sequel to the original 2011 movie starring Chris Hemsworth.
As of today, it is confirmed that Idris Elba is coming back to play Heimdall, the guardian of Asgard who stands sentry on the Rainbow Bridge. "I'm going to do Thor after I play Mandela (in Long Walk To Freedom)," Elba stated to Collider, also saying "I'd just like to get to know him a bit more."
"Who is Heimdall? He guards the gate. Is there anything else? I don't know what's in the script because I haven't read it yet, but the audience has responded to Asgard and wants to know more about who lives there and what it's about. I'm sure, if they do that, Heimdall will be featured more."