Thor: The Dark World (2013)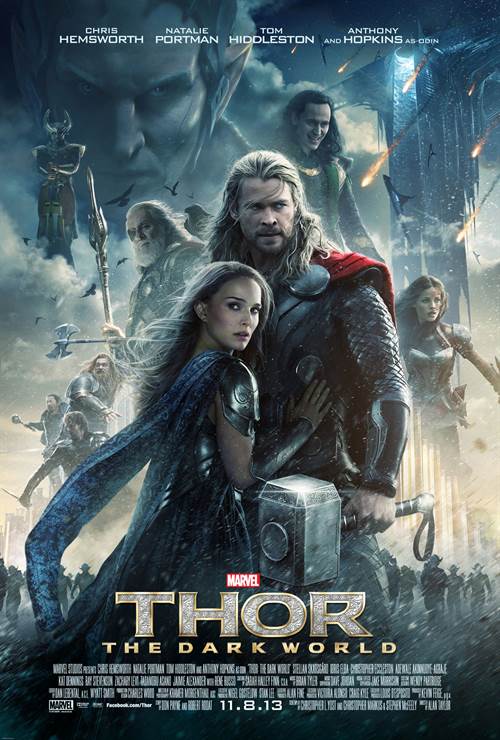 | | |
| --- | --- |
| Director: | |
| Cast: | |
| Released: | Friday, November 8, 2013 |
| Length: | 111 minutes |
| Studio: | Walt Disney Pictures |
| Genre: | Sci-Fi/Fantasy, Action/Adventure |
| Rating: | Some material may be inappropriate for children under 13. |
Synopsis
Marvel's "Thor: The Dark World" continues the big-screen adventures of Thor, the Mighty Avenger, as he battles to save Earth and all the Nine Realms from a shadowy enemy that predates the universe itself. In the aftermath of Marvel's "Thor" and "Marvel's The Avengers," Thor fights to restore order across the cosmos...but an ancient race led by the vengeful Malekith returns to plunge the universe back into darkness. Faced with an enemy that even Odin and Asgard cannot withstand, Thor must embark on his most perilous and personal journey yet, one that will reunite him with Jane Foster and force him to sacrifice everything to save us all.

Purchase DVD/Blu-ray/4K UHD physical copy of Thor: The Dark World today at Amazon.com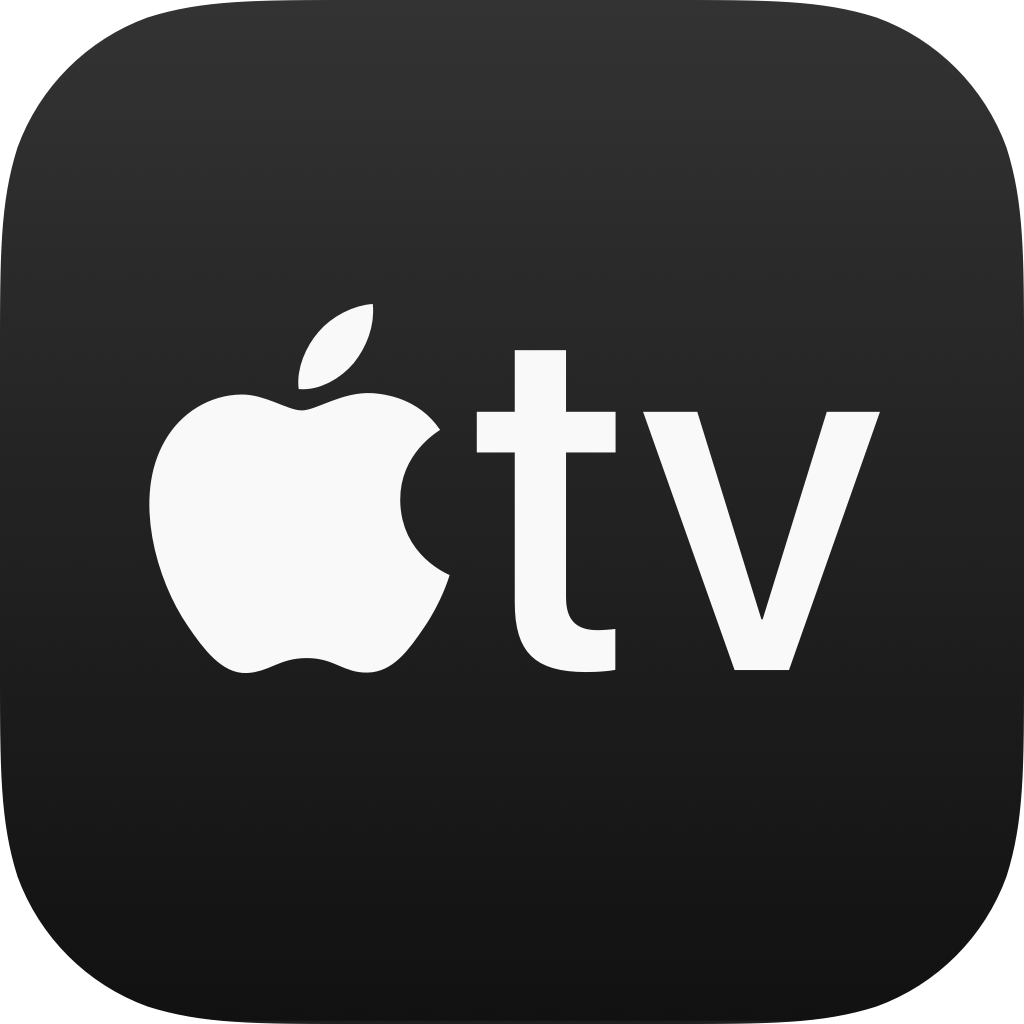 Download Thor: The Dark World in Digital HD/4K from the iTunes store.
Listen to the Thor: The Dark World soundtrack on Apple Music.
Thor: The Dark World images are © Walt Disney Pictures. All Rights Reserved.
Taika Waititi Will Return to Direct Thor 4
7/17/2019 1:00 PM EST
Taika Waititi will be returning to the "Thor" franchise to direct "Thor 4". He previously directed 2017's "Thor: Ragnarok". Hemsworth is expected to reprise his role of Thor.Waititi recently directed "Jojo Rabbit" and his credits also include "Boy," "Hunt for the Wilderpeople" and "What We Do in the Shadows.""Thor: Ragnarok" was a huge success, earning over $854 million worldwide. No release date ...
More>>
Marvel Studios Thor: Ragnarok Superpower of Stem Challenge
8/23/2017 12:41 PM EST
Disney, Marvel Studios, Dolby Laboratories, Synchrony Bank, American Association for the Advancement of Science, Broadcom MASTERS and Society for Science & the Public are pleased to present the nationwide MARVEL STUDIOS' THOR: RAGNAROK SUPERPOWER OF STEM CHALLENGE in conjunction with the November 3, 2017 theatrical release of Marvel Studios' Thor: Ragnarok, starring Chris Hemsworth, Tom Hiddleston...
More>>
Planet Hulk to be Featured in Thor: Ragnarok
12/22/2016 10:52 AM EST
Some exciting news for all you Hulk fans out there - the Plant Hulk storyline will be incorporated into the upcoming Thor: Ragnarok film. We knew that mark Mark Ruffalo would be returning to the Thor franchise, but now it has been confirmed that we will be visiting Sakaar (Planet Hulk) in the film.Director Taika Waititi said, "Sakaar was just an insane, far-off, futuristic place which was the bigg...
More>>
Marvel's Thor: The Dark World Trailer 2 Revealed
8/7/2013 1:48 PM EST
The new trailer for MARVEL'S THOR: THE DARK WORLD is now available on YouTube, having just debuted as part of their Geek Week's Super Wednesday.Countdown to the release of Marvel's Thor: The Dark World, with the iPhone Movie Countdown Clock App.Marvel's "Thor: The Dark World" continues the big-screen adventures of Thor, the Mighty Avenger, as he battles to save Earth and all the Nine Realms from a...
More>>
Thor: The Dark World To Have Epic Battle
9/11/2012 3:46 PM EST
Filming for "Thor: The Dark World" began yesterday in Bourne Wood, Surrey, and The Daily Mail has posted some great shots of the action taking place.The pictures show Chris Hemsworth, as Thor, and Jaimie Alexander, as Sif, engaging in some sort of battle. It is said that this film will have more of a "Viking influence" to it, and with  frequent "Game of Thrones" episode director Alan Taylor at the...
More>>
Thor 2 Villian Revealed?
8/2/2012 9:40 AM EST
British actor, and one time Dr. Who, Christopher Eccleston, is thought to be in final negotiations to play the villain in Marvels forthcoming sequel "Thor: The Dark World". Although no official news, the villain Eccleston is thought to be in line to play is Malekith the Accursed. "Thor: The Dark World" is due to be released on November 8, 2013 and again we'll see many of the original cast return f...
More>>
Zachary Levi In Talks to Star in Thor Sequel
6/11/2012 11:01 AM EST
Zachary Levi, star of "Chuck", is said to be in talks to replace Josh Dallas as the role of Fandral in the upcoming "Thor" sequel.Dallas' schedule for ABC's "Once Upon a Time" will interfere with the schedule for the film. Levi was one of the original actors in talks to play the character in the 2011 film, but, was unable to because of his commitment to "Chuck" at the time.The sequel, which will b...
More>>
Idris Elba Returning For Thor 2
5/16/2012 9:43 AM EST
With the Avengers doing so well at the box office, Marvel seems it can do no wrong. One of the principle Avengers is Thor and there's some casting news on the up and coming sequel to the original 2011 movie starring Chris Hemsworth.   As of today, it is confirmed that Idris Elba is coming back to play Heimdall, the guardian of Asgard who stands sentry on the Rainbow Bridge. "I'm going to do Thor a...
More>>
Jenkins Out as Thor 2 Director
12/7/2011 4:04 PM EST
The Thor sequel is yet again without a director.Patty Jenkins, who took over as director after Kenneth Branagh announced he wasn't going to stay on, has left the production. Jenkins was the first female to direct a Marvel Studios film.According to her statement, Jenkins says, "I have had a great time working at Marvel. We parted on very good terms, and I look forward to working with them again." S...
More>>
Branagh Out as "Thor 2" Director
6/30/2011 5:06 PM EST
It has been reported that "Thor 2" is a definite "go" for Marvel Studios. Kenneth Branagh, however, won't be returning to direct the flick.The film, which grossed $437 million dollars, will have some involvement of Branagh, but currently, a new director is being sought out. Chris Helm will be returning to reprise his role.A release date for "Thor 2" will be finalized by today by Disney....
More>>
Thor: The Dark World Theatrical Review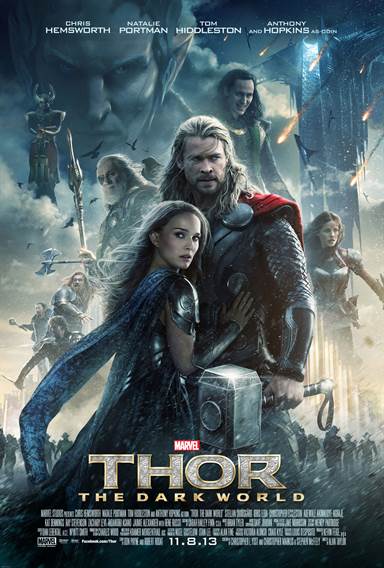 Now that we're firmly into Phase Two of Marvel's plan for total cinema domination, the titles are coming thick and fast.
The next Captain America (
Captain America: The Winter Soldier
) will be along in the spring, and in a year that's already brought the terrific Iron Man 3 we now have this sequel to Thor, a movie that was bright, funny and carried along with a real zip by director Kenneth Brannagh. This first return to that world feels a bit rushed, especially in its storytelling, but it's still a breezy and fun couple of hours.
After the events of The Avengers, Norse god Thor (Chris Hemsworth) is busy keeping peace across the realms. Since almost all the necessary introductions were made first time round, we can get straight to it, something that also allows characters slightly down the cast list to get their moment to shine.

The main bit of setup required is a prologue that goes all Lord of the Rings on us, as we learn about the Dark Elves led by Malekith (Christopher Eccleston). He's after some cosmic goo called the Aether, which will allow him to get up to no good when the nine realms align for the first time in 5000 years, something called the Convergence. Sounds very astrological to me and we all know from so many fantasy films of the past, whenever heavenly bodies align, no good can come of it. Just watch Masters of the Universe.

Back in Asgard, Loki (Tom Hiddleston) has been placed in Asgardian prison (which doesn't look too shabby), and left to rot until the plot requires him to be freed to help Thor with the current threat. Meanwhile, on earth, Natalie Portman's scientist, Jane, is trying to adjust to life after Thor. But she gets dragged back into events when she's alerted by her colleagues about some sort of portal they've found. Through a vague and confused bit of plotting, she comes into contact with the Aether via the portal, and gets somehow infected by it.

Thor brings her to Asgard in an attempt to cure her, but don't look for much sense during this stretch that also brings an attack from Malekith that makes a mockery of the supposed Asgardian defenses.

It's one of two or three key sequences that, while never exactly botched, just point to a lack of directorial craft and poor editing choices. For all its story, and backstory, the writing isn't the strong suit here. The big picture is often little more than gibberish, but individual scenes please and are still capable of moments of wonder.
Much of what draws audiences in comes from its technical brilliance. Glorious production design is used to realize Asgard and the other worlds we visit. Then of course there's the action, generally rousing if a little repetitive at times. Thor swinging his hammer at a monstrous foe is enjoyable, but quite possibly the best scenes come when Thor has to go his traitorous brother for aid. The moments between those two, while too short are some of the best throughout the film. Perhaps that's thanks to the brilliance of Tom Hiddleston, or the majesty of Chris Hemsworth or just that they clearly love working together. Either way, it's enough to make any comic geek squeal. Visually Thor: The Dark World delivers in spades. If you were a fan of the first film and the towering glory that is Asgard then you'll be equally pleased here. Wonderful shots of Asgard, excellently rendered enemies and some spot on creature design make for some fun eye candy. And then there's the humor. Where the first film largely was largely comprised of Thor's fish out of water antics, this time everyone gets the opportunity for a one-liner or two and most comedies wish they were as funny as this.
When compared to the blockbuster that was The Avengers, it's hard to give Thor: The Dark World as big a thumb's up, however what movie could compare to that gem of a film. Even Iron Man 3, which many fans were divided on, doesn't even come close the majesty of The Avengers. But, of the second installment of Marvel's Phase Two line, Thor: The Dark World delivers where it counts, terrific action, quippy dialogue and stunning visuals. Everything a comic book movie should be.
For more reviews please visit our film/television review section.
Join FlickDirect correspondent, Penny Mclean, as she discuses the new Marvel film Thor: The Dark Wor...

Marvel's "Thor: The Dark World" continues the big-screen adventures of Thor, the Mighty Avenger, as...

Marvel's "Thor: The Dark World" continues the big-screen adventures of Thor, the Mighty Avenger, as...
SPONSORED LINKS