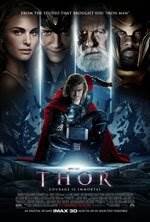 British actor, and one time Dr. Who, Christopher Eccleston, is thought to be in final negotiations to play the villain in Marvels forthcoming sequel "Thor: The Dark World". Although no official news, the villain Eccleston is thought to be in line to play is Malekith the Accursed.

"Thor: The Dark World" is due to be released on November 8, 2013 and again we'll see many of the original cast return for another outing, including Chris Hemsworth who reprises the role of Thor.

Malekith is ruler of the Dark Elves of Svartalfheim in the Marvel Universe and had once formed an alliance with Loki, Thor's nemesis from the 2011 original movie.

Countdown to the release of Thor: The Dark World, with the iPhone Movie Countdown Clock App.