Thor: Tales of Asgard (2011)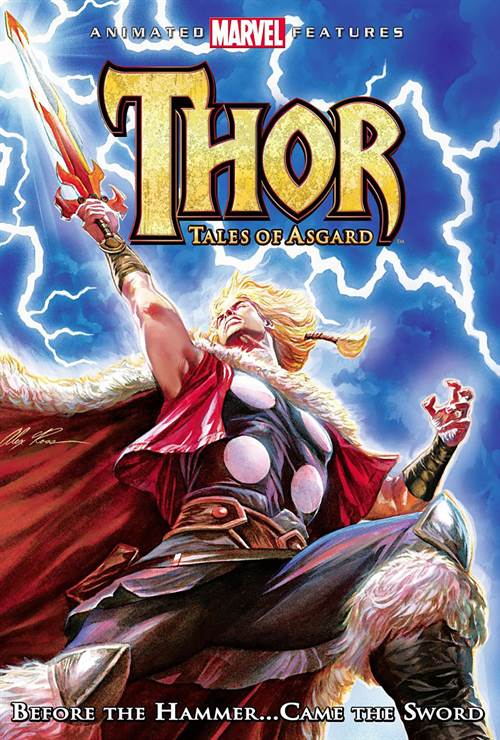 Share this:
| | |
| --- | --- |
| Director: | |
| Writers: | |
| Cast: | |
| Released: | Tuesday, May 17, 2011 |
| Length: | 77 minutes |
| Studio: | Lionsgate |
| Genre: | Sci-Fi/Fantasy, Family |
| Rating: | |
Synopsis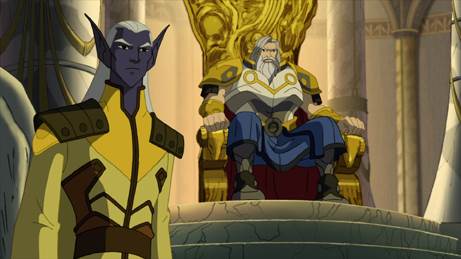 Before he ever lifted his mighty hammer, there was the sword. Fantastic journeys beckon from the mysterious nine realms. Places of dark mists and fiery voids. Of winged creatures and giants in the ice. And the most alluring quest of all – the search for the legendary Lost Sword of Surtur. Hungry for adventure, Thor secretly embarks on the journey of a lifetime, joined by his loyal brother Loki, whose budding sorcery equips him with just enough magic to conjure up trouble, along with the Warriors Three – a band of boastful travelers reluctant to set sail on any adventure that might actually be dangerous. But what starts out as a harmless treasure hunt quickly turns deadly, and Thor must now prove himself worthy of the destiny he covets by saving Asgard itself.

Purchase DVD/Blu-ray/4K UHD physical copy of Thor: Tales of Asgard today at Amazon.com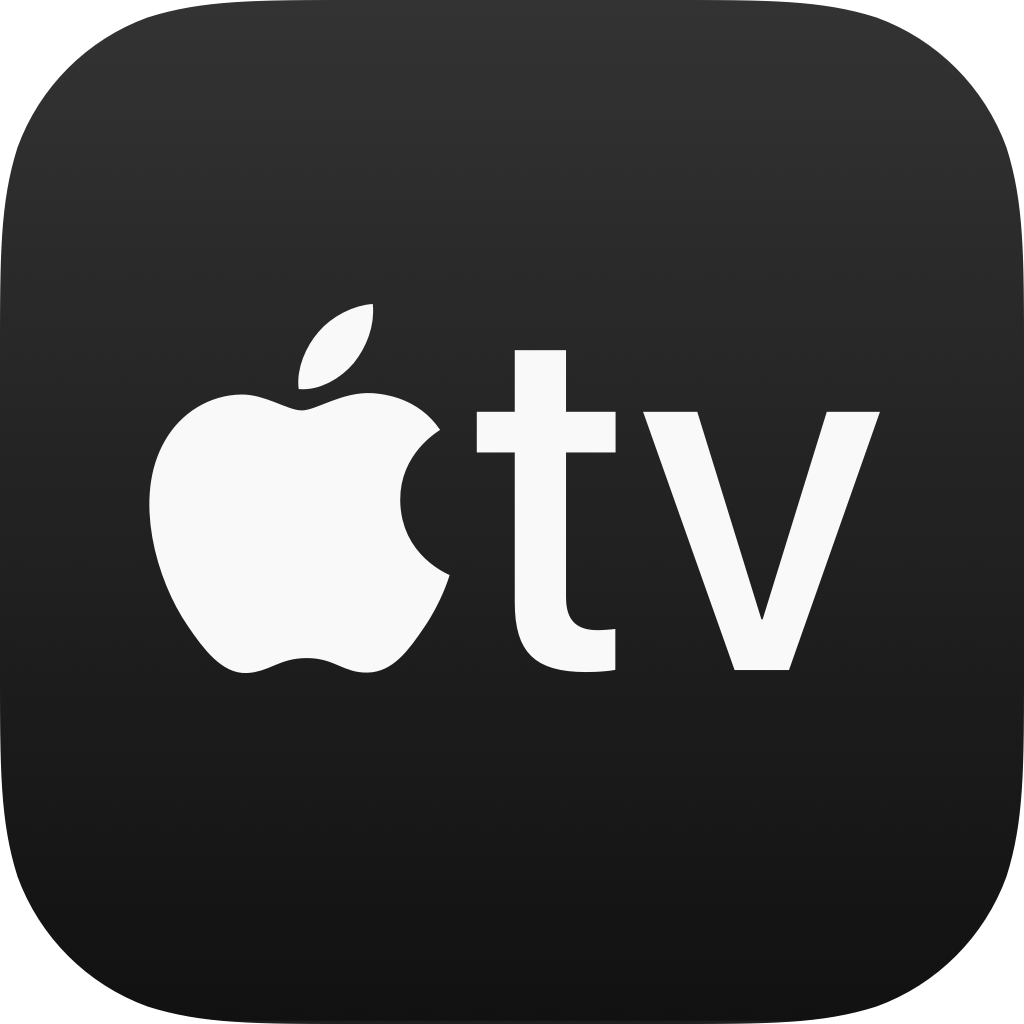 Download Thor: Tales of Asgard in Digital HD/4K from the iTunes store.
Thor: Tales of Asgard images are © Lionsgate. All Rights Reserved.
Taika Waititi Will Return to Direct Thor 4
7/17/2019 1:00 PM EST
Taika Waititi will be returning to the "Thor" franchise to direct "Thor 4". He previously directed 2017's "Thor: Ragnarok". Hemsworth is expected to reprise his role of Thor.Waititi recently directed "Jojo Rabbit" and his credits also include "Boy," "Hunt for the Wilderpeople" and "What We Do in the Shadows.""Thor: Ragnarok" was a huge success, earning over $854 million worldwide. No release date ...
More>>
Marvel Studios Thor: Ragnarok Superpower of Stem Challenge
8/23/2017 12:41 PM EST
Disney, Marvel Studios, Dolby Laboratories, Synchrony Bank, American Association for the Advancement of Science, Broadcom MASTERS and Society for Science & the Public are pleased to present the nationwide MARVEL STUDIOS' THOR: RAGNAROK SUPERPOWER OF STEM CHALLENGE in conjunction with the November 3, 2017 theatrical release of Marvel Studios' Thor: Ragnarok, starring Chris Hemsworth, Tom Hiddleston...
More>>
Planet Hulk to be Featured in Thor: Ragnarok
12/22/2016 10:52 AM EST
Some exciting news for all you Hulk fans out there - the Plant Hulk storyline will be incorporated into the upcoming Thor: Ragnarok film. We knew that mark Mark Ruffalo would be returning to the Thor franchise, but now it has been confirmed that we will be visiting Sakaar (Planet Hulk) in the film.Director Taika Waititi said, "Sakaar was just an insane, far-off, futuristic place which was the bigg...
More>>
Marvel's Thor: The Dark World Trailer 2 Revealed
8/7/2013 1:48 PM EST
The new trailer for MARVEL'S THOR: THE DARK WORLD is now available on YouTube, having just debuted as part of their Geek Week's Super Wednesday.Countdown to the release of Marvel's Thor: The Dark World, with the iPhone Movie Countdown Clock App.Marvel's "Thor: The Dark World" continues the big-screen adventures of Thor, the Mighty Avenger, as he battles to save Earth and all the Nine Realms from a...
More>>
Thor: The Dark World To Have Epic Battle
9/11/2012 3:46 PM EST
Filming for "Thor: The Dark World" began yesterday in Bourne Wood, Surrey, and The Daily Mail has posted some great shots of the action taking place.The pictures show Chris Hemsworth, as Thor, and Jaimie Alexander, as Sif, engaging in some sort of battle. It is said that this film will have more of a "Viking influence" to it, and with  frequent "Game of Thrones" episode director Alan Taylor at the...
More>>
Zachary Levi In Talks to Star in Thor Sequel
6/11/2012 11:01 AM EST
Zachary Levi, star of "Chuck", is said to be in talks to replace Josh Dallas as the role of Fandral in the upcoming "Thor" sequel.Dallas' schedule for ABC's "Once Upon a Time" will interfere with the schedule for the film. Levi was one of the original actors in talks to play the character in the 2011 film, but, was unable to because of his commitment to "Chuck" at the time.The sequel, which will b...
More>>
Idris Elba Returning For Thor 2
5/16/2012 9:43 AM EST
With the Avengers doing so well at the box office, Marvel seems it can do no wrong. One of the principle Avengers is Thor and there's some casting news on the up and coming sequel to the original 2011 movie starring Chris Hemsworth.   As of today, it is confirmed that Idris Elba is coming back to play Heimdall, the guardian of Asgard who stands sentry on the Rainbow Bridge. "I'm going to do Thor a...
More>>
Jenkins Out as Thor 2 Director
12/7/2011 4:04 PM EST
The Thor sequel is yet again without a director.Patty Jenkins, who took over as director after Kenneth Branagh announced he wasn't going to stay on, has left the production. Jenkins was the first female to direct a Marvel Studios film.According to her statement, Jenkins says, "I have had a great time working at Marvel. We parted on very good terms, and I look forward to working with them again." S...
More>>
Branagh Out as "Thor 2" Director
6/30/2011 5:06 PM EST
It has been reported that "Thor 2" is a definite "go" for Marvel Studios. Kenneth Branagh, however, won't be returning to direct the flick.The film, which grossed $437 million dollars, will have some involvement of Branagh, but currently, a new director is being sought out. Chris Helm will be returning to reprise his role.A release date for "Thor 2" will be finalized by today by Disney....
More>>
Thor: Tales of Asgard Blu-ray Review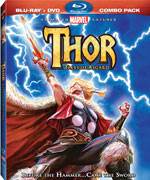 While it has been highly entertaining to watch many of our favorite comic heroes come to life on the big screen these past few years, it is with animation that these characters will always have their truest life. There have been many successful adaptions of characters and mini-series over the years; Batman, Superman, Justice League, Teen Titans, The Avengers, Green Lantern, Planet Hulk, and now we have Thor: Tales of Asgard.

This particular animated movie stars Thor but not as most fans know him. This time around we are treated to a teenage Thor starring a completely original story. The film opens with a young Thor (Matt Wolf) engaging in a practice battle with his father's guard. At this stage in his life Thor is your typical prince; brash, arrogant, proud, and conceited. After his sparring match he finds young Sif (Tara Strong) who has no problem pointing out to him what is obvious to everyone else, that his father's guards go easy on him and in turn do not allow him the benefit of learning from his mistakes.

Refusing to believe a word of what she has to say Thor confronts his father, Odin (Chris Britton), and discovers that Odin has ordered his guard to take it easy on Thor when sparring. Thor insists that he is ready to take on any obstacle that comes his way and takes it upon himself to prove it. There is a legendary sword that many have gone searching for but no one has yet to find. Thor gathers his brother Loki and they stow away aboard the ship of the Warriors Three; three boastful young warriors who love searching for adventure and sharing their tales with any who will listen.

They make their way to the home of the frost giants. According to legend it was here where Thor's father faced off against Surtur, the fire demon. When Odin finally defeated Surtur, the demon's sword was lost and any who are able to find it will possess the power of Surtur. Thor and Loki are able to deduce from the legend where the sword must have gone and sure enough, they uncover it. As Thor takes possession of it he is overwhelmed by the power it wields. The warriors make their way to the home of the Valkyries in hopes of gaining passage home, but on their way wind up incurring the wrath of the frost giants.

As the warriors finally reach the Valkyrie's home and the frost giants prepare for war with Asgard, it is up to Thor and his friends to make haste or else witness the destruction of their world. Rather than go with big name actors for this film, the studio instead went with unknown actors, perhaps to give more credence to the story itself, considering it was an original. The animation is quite good, obviously done with traditional hand drawings there is no loss of quality here. The only drawback is the story itself; while it is good it isn't part of the Thor comic mythos and for new fans that are unfamiliar it may not make sense, especially with the live action film in theaters at the moment. Anyone expecting to see Thor wielding his legendary here will be sorely disappointed.

Now on Blu-ray and shot up with a worthy amount of extras fans of the film can sit back and smile as Thor makes his first steps towards becoming a man. On 2-discs, the first containing the Blu-ray version of the film, it also has a behind-the-scenes doc on the making of the film, a bonus episode of the new Avengers TV show, two different feature length audio commentary's, and a trailer gallery. Disc 2 features the standard version of the film and the same bonus features as disc 1.

While Thor: Tales of Asgard is a fun film with lots of comic book action, it lacks the standards that most comic book fans would expect i.e. Thor's hammer, Loki at his most mischievous, the Warriors Three actually a force to be reckoned with and any noteworthy villain. This makes for a good film but unsatisfying at the same time.
For more reviews please visit our film/television review section.
SPONSORED LINKS