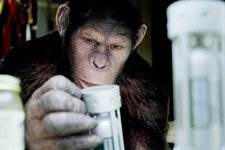 Scott Z. Burns, the man who wrote last years "Contagion", has been given the task by Fox to write the sequel to the 2011 hit movie, "Rise of the Planet of the Apes" -- taking over the pen from the previous scribes, Amanda Silver and Rick Jaffa. Although it is unclear whether this is going to be a complete or partial rewrite.
The new movie is thought to take up eight years after the original film ended, with the human society being decimated by a viral outbreak and driven underground. This happening while the highly intelligent apes, now free, are left to become the new rulers of earth.
Returning for the sequel again are Andy Serkis, playing the ape Caesar, as well as Director, Rupert Wyatt; however, no information on release dates are available at the moment.