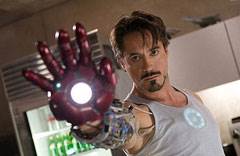 There's more casting news from the Marvel Universe today.
After news that Ben Kingsley and Guy Pearce were to appear in Iron Man 3, it has now been confirmed that James Badge Dale (The Grey) has been drafted into the latest Iron Man movie also. Dale will be playing the role of Eric Savin, a U.S. Army Lieutenant Colonel who undergoes cybernetic surgery after being blown up by a freshly planted landmine. He comes back to life as the mercenary cyborg, Coldblood.
The third movie in the franchise starts filming later this month and is based around the
"Iron Man: Extremis" graphic novels which sees a virus spread through nanotechnology. Robert Downey Jr. will return to the main role as billionaire playboy Tony Stark.
Countdown to the release of Iron Man 3, with the
iPhone Movie Countdown Clock App
.