Iron Man 3 (2013)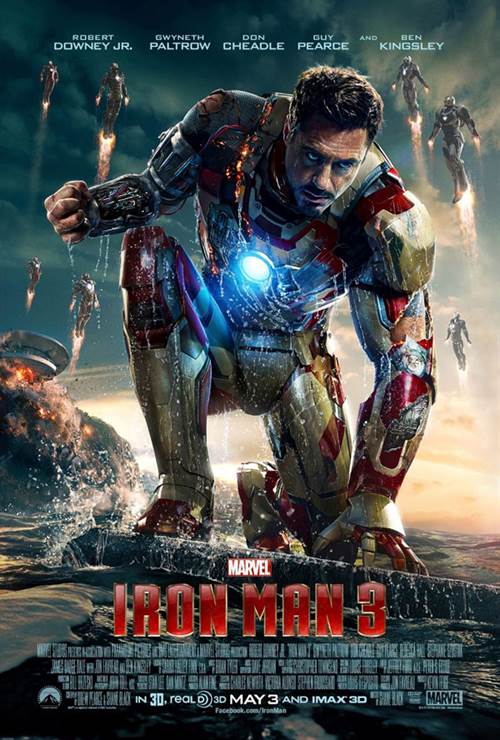 | | |
| --- | --- |
| Director: | |
| Writers: | |
| Cast: | |
| Released: | Friday, May 3, 2013 |
| Length: | 140 minutes |
| Studio: | Walt Disney Pictures |
| Genre: | Sci-Fi/Fantasy, Action/Adventure |
| Rating: | Some material may be inappropriate for children under 13. |
This film contains a scene during or after the credits.
Iron Man 3 Synopsis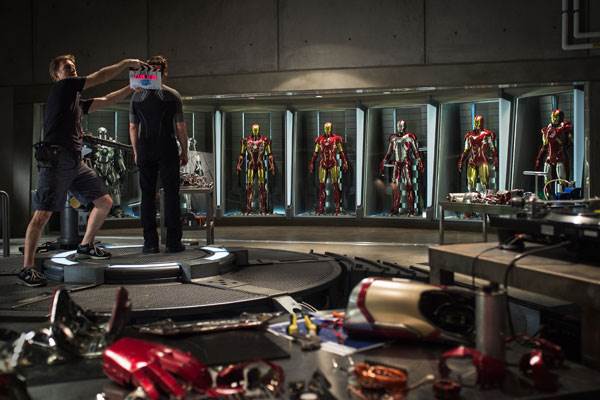 Marvel Studios' "Iron Man 3" pits brash-but-brilliant industrialist Tony Stark/Iron Man against an enemy whose reach knows no bounds. When Stark finds his personal world destroyed at his enemy's hands, he embarks on a harrowing quest to find those responsible. This journey, at every turn, will test his mettle. With his back against the wall, Stark is left to survive by his own devices, relying on his ingenuity and instincts to protect those closest to him. As he fights his way back, Stark discovers the answer to the question that has secretly haunted him: does the man make the suit or does the suit make the man?
Iron Man 3 images are © Walt Disney Pictures. All Rights Reserved.
Fourth Iron Man Could Be a Possibility
4/28/2016 2:43 PM EST
Looks like we may see another standalone "Iron Man" film.  Robert Downey, Jr. was recently on ABC's Nightline and commented that he felt he could play Tony Stark once more.  No one could blame him, given the immense popularity of the franchise, as we...
| Full Article
Iron Man 3 Could Have Been the Death of Happy Hogan
10/17/2014 10:30 AM EST
A recent discovery has shown that Iron Man's beloved character, Happy Hogan (played by Jon Favreau), was not supposed to make it throgh the entire "Iron Man 3" film.  Happy, Tony Stark's bodyguard, who was injured after an explosion, was supposed to ...
| Full Article
Ever wonder what it's like to be Tony Stark?
9/10/2013 2:41 PM EST
Now you can find out with an interactive experience app hosted by JARVIS on your iOS device! Create customized alarms to wake you in the morning, download ringtones, check the weather, post to Facebook and more! Sync the app to your Blu-ray™ player t...
| Full Article
Robert Downey, Jr. Discusses Future of Iron Man
5/2/2013 4:35 PM EST
Robert Downey, Jr. was a guest on The Daily Show on Tuesday, and while he was there, he was asked if he would consider doing another "Iron Man" film."I don't know, I had a long contract with them and now we're gonna renegotiate."  After Downey winked...
| Full Article
Kevin Feige Speaks About Iron Man 3
1/22/2013 4:54 PM EST
With "Iron Man 3" only a matter of months away from hitting big screens everywhere, Marvelsupremo Kevin Feige was talking up the new movie in an interview with MTV, centeredon the mind set of Tony Stark.Feige said, "It's almost like post-traumatic st...
| Full Article
Iron Man to be Released in IMAX Theaters
1/22/2013 12:23 PM EST
Marvel Entertainment and the IMAX Corporation, have announced that "Iron Man 3" will be digitally remastered into the IMAX 3D format.Along with the news, the joint statement announced that the film will be released MAX® theaters internationally start...
| Full Article
Robert Downey, Jr. Injured on Set of Iron Man 3
8/16/2012 9:59 AM EST
Robert Downey, Jr., star if "Iron Man" and "the Avengers", has injured himself on the set of the upcoming "Iron Man 3" film.According to the studio, "Robert Downey Jr. sustained an ankle injury on the set of Iron Man 3 in Wilmington, N.C., while perf...
| Full Article
Marvel Increases Iron Man 3 Budget
5/24/2012 5:10 PM EST
Following the success of Joss Whedon's "The Avengers", Marvel Studios has decided to bump up the budget of "Iron Man 3" from $140 million to $200 million.   Marvel has been accused of being cheap when it comes to their films, however with the enormou...
| Full Article
James Badge Dale To Be Villian In Iron Man 3
5/17/2012 4:14 PM EST
There's more casting news from the Marvel Universe today.    After news that Ben Kingsley and Guy Pearce were to appear in Iron Man 3, it has now been confirmed that James Badge Dale (The Grey) has been drafted into the latest Iron Man movie also.  D...
| Full Article
Rebecca Hall In Talks to Join Iron Man 3
5/9/2012 11:08 AM EST
Rebecca Hall ("The Town") is currently in talks to join the cast of "Iron Man 3".  The Marvel/Disney film will be directed by Shane Black.Hall would be portraying a scientist who specializes in a particular  nanotechnology, known as Extremis. The tec...
| Full Article
Kevin Feige Discusses Iron Man's Future
4/30/2012 2:17 PM EST
Kevin Feige, head of Marvel Studios, recently spoke with Bad Ass Digest about the future of the "Iron Man" franchise.When asked what he would do if Robert Downey, Jr. were to leave, he said that he would probably recast the role. "I think [pre-Casino...
| Full Article
Iron Man 3 Casting Rumors Swirl
4/24/2012 9:08 AM EST
There is more casting news on Iron Man 3 as it appears Jessica Chastain is currently in discussions to join the cast.     The Oscar-nominated actress is rumored to have been offered the role of a sexy scientist who is equally as intellectual as Tony ...
| Full Article

Physical Media: Blu-ray Review
Iron Man 3 is ice cream on a stick to action lovers, you just can't get enough.

Movie / Film Review
Mega-wealthy playboy philanthropist Tony Stark makes a welcome return to the big screen, for the third and possibly final Iron Man movie to star Robert Downey Jr. This movie kicks off the second phase of films set within the Marvel universe and is set shortly after the exploits of the Avengers in Ne...
SPONSORED LINKS