Iron Man 3 (2013)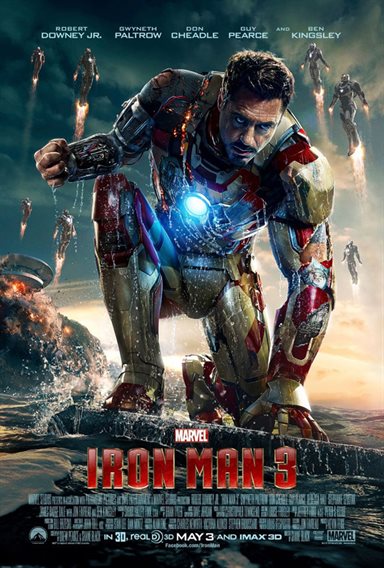 | | |
| --- | --- |
| Director: | |
| Cast: | |
| Released: | Friday, May 3, 2013 |
| Length: | 140 minutes |
| Studio: | Walt Disney Pictures |
| Genre: | Sci-Fi/Fantasy, Action/Adventure |
| Rating: | Some material may be inappropriate for children under 13. |
This film contains a scene during or after the credits.
Synopsis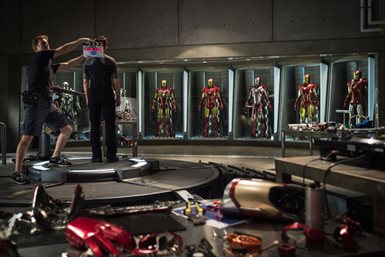 Marvel Studios' "Iron Man 3" pits brash-but-brilliant industrialist Tony Stark/Iron Man against an enemy whose reach knows no bounds. When Stark finds his personal world destroyed at his enemy's hands, he embarks on a harrowing quest to find those responsible. This journey, at every turn, will test his mettle. With his back against the wall, Stark is left to survive by his own devices, relying on his ingenuity and instincts to protect those closest to him. As he fights his way back, Stark discovers the answer to the question that has secretly haunted him: does the man make the suit or does the suit make the man?
Purchase your copy of Iron Man 3 today at
Download Iron Man 3 in Digital HD from the iTunes store.
Iron Man 3 images are © Walt Disney Pictures. All Rights Reserved.


Fourth Iron Man Could Be a Possibility
4/28/2016 2:43 PM EDT
Looks like we may see another standalone "Iron Man" film.  Robert Downey, Jr. was recently on ABC's Nightline and commented that he felt he could play Tony Stark once more.  No one could blame him, given the immense popularity of the franchise, as well as the hefty paycheck that will likely come with it.  And, since these films earn a staggering amount of money, it's entirely possibly that the stu...
More>>
Iron Man 3 Could Have Been the Death of Happy Hogan
10/17/2014 10:30 AM EDT
A recent discovery has shown that Iron Man's beloved character, Happy Hogan (played by Jon Favreau), was not supposed to make it throgh the entire "Iron Man 3" film.  Happy, Tony Stark's bodyguard, who was injured after an explosion, was supposed to succomb to his injuries from the devastating blow; instead, however, he falls into a coma and eventually wakes up.  Favruea had stepped sonw as  direc...
More>>
Ever wonder what it's like to be Tony Stark?
9/10/2013 2:41 PM EDT
Now you can find out with an interactive experience app hosted by JARVIS on your iOS device! Create customized alarms to wake you in the morning, download ringtones, check the weather, post to Facebook and more! Sync the app to your Blu-ray™ player to unlock hidden files and suits embedded throughout the disc, and experience the first-ever voice controlled Blu-ray!Iron Man 3 will be available on B...
More>>
Robert Downey, Jr. Discusses Future of Iron Man
5/2/2013 4:35 PM EDT
Robert Downey, Jr. was a guest on The Daily Show on Tuesday, and while he was there, he was asked if he would consider doing another "Iron Man" film.Check-in to Iron Man 3, with the iPhone Movie Countdown Clock App."I don't know, I had a long contract with them and now we're gonna renegotiate."  After Downey winked while making the comment, Stewart said to him, "You are Iron Man! You are!""Iron Ma...
More>>
Iron Man 3 Exclusive Trailer
3/18/2013 1:54 PM EDT
Countdown to the release of Iron Man 3, with the iPhone Movie Countdown Clock App.Marvel's "Iron Man 3" pits brash-but-brilliant industrialist Tony Stark/Iron Man against an enemy whose reach knows no bounds. When Stark finds his personal world destroyed at his enemy's hands, he embarks on a harrowing quest to find those responsible. This journey, at every turn, will test his mettle. With his back...
More>>
Kevin Feige Speaks About Iron Man 3
1/22/2013 4:54 PM EDT
With "Iron Man 3" only a matter of months away from hitting big screens everywhere, Marvelsupremo Kevin Feige was talking up the new movie in an interview with MTV, centeredon the mind set of Tony Stark.Feige said, "It's almost like post-traumatic stress. He has retreated after the events of The Avengers intohis workshop, where he's building advanced versions of his suits. He has a version of thes...
More>>
Iron Man to be Released in IMAX Theaters
1/22/2013 12:23 PM EDT
Marvel Entertainment and the IMAX Corporation, have announced that "Iron Man 3" will be digitally remastered into the IMAX 3D format.Along with the news, the joint statement announced that the film will be released MAX® theaters internationally starting April 25 and domestically on May 3."Iron man 3", starring Robert Downey, Jr., will be the latest in the franchise, which has grossed more than $1....
More>>
Robert Downey, Jr. Injured on Set of Iron Man 3
8/16/2012 9:59 AM EDT
Robert Downey, Jr., star if "Iron Man" and "the Avengers", has injured himself on the set of the upcoming "Iron Man 3" film.According to the studio, "Robert Downey Jr. sustained an ankle injury on the set of Iron Man 3 in Wilmington, N.C., while performing a stunt. There will be a short delay in the production schedule while he recuperates."Filming began for the third installment back in May.  Thi...
More>>
Marvel Increases Iron Man 3 Budget
5/24/2012 5:10 PM EDT
Following the success of Joss Whedon's "The Avengers", Marvel Studios has decided to bump up the budget of "Iron Man 3" from $140 million to $200 million.   Marvel has been accused of being cheap when it comes to their films, however with the enormous success of "The Avengers", they may now see the need to "go all in". The extra money comes with a proviso - "the crew aren't being asked to deliver ...
More>>
James Badge Dale To Be Villian In Iron Man 3
5/17/2012 4:14 PM EDT
There's more casting news from the Marvel Universe today.    After news that Ben Kingsley and Guy Pearce were to appear in Iron Man 3, it has now been confirmed that James Badge Dale (The Grey) has been drafted into the latest Iron Man movie also.  Dale will be playing the role of Eric Savin, a U.S. Army Lieutenant Colonel who undergoes cybernetic surgery after being blown up by a freshly planted ...
More>>
Rebecca Hall In Talks to Join Iron Man 3
5/9/2012 11:08 AM EDT
Rebecca Hall ("The Town") is currently in talks to join the cast of "Iron Man 3".  The Marvel/Disney film will be directed by Shane Black.Hall would be portraying a scientist who specializes in a particular  nanotechnology, known as Extremis. The technology winds up being sold to terrorists.The film will begin filming in North Carolina this month, and will then continue in China. It is said that T...
More>>
Kevin Feige Discusses Iron Man's Future
4/30/2012 2:17 PM EDT
Kevin Feige, head of Marvel Studios, recently spoke with Bad Ass Digest about the future of the "Iron Man" franchise.When asked what he would do if Robert Downey, Jr. were to leave, he said that he would probably recast the role. "I think [pre-Casino Royale] Bond is a good example. Let's put it this way: I hope Downey makes a lot of movies for us as Stark. If and when he doesn't, and I'm still her...
More>>
Iron Man 3 Theatrical Review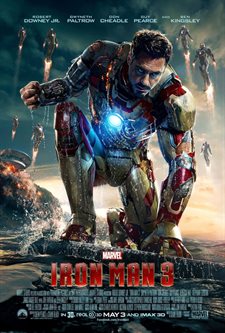 Mega-wealthy playboy philanthropist Tony Stark makes a welcome return to the big screen, for the third and possibly final Iron Man movie to star Robert Downey Jr. This movie kicks off the second phase of films set within the Marvel universe and is set shortly after the exploits of the Avengers in New York, which saw Iron Man et al beat off the alien attack from Loki and the Chitauri.

Opening with a few scenes from the past, which fill in some missing details of Stark's background, we find presently Stark's trusted companion Pepper Potts (Gwyneth Paltrow) still in charge of the day-to-day running of Stark Industries. Tony Stark, though, cannot get to grips with what happened in New York; he is haunted by sleepless nights that have turned him into an emotional and physical wreck. The plot, although not complicated, gets going when Stark's clifftop mansion is destroyed, in the course of which his body suit malfunctions, then crash lands in weather conditions he is hardly accustomed to. There, with the help of J.A.R.V.I.S. (Paul Bettany), and his newfound friend Harley (Ty Simpkins), a young boy who has not a clue who Tony Stark is but is in awe of Iron Man, he sets to work rebuilding the broken suit and working out who's behind the recent acts of terrorism that have been plaguing the world.

A nightmare from the past may be one thing, but as Stark finds out, there's nothing that can prepare you for the future: two of Iron Man's most notorious adversaries from comics. First we have The Mandarin (Ben Kingsley, in a delightful turn). Kingsley's performance is really second to none in this movie; the one liners will have you creased up for days afterwards. I'd love to go into more detail of his role but it's just impossible without giving the game away, though I am sure when many diehard comic book fans get to see his role, they may feel a little let down.

The second is Aldrich Killian (Guy Pearce), a geneticist who develops a rather nasty virus "Extremis" that turns the body into a sort of body shaped magma; again the purists may complain, but both characters work well within the confines of this movie. Pearce seems to be building quite a résumé in the last few years and this will only enhance his reputation further. Don Cheadle also returns as James 'Rhodey' Rhodes, and this time gets his own suit, becoming Iron Patriot -- I guess you could say it's a lot like Iron Man, but with discipline.
Pulling all the strings, director Shane Black, who must have had arguably the most difficult job. After all the praise Joss Whedon got for the Avengers, it was going to be hard for anyone to walk in those footsteps and repeat the success. Iron Man 3 is not an Avenger movie but that won't stop some people judging it so. Black should be applauded; not only did he do a decent job, but he took the Iron Man franchise, gave it a shake, and breathed new life into it. This is not just a great Iron Man film; it is the best Iron Man film to date.

Iron Man 3 has a great story from Black and Drew Pearce, some mindblowing effects as well as some good old laugh-out-loud humour that some movies these days could do with a bit more of. But if, like me, you walk away saying bring on #4, remember this may be the last time we see Robert Downey Jr in an Iron Man movie. The trouble is that will be a major problem for me, because I cannot see anyone else playing the role.

-- Paul Kates
Read More Iron Man 3 Reviews
For more reviews please visit our film/television review section.
Iron Man 3 images © Walt Disney Pictures. All Rights Reserved.
SPONSORED LINKS
Comments

Courtesy of
Movie Hype App
movieman24
More Action/More Villans/and tons of Action packed to conclude this series off
12/22/2014 10:02 PM EDT
eric8594
Ready for bed.
5/3/2014 1:27 AM EDT
transfan681
This movie sucked
3/17/2014 12:53 PM EDT
eric
watching it again!
3/5/2014 1:43 PM EDT
eric
oldie but goodie
3/5/2014 8:53 AM EDT
kivan
It was very good.
1/15/2014 8:18 AM EDT
realisticzx
Great movie with some twisted plot from trailer
1/1/2014 3:34 PM EDT
minnieme
Awesome
11/16/2013 9:38 PM EDT
jiz_khalifaa
Awesome movie! Bad plot twists but great effects! 9/10
10/17/2013 2:31 PM EDT
kamryn
Kamyrn
10/12/2013 9:44 AM EDT
jefaousa
Nice
9/30/2013 10:28 PM EDT
josiah
Yolo !! :D
9/27/2013 4:14 PM EDT
movieguynathan
Finally watching in 3D at home
9/23/2013 9:33 PM EDT
adiaz2014
Wait so they're free when the count down is up? I'm new here
9/23/2013 2:45 PM EDT
tiger
Cool
9/22/2013 7:10 AM EDT