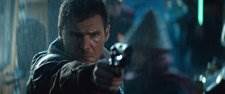 Fans of the 1982 thriller, "Blade Runner" may get their chance to see Harrison Ford appear in the sequel, currently being developed by Ridley Scott. Not only will the Blade Runner sequel feature a female protagonist, but it looks as if Harrison Ford may actually be in the film. It has been reported that Scott has never ruled out the idea of Ford appearing, and has even revealed some new details during recent interviews. In one interview Scott stated that even though negotiations have not begun, that he hopes Ford will appear in a supporting role: "I don't think it'll be Harry (starring). But I've got to have him in it somewhere. That'd be amusing."
While not an official confirmation of Ford's involvement, it comes as great news for fans of the actors role from the first film. It is not known what role Ford may play, be it a cameo as Rick Deckard, or a supporting role, or even a different character altogether, should he sign on. Ridley Scott will be directing The Counselor next, before likely starting on the Blade Runner sequel. Original screenwriter Hampton Fancher is set to develop the story.
In the original "
Blade Runner
", Harrison Ford plays Deckard, a blade runner, whose job it is to track down and terminate 4 replicants who have returned to earth seeking their maker.