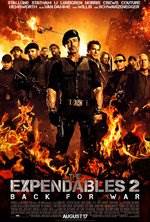 "Expendables" fans needn't worry about a possible PG-13 rating for the upcoming film. It has been announced that the film will indeed have an "R" rating for strong violence, language and brief sexuality.

The film brings the team back again when Mr. Church (Bruce Willis) hires them for another job. Things don't go as easily as expected, and they suffer a loss on their team. This prompts the Expendables to seek revenge, taking out those who cross their path.

"The Expendables 2" will be released in theaters on August 17, 2012
Countdown to the release of The Expendables 2, with the iPhone Movie Countdown Clock App.