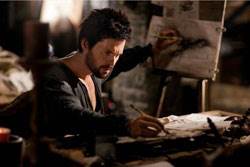 Today STARZ released first look photos from its highly anticipated adventure drama, "Da Vinci's Demons," an original series penned by David S. Goyer (Batman Begins, The Dark Knight, Man of Steel), which will air on STARZ this spring.

STARZ also debuted Goyer's personal production blog straight from the Welsh set of "Da Vinci's Demons." Get an in-depth, step by step insider's take on what it's like to experience daily production on one of this spring's most exciting new shows. Goyer will take you from script to screen discussing decisions made and why, exciting days on set, working with the actors and bringing a wealth of imagination together to create something incredible. Posts will range from photos and videos of David Goyer's experiences creating the show to detailed insight into the making of episodes and scenes.

Read David S. Goyer's Personal Production Blog:

http://davincisdemons.com/blog/

Starring Tom Riley ("Monroe," I Want Candy), as the title character, "Da Vinci's Demons" is a historical fantasy, following the 'untold' story of the world's greatest genius during his turbulent youth in Renaissance Florence. Brilliant and passionate, the twenty-five year old Leonardo Da Vinci is an artist, inventor, swordsman, lover, dreamer and idealist. As a free thinker, with intellect and talents that are almost superhuman, he struggles to live within the confines of his own reality and time. He begins to not only see the future, but invent it.

The series also stars Laura Haddock (The Inbetweeners Movie, "Honest," Captain America: The First Avenger) and Lara Pulver ("True Blood," "Sherlock," "Robin Hood").

"Da Vinci's Demons" is the first project to enter production under the multi-year agreement between Starz Entertainment and BBC Worldwide Productions. Goyer, co-writer of blockbuster and critically-acclaimed films Batman Begins and The Dark Knight, and writer of the upcoming Man of Steel, is showrunner. Julie Gardner is Executive Producer, along with Jane Tranter, head of BBC Worldwide Productions. Production began this summer and STARZ will premiere an eight-episode first season in the U.S. in 2013.