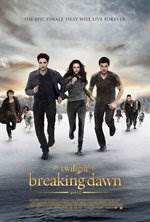 November 16, 2012- It was just learned by FlickDirect that Blaec Lammers has been arrested and charged with a crime involving the film The Twilight Saga: Breaking Dawn Part 2. Lammers has been taken into custody in Bolivar, Mo, after his mother contacted the police afraid that her 20-year-old son had bought weapons. He has been charged with first degree assault, making a terrorist threat and armed criminal action. Learned from the Springfield News-Leader, officers detained Lammers who according to a police statement said he had purchased two assault rifles and 400 rounds of ammunition earlier in the week for hunting, then said he had "a lot in common with the people that have been involved in those shootings", and that he had homicidal thoughts. After questioning Lammers eventually he said he had bought tickets to a Sunday screening of The Twilight Saga: Breaking Dawn Part 2 with intent of shooting people in the theater.

Breaking Dawn Part 2 is the final episode in the series of films about a vampire clan in the North West that attracts a young girl who eventually joins them. The film has been breaking box-office records since Twilight was released in 2008.

We will pass along any further information as the story develops.