The Twilight Saga: Breaking Dawn - Part 2 (2012)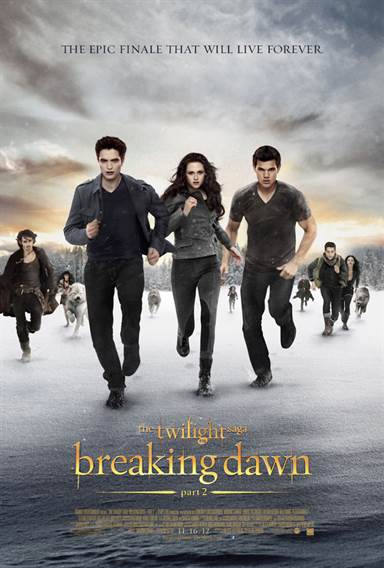 | | |
| --- | --- |
| Director: | |
| Writers: | Stephenie Meyer, Melissa Rosenberg |
| Cast: | |
| Released: | Friday, November 16, 2012 |
| Length: | 116 minutes |
| Studio: | Summit Entertainment |
| Genre: | Sci-Fi/Fantasy |
| Rating: | Some material may be inappropriate for children under 13. |
Synopsis
In the fifth and final chapter of The Twilight Saga, the birth of Bella and Edward's child ignites forces that threaten to destroy them all. The Cullens must enlist the help of distant friends and former enemies, including Jacob's wolf pack, as tensions build toward all-out war in the thrilling conclusion to the epic phenomenon.
Purchase your copy of The Twilight Saga: Breaking Dawn - Part 2 today at
Download The Twilight Saga: Breaking Dawn - Part 2 in Digital HD from the iTunes store.
The Twilight Saga: Breaking Dawn - Part 2 images are © Summit Entertainment. All Rights Reserved.


Terrorist Attempt On Twilight: Breaking Dawn Discovered
11/16/2012 6:08 PM EDT
November 16, 2012- It was just learned by FlickDirect that Blaec Lammers has been arrested and charged with a crime involving the film The Twilight Saga: Breaking Dawn Part 2. Lammers has been taken into custody in Bolivar, Mo, after his mother contacted the police afraid that her 20-year-old son had bought weapons. He has been charged with first degree assault, making a terrorist threat and armed...
More>>
Twighlight Fans Set Up Camp for Monday's Premier
11/8/2012 2:32 PM EDT
Die hard "Twilight" fans are already lining up for the release of the next film in the franchise, "Breaking Dawn Part 2".These fans, from around the world, are heading to the Summit Entertainment-hosted camp at Nokia Theater in Downtown LA. There are 2,200 spots open, making this the largest camp to date in the history of the franchise.  The fans who camp will have the opportunity to get a glimpse...
More>>
Lionsgate Announces The Twilight Saga: Breaking Dawn - Part 2 Te...
3/9/2012 11:32 AM EDT
The full teaser trailer for "The Twilight Saga: Breaking Dawn - Part 2" will be released online Monday, March 26th at 3am US-PT/6am US-ET, according to Lionsgate.Fans will be able to get a sneak peek on March 20th at 3am US-PT/6am US-ET, will a small amount of footage being released.The trailer will also be released on March 23rd during showings of "The Hunger Games"....
More>>
The Twilight Saga: Breaking Dawn - Part 2 Theatrical Review
No matter what I say about The Twilight Saga: Breaking Dawn Part 2, the fanatical female fans of The Twilight Saga will head to the theaters in droves. A flick for the chicks, the men may as well stay at home from this mushy romance that thinks it's a fantasy yet panders to lust and a family affair. A far cry from Breaking Dawn Part 1 the film could have been and should have been more of a barn burner like Part 2 of Harry Potter and the Deathly Hallows.

The series finale centers on Bella (Kristin Stewart) working out the ticks of her new found powers, getting her father (Billy Burke ) to accept her and his new granddaughter and becoming the clan attraction that's the key to staving off the inevitable conflict between themselves and the Volturi. Accused of breaking the law of the vampire race by giving birth to a child from parents of kind, the Cullens are faced with defending their homeland. But, it's not what it seems and Bella and Edward (Robert Pattenson) are out to prove the accusation wrong even if it means death to the clan.

The first 90 minutes spools out a gooey family romance with Edward and Bella introducing their newborn child Renesmee to their Twilight fans. The puppetry CGI mix is poorly done giving more of a "Chucky" feeling to Renesmee than a kinder loving baby. The incredible spookiness of Renesmee at this point made me shudder when she touches the Cullen Clan's faces to introduce herself. Later on however, we get a fast track growth that brings out a more loving and protective Renesmee (Mackenzie Foy) that's more endearing.



"FINAL ANALYSIS: A cherished romance finally comes to a conclusion. Young Females (grade C) Males (grade F) Combined (grade D)"

Bella has a fling at using her new powers running through the woods looking to feast on an animal for breakfast. When she gets sidetracked with the scent of a mountain climber, her radar goes nuts. Her ability to fight has increased to the point she's the toughest Cullen. But even more potent is her love for Edward who shows a lustful union of man and wife. Taking everything personal Bella wants to make sure that her relationship has been cemented with the Cullen family and finds that the clan readily accepts her after an arm wrestling fight with the most powerful of their group.

Jacob (Taylor Lautner) has been shoved into the background of this episode relegated to being a nanny to Renesmee. As her protector, he has chosen that it would be the best way for him to still be close to Bella who has not completely broken her spell on him. A flaw in Meyer's story, this becomes more demeaning to one of the major players than a complete breakup between Jacob and Bella would have been. If she would have worked in a union between Jacob and Tanya Denali (MyAnna Buring) who's a Vegetarian Vampire for instance, this may have saved the character from loosing its strength.

The twelve minute battle scene brings the only reason for males to see Breaking Dawn and they'll have to wait about 90 minutes to get that action rush. In the meantime the droning music, loving embraces, beautiful vistas and baby love will bore them to death. Totally a mismatch of drama and action, the film tends to be more girly driven loosing its power to hold even a semblance of a male audience. Unlike the first half of Breaking Dawn that I gave high accolades, this portion of the book drags for us masculine types.

Breaking Dawn 2 does the opposite of the Harry Potter and the Deathly Hallows (another franchise turned into a romance novel) where their first half failed to create interest for the male audience. Part 2 of Deathly Hallows on the other hand comes across bold, retribution filled and action laden for a better feel. The trailer for Breaking Dawn 2 suggests a film transition much like the feel of Deathly Hallows, but only delivers in the last 12 minutes of the film.

I can go on and on, but it's time to break away from my sprawling diatribe and let the young ladies have their day. For the ladies Breaking Dawn Parts 1 & 2 are truly a heart throbbing unit to fantasize over, even if it's just a long winded romance that should have been conjugated in marriage a couple of books ago. Twilight's celebration of romance, wedding and child although more brilliantly written in Breaking Dawn Part 1, has been predictable from day one and yet it will blow the lid of the box-office this weekend as it has in the past.

The Twilight Saga: Breaking Dawn Part 2 has been rated PG-13 by the MPAA for sequences of violence including disturbing images, some sensuality and partial nudity. The CGI in the film is not as impactful as in other franchises, so most of the violence looks more hokey than disturbing.

FINAL ANALYSIS: A cherished romance finally comes to a conclusion. Young Females (grade C) Males (grade F) Combined (grade D)
-- John Delia
For more reviews please visit our film/television review section.
SPONSORED LINKS
Comments

Courtesy of
Movie Hype App
priska
i like
12/9/2014 2:03 PM EDT
haileyluvesyhu
Omg I love this movie Sooo much I've watched it 6 times
3/15/2013 6:40 AM EDT
catchingfirelover124
Well actually just watched it awesome!
3/11/2013 9:07 PM EDT
chanty
I love Twilight
2/26/2013 10:50 AM EDT
spectrum
spectrum!
2/23/2013 6:38 PM EDT
angel
Love love the Trilogy!!!
2/10/2013 6:35 PM EDT
fatmina
Bello!!
1/30/2013 8:18 PM EDT
trojanrunner13
Can't wait until it comes out on DVD!! :)
1/29/2013 7:17 PM EDT
lolout
I LOVE twilight
1/28/2013 11:41 AM EDT
cbm2001
Soo good!
1/25/2013 8:14 PM EDT
darkgoth015
This movie was AWESOME!!
1/22/2013 11:16 PM EDT