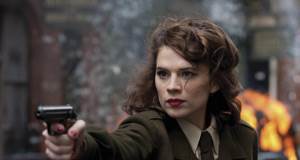 News is circulating that Haley Atwell will be reprising her role of Peggy Carter for a short film that will debut at this year's Comic-Con.

Atwell teased, "There's been an online campaign for Peggy to be featured. People really liked her. So Marvel have made sure that as part of Comic-Con there will be a little kind of snapshot as to what Peggy's actually really capable of, which was finished here and which was great fun. Hopefully, it will lead to other things."

Movieweb are speculating that the short could bridge the gap between the first Captain America movie and its sequel "Captain America:The Winter Soldier".

The British actress also confirmed she will be in the forthcoming movie that will star Chris Evans in the leading role once again.

"They're so tight, the Marvel family, and private. I can say that I am involved in some way in the second one. Just know that it's not me being cryptic, it's Marvel. They can just as easily kill me off if I threaten to tell the story before it's time. They're keeping it all under wraps."

And she would be up for a TV spin off also.

"I'd revisit Peggy again. She's pretty uptight. I'd like to, if I get a spin-off, definitely add a bit of humor in there. She's very British. Very uptight. Let's hope if she gets a spin-off it's modern day, so she can relax a little bit, let go of the uniform."

"Captain America: The Winter Soldier" is out in cinema spring 2014.