Captain America: The Winter Soldier (2014)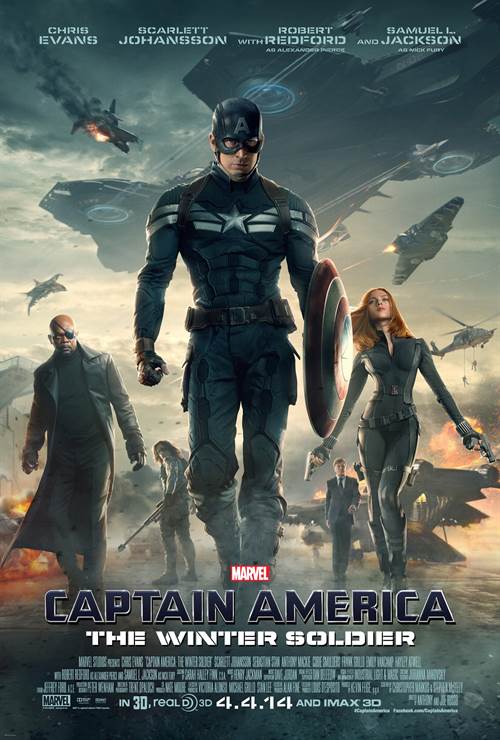 | | |
| --- | --- |
| Director: | |
| Writers: | |
| Cast: | |
| Released: | Friday, April 4, 2014 |
| Length: | 128 minutes |
| Studio: | Walt Disney Pictures |
| Genre: | Sci-Fi/Fantasy, Action/Adventure |
| Rating: | Some material may be inappropriate for children under 13. |
This film contains a scene during or after the credits.
Captain America: The Winter Soldier Synopsis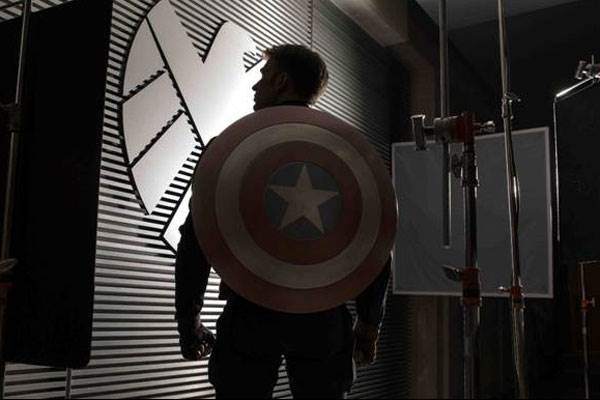 After the cataclysmic events in New York with his fellow Avengers, Steve Rogers, aka Captain America (Chris Evans), lives in the nation's capital as he tries to adjust to modern times. An attack on a S.H.I.E.L.D. colleague throws Rogers into a web of intrigue that places the whole world at risk. Joining forces with the Black Widow (Scarlett Johansson) and a new ally, the Falcon, Rogers struggles to expose an ever-widening conspiracy, but he and his team soon come up against an unexpected enemy.

Purchase DVD/Blu-ray/4K UHD physical copy of Captain America: The Winter Soldier today at Amazon.com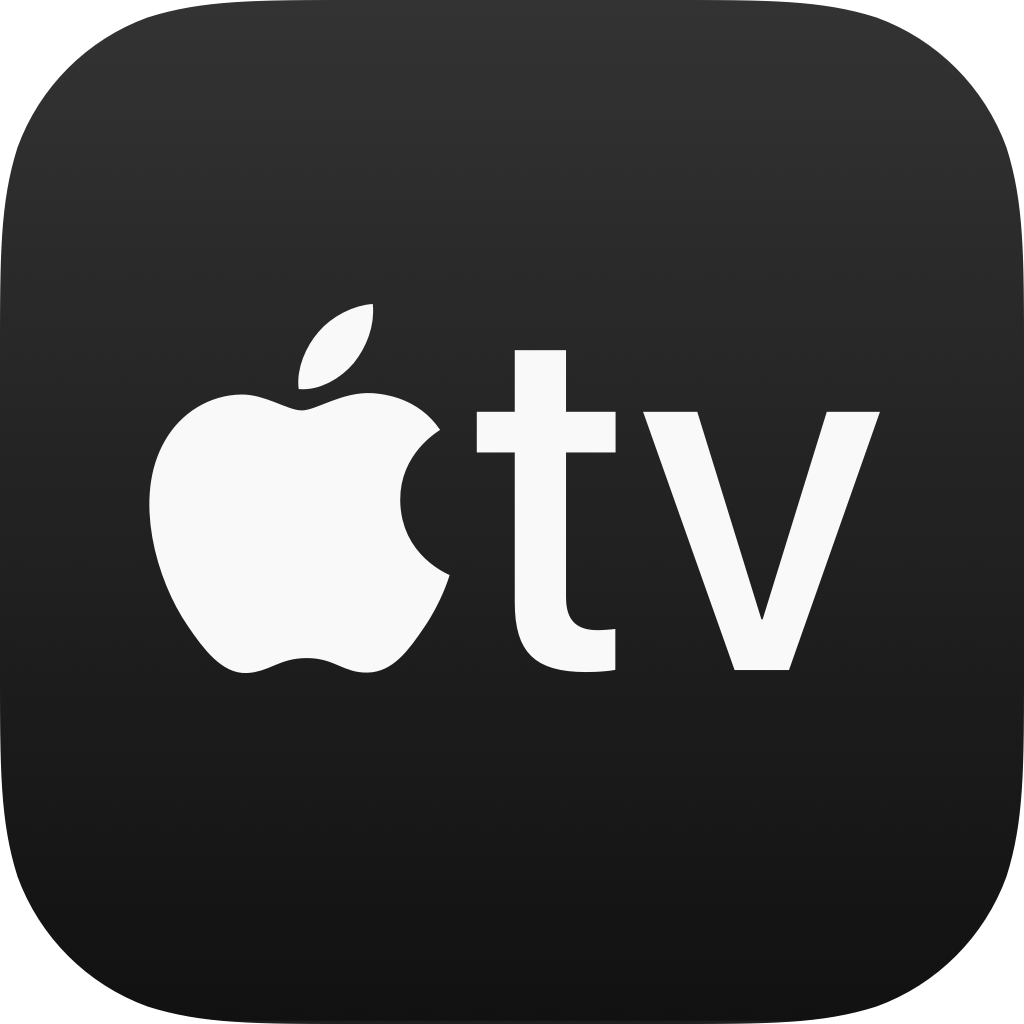 Stream Captain America: The Winter Soldier in Digital HD/4K from the AppleTV store.
Listen to the Captain America: The Winter Soldier soundtrack on Apple Music.
Captain America: The Winter Soldier images are © Walt Disney Pictures. All Rights Reserved.
Director Chosen for Captain America 4
7/8/2022 4:36 PM EST
It's been confirmed that Julius Onah will direct Marvel's "Captain America 4". Anthony Mackie will reprise his role as Sam Wilson, who became Captain America in the Disney+ series "The Falcon and the Winter Soldier". No details are available yet about the plot.Onah also directed "The Cloverfield Paradox" and the "Luce", and co-wrote "Samo Lives", a Jean-Michel Basquiat biopic....
More>>
Is Captain America is Back In The MCU?
1/14/2021 1:05 PM EST
It's being reported that Chris Evans will be reprising his role as Captain America in an as-of-yet unknown Marvel project. It is also being said that, most likely, it won't be a standalone film. It most likely will be a part of another franchise.While Chris Evans had said he would be hanging up the shield and passing along the role to another (In Avengers: Endgame he famously handed it over to Ant...
More>>
Marvel Studios Begins Production on Marvel's Captain America: Ci...
5/7/2015 12:45 PM EST
ATLANTA, GEORGIA (May 7, 2015) - Marvel Studios has commenced principal photography at Pinewood Studios in Atlanta, Georgia on "Captain America: Civil War," the third installment of its Super Hero franchise. The production will shoot on location in Atlanta, Georgia, which serves as the base for the film's production, as well as locations in Germany, Puerto Rico and Iceland.Set for release in the U...
More>>
Robert Downey Jr. to Star in Captain America 3
10/13/2014 9:49 PM EST
It has been reported that Robert Downey Jr. Will be starring in the upcoming "Captain America 3".The actor will, of course, reprise his role as Tony Stark, and the film will also mark the beginning of a crossover event with the new "Civil War" comic that is coming out next summer.  Downey Jr. will star alongside Chris Evans; no other cast announcements have been made.  "Captain America 3" is slate...
More>>
Marvel's Agent Carter Series Rumored for Television
9/19/2013 4:59 PM EST
Marvel Movies has released some short films that are featured as extras on DVD releases, and now they are looking to take those storyline and turn them into television series.ABC will be airing one such series, "Agents of S.H.I.E.L.D.", next week, and they may already have another one on the works. This series is rumored to be featuring Agent Peggy Carter, Captain America's girlfriend. The show wi...
More>>
Marvel to Release Peggy Carter Film at Comic Con
4/22/2013 2:59 PM EST
News is circulating that Haley Atwell will be reprising her role of Peggy Carter for a short film that will debut at this year's Comic-Con.Atwell teased, "There's been an online campaign for Peggy to be featured. People really liked her. So Marvel have made sure that as part of Comic-Con there will be a little kind of snapshot as to what Peggy's actually really capable of, which was finished here ...
More>>
Marvel Begins Production on Captain America 2
4/8/2013 1:57 PM EST
BURBANK, Calif. (April 8, 2013) - Following in the footsteps of the record-breaking Marvel Studios' release, "Marvel's The Avengers," production on the highly anticipated release, Marvel's "Captain America: The Winter Soldier" has commenced in Los Angeles, Calif., with production also including locations in Cleveland, Ohio, and Washington D.C. Directing the film is the team of Anthony and Joe Russ...
More>>
Robert Redford Rumored to Join Winter Soldier Cast
3/22/2013 3:11 PM EST
There are rumors swirling about that Robert Redford could be joining the cast of Marvel's  "Captain America: The Winter Soldier". Apparently, Redford would play a senior in leadership at S.H.E.I.L.D., starring alongside Samuel L. Jackson.Redford runs the Sundance Film Festival and has most recently starred in "All Is Lost", as well as "The Company You Keep", which will be released on April 5.  He ...
More>>
Captain America: Winter Soldier Will be a Political Thriller
2/25/2013 4:38 PM EST
"Captain America: The Winter Soldier" is said to be a more politically toned than the first film in the franchise, according to Marvel Studios President Kevin Feige. The previous film had more of a historical fantasy feel to it, according to Feige.When asked about comic book adaptations, he said, "If it is a fad, it's one that lasts 30 to 40 years, as the Western did, because each one is so differ...
More>>
Toby Jones to Return for Captain America the Winter Soldier
1/22/2013 4:59 PM EST
Toby Jones has confirmed that he will indeed be returning for the second Captain Americamovie "The Winter Solider".The actor was speaking to HeyUGuys at the 2013 Critics Circle Film Awards where thehis 2012 movie "Berberian Sound Studio" was voted best British film. Although he didconfirm he would be coming back to reprise the role of Nazi scientist Dr. Arnim Zola, therewas no revelation as to wha...
More>>
Possible Nick Fury Standalone Movie in the Future?
12/18/2012 10:00 AM EST
Next year sees the start of the second phase of Marvel's superheroes hitting the big screen with the much anticipated "Iron Man 3", which will be quickly followed by the second Thor movie, "Thor:The Dark World". Also, next year sees the start of production of "Captain America: The Winter Solider", where we will see the return of Samuel L Jackson as Nick Fury.While promoting his latest movie "Djang...
More>>
Will Red Skull Be Returning in Captain America: The Winter Soldier?
10/15/2012 5:03 PM EST
Hugo Weaving, who played Red Skull in "Captain America: The First Avenger" told Collider that he won't be returning to play the villain in the sequel.   Weaving said,  "I didn't think I'd be in Captain America 2 or 3. I don't think Red Skull will be there. And it's not something I would want to do again. I'm glad I did it. I did sign up for a number of pictures and I suppose, contractually, I woul...
More>>
Captain America: The Winter Soldier Theatrical Review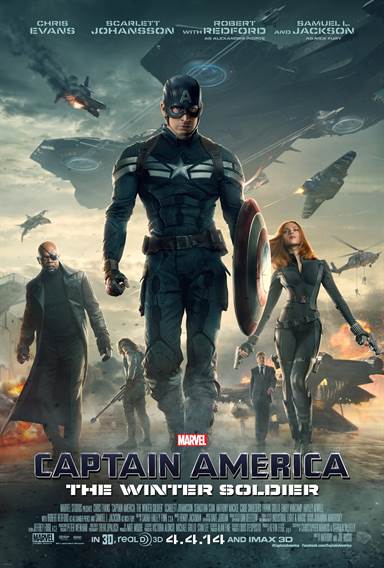 Next to the Iron Man series, Marvel's Captain America: The Winter Soldier comes in a close second. The very compelling storyline, creative action, excellent direction and above all good acting combine to put this super hero in the forefront. Not so sci-fi fantasy, the Captain works to protect and serve. He's an Ethan Hunt with more courage and abandon.

Steve Rogers has been back to his Washington D.C. routine of working out and running 2 mile laps around the National Mall following his involvement with his fellow Avengers in New York City. On one energetic day where he has just lapped Sam Wilson several times, he gets a message from S.H.I.E.L.D. headquarters that a major member has become the subject of a fatal attack. Diving head first into the fray, Captain America starts on a quest to find the perpetrators with the help of Natasha Romanoff aka Black Widow. When the he finds evidence involving a conspiracy within the controlling government branch over S.H.I.E.L.D. it leads to a diabolical plan to take over the world.

The excitement grows from the beginning car shootout to the turmoil that follows including clashes with Winter Soldier (Sebastian Stan as Bucky Barnes, Steve Rogers best friend from Captain America: The First Avenger). Directors Joe and Anthony Russo keep the momentum increasing as they move Captain America into one predicament after another. He's Ethan Hunt (Mission Impossible) on steroids, taking chances in even the most impossible situations. The Russo's work cinema magic on sets that allow for a lot of hand to hand combat and outrageous stunt work. He feeds his audience some scary visions of a captive world under the threat of an egotistical military antagonist and then inserts his heroes to bring it crashing down.

Chris Evans takes his role of Steve Rogers to another level. More dynamic than his previous two outings, he gives urgency to the film while chasing down some very proficient assailants. He shows Captain America's strengths with an elevated intelligence, agility, quickness, muscle, and stamina in the face of impossible odds. Much like the other members of S.H.I.E.L.D., he's determined to come out on top.

Two cohorts help the Avenger, Black Widow played by Scarlett Johansson with sharp martial arts abilities, crafty planning, but mostly relentless pursuit of their foes. She's more visible in this episode of Captain America than any other Avenger film and delivers a kick-ass character. Her chemistry with Evans makes the excitement work from combat to even a little romance. His other accomplice is Anthony Mackie as Sam Wilson aka Falcon busts some exciting moves as he flies into danger helping Rogers escape and drawing the opposition away in the heat of battle. In some cases Mackie adds some comic relief to the compelling tale. It's the first appearance by Falcon in an Avenger movie and a welcome one at that.

Captain American: The Winter Soldier has been rated PG-13 for intense sequences of violence, gunplay and action throughout. The story is one of the better scripts involving an Avenger played out on the screen. The film may get a little too forceful for the very young, so keep this in mind when choosing to bring immature children to the movie.

FINAL ANALYSIS: More of a compelling film than a sci-fi thriller and that's a good thing. (4.5)
-- John Delia
For more reviews please visit our film/television review section.
SPONSORED LINKS