Captain America: The First Avenger (2011)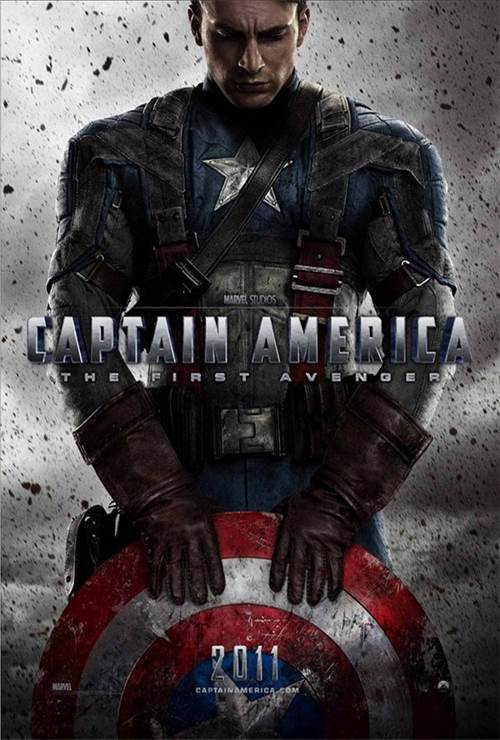 | | |
| --- | --- |
| Director: | |
| Writers: | |
| Cast: | |
| Released: | Friday, July 22, 2011 |
| Length: | 124 minutes |
| Studio: | Paramount Pictures |
| Genre: | Sci-Fi/Fantasy, Action/Adventure |
| Rating: | Some material may be inappropriate for children under 13. |
Captain America: The First Avenger Synopsis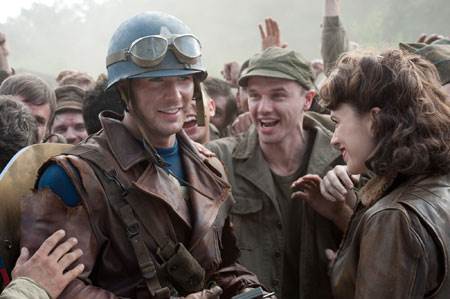 It is 1941 and the world is in the throes of war. Steve Rogers (Chris Evans) wants to do his part and join America's armed forces, but the military rejects him because of his small stature. Finally, Steve gets his chance when he is accepted into an experimental program that turns him into a supersoldier called Captain America. Joining forces with Bucky Barnes (Sebastian Stan) and Peggy Carter (Hayley Atwell), Captain America leads the fight against the Nazi-backed HYDRA organization.
Captain America: The First Avenger images are © Paramount Pictures. All Rights Reserved.
Harrison Ford Set to Star in Captain America: New World Order
10/17/2022 2:34 PM EST
Harrison Ford has officially signed on to star in Marvel's "Captain America: New World Order" as General Thaddeus "Thunderbolt" Ross.Ford will join a cast that includes Anthony Mackie, Shira Haas, Tim Blake Nelson, and Carl Lumbly. The character of G...
| Full Article
Director Chosen for Captain America 4
7/8/2022 4:36 PM EST
It's been confirmed that Julius Onah will direct Marvel's "Captain America 4". Anthony Mackie will reprise his role as Sam Wilson, who became Captain America in the Disney+ series "The Falcon and the Winter Soldier". No details are available yet abou...
| Full Article
Is Captain America is Back In The MCU?
1/14/2021 1:05 PM EST
It's being reported that Chris Evans will be reprising his role as Captain America in an as-of-yet unknown Marvel project. It is also being said that, most likely, it won't be a standalone film. It most likely will be a part of another franchise.Whil...
| Full Article
Marvel Studios Begins Production on Marvel's Captain America: Ci...
5/7/2015 12:45 PM EST
ATLANTA, GEORGIA (May 7, 2015) - Marvel Studios has commenced principal photography at Pinewood Studios in Atlanta, Georgia on "Captain America: Civil War," the third installment of its Super Hero franchise. The production will shoot on location in A...
| Full Article
Robert Downey Jr. to Star in Captain America 3
10/13/2014 9:49 PM EST
It has been reported that Robert Downey Jr. Will be starring in the upcoming "Captain America 3".The actor will, of course, reprise his role as Tony Stark, and the film will also mark the beginning of a crossover event with the new "Civil War" comic ...
| Full Article
Marvel's Agent Carter Series Rumored for Television
9/19/2013 4:59 PM EST
Marvel Movies has released some short films that are featured as extras on DVD releases, and now they are looking to take those storyline and turn them into television series.ABC will be airing one such series, "Agents of S.H.I.E.L.D.", next week, an...
| Full Article
Robert Redford Rumored to Join Winter Soldier Cast
3/22/2013 3:11 PM EST
There are rumors swirling about that Robert Redford could be joining the cast of Marvel's  "Captain America: The Winter Soldier". Apparently, Redford would play a senior in leadership at S.H.E.I.L.D., starring alongside Samuel L. Jackson.Redford runs...
| Full Article
Captain America: Winter Soldier Will be a Political Thriller
2/25/2013 4:38 PM EST
"Captain America: The Winter Soldier" is said to be a more politically toned than the first film in the franchise, according to Marvel Studios President Kevin Feige. The previous film had more of a historical fantasy feel to it, according to Feige.Wh...
| Full Article
Toby Jones to Return for Captain America the Winter Soldier
1/22/2013 4:59 PM EST
Toby Jones has confirmed that he will indeed be returning for the second Captain Americamovie "The Winter Solider".The actor was speaking to HeyUGuys at the 2013 Critics Circle Film Awards where thehis 2012 movie "Berberian Sound Studio" was voted be...
| Full Article
Possible Nick Fury Standalone Movie in the Future?
12/18/2012 10:00 AM EST
Next year sees the start of the second phase of Marvel's superheroes hitting the big screen with the much anticipated "Iron Man 3", which will be quickly followed by the second Thor movie, "Thor:The Dark World". Also, next year sees the start of prod...
| Full Article
Will Red Skull Be Returning in Captain America: The Winter Soldier?
10/15/2012 5:03 PM EST
Hugo Weaving, who played Red Skull in "Captain America: The First Avenger" told Collider that he won't be returning to play the villain in the sequel.   Weaving said,  "I didn't think I'd be in Captain America 2 or 3. I don't think Red Skull will be ...
| Full Article
Captain America to Begin Filming March 2013
9/13/2012 12:26 PM EST
After Marvel releases  "Thor: The Dark World", they will be set to release the Captain America sequel "The Winter Soldier", and the other day it was reported that Chris Evans said that filming will begin in March 2013.Starring in the film alongside E...
| Full Article

Movie / Film Review
So Captain America has finally arrived with all the red, white, and blue, or should I say black and blue. This is the story of a puny outcast and how he becomes the hero of America, although at first he is treated as a side show attraction. It is very interesting how the Director accompl...
SPONSORED LINKS