Jul 11, 2013 02:30 PM EST
An Interview With World War Z's Abigail Hargrove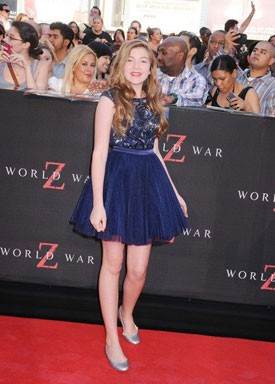 FlickDirect's Marco Chacon recently interviewed Abigail Hargrove, who plays Rachel Lane, daughter of Brad Pitt's character Gerry, in the film adaptation of World War Z.

FlickDirect: I saw World War Z last night and I loved it. I know it's PG-13 but I wasn't entirely clear on your age. Have you seen it? What did you think?

Abigail Hargrove: I'm 14, so yes-I saw it. I loved it.

FlickDirect: What was the coolest thing you got do during shooting it?

Abigail Hargrove: I got to see tons of London and I got to hang out with the coolest people ever. The cast was so great!

FlickDirect: How was working with Brad Pitt? Any Brad Pitt stories from the set?

Abigail Hargrove: He was really great working with us kids. He had a great sense of humor. When I first got to London before we were shooting, Brad's assistants called us and asked if we were available to meet with Brad out in the country club outside of London. We got to eat zombie cookies and had ice cream with him-and had a really good time!

FlickDirect: How long did the shooting in London run?

Abigail Hargrove: I was over there for 3 months.

FlickDirect: Tell me about the sets and the ships?

Abigail Hargrove: The sets were huge. The scene where we go from the helicopter to the ship-that wasn't an effect. That was real, we went out to a British Navy ship.

FlickDirect: I couldn't tell if that was a special effect or not. This was your first Hollywood film. What did you learn?

Abigail Hargrove: I got tons of experience with seasoned actors. I got to see how they managed their emotions and stuff. That taught me a lot.

FlickDirect: What was the hardest thing you had to do on set?

Abigail Hargrove: The hardest scene was where we had to run up four flights of stairs all tied together. We had to do it over and over and over-tons and tons of times. It was really hot in the staircase. They wanted to see every different angle and get close-ups. When we got to the top of the stairs we had to shove this pile of junk down and had to reset that over and over. That was the scene I shot the most.

FlickDirect: Tell me about the rooftop scene with the helicopter.

Abigail Hargrove: They had it on a crane-so we would climb in and then get out and the crane would lift it.

FlickDirect: What about the audition for WWZ?

Abigail Hargrove: I knew it was a Brad Pitt film in the making for quite a few years. They were auditioning for my part in London, New York, and California. I knew they had like 200 girls and I didn't have a lot of faith in getting the part. I read a single scene and I got a call that I was a possibility-and then I got the call that I got the part! I didn't even read a second round. It was awesome.

FlickDirect: You did great in the movie. Is there anything you're working on now?

Abigail Hargrove: Tonight are the Saturn Awards and I'm presenting awards for winners who are unable to make it. So I'm handing out the award for the people who they designated.

FlickDirect: Great talking to you, and good luck!

This interview has been edited and condensed.
comments powered by

Disqus