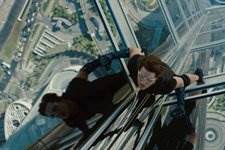 It has been rumoured for a while now that Jack Reacher director Christopher McQuarrie was being lined up to once again team with Tom Cruise for the next installment of the highly popular Mission: Impossible franchise. And today it was confirmed by the director himself via his Twitter feed.
Mission: Accepted

- ChristopherMcQuarrie (@chrismcquarrie) August 5, 2013
McQuarrie has been hotly anticipated to direct M:I 5 since even before the release of Jack Reacher late last year, and the director appeared with Cruise at last month's San Diego Comic Con to promote Cruise's next movie, Edge of Tomorrow, which McQuarrie helped to adapt.


Countdown to the release of Mission Impossible 5, with the iPhone Movie Countdown Clock App.