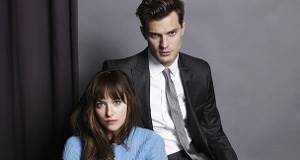 "Fifty Shades of Grey" fans are excited to see a film adaptation being made, but they shouldn't expect to see quite as many sexually explicit scenes as in the books.

Filming has already begun, and according to producer Michael De Luca, "We're very conscious of not making anything 84th Academy Awards Nominations Luncheon - Arrivalsgratuitous or exploitive while being faithful to the stories of the book and to the fans of the book," said De Luca this morning at the Sundance Film Festival. "We're going to give them what they expect, which is an intense and erotic love story. Obviously the film can't be as explicit as the book." He went on to say, "A picture is worth a 1000 words. So to be erotic onscreen means I think an image is going to have way more power than reading the words on a page."

The film adaptation of the E.L. James novel will be released on February 13, 2015.