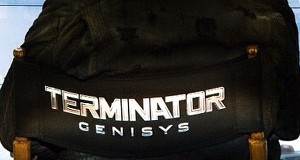 Arnold Schwarzenegger has revealed, via Instagram, the title of the latest film in the "Terminator" franchise. Schwarzenegger is sitting in the picture, with the words "Terminator Genisys" emblazoned on the back of his chair. Check out the full pic here.

In the post, Schwarzenegger thanked the cast and crew and said it was a "fantastic shoot. It was challenging, it was fun, and it was rewarding."

The film will star Emilia Clarke and Jason Clarke as Sarah and John Connor, Jai Courtney, Doctor Who alum Matt Smith, Byung-Hun Lee, and JK Simmons.

"Terminator Genisys" is slated for July 1, 2015 release.