Terminator Genisys (2015)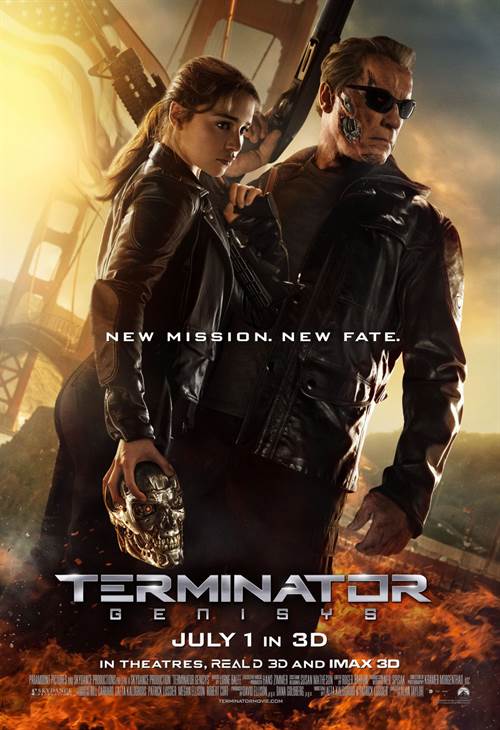 | | |
| --- | --- |
| Director: | |
| Writers: | |
| Cast: | |
| Released: | Wednesday, July 1, 2015 |
| Length: | 125 minutes |
| Studio: | Paramount Pictures |
| Genre: | Sci-Fi/Fantasy, Action/Adventure |
| Rating: | Some material may be inappropriate for children under 13. |
This film contains a scene during or after the credits.
Terminator Genisys Synopsis
When John Connor (Jason Clarke), leader of the human resistance, sends Sgt. Kyle Reese (Jai Courtney) back to 1984 to protect Sarah Connor (Emilia Clarke) and safeguard the future, an unexpected turn of events creates a fractured timeline. Now, Sgt. Reese finds himself in a new and unfamiliar version of the past, where he is faced with unlikely allies, including the Guardian (Arnold Schwarzenegger), dangerous new enemies, and an unexpected new mission: To reset the future…
Terminator Genisys images are © Paramount Pictures. All Rights Reserved.
More Terminator Films Expected In Future After Some "Readjustments"
10/7/2015 2:18 PM EST
Terminator:Genysis didn't fare as well as expected, but that doesn't mean we won't be seeing more films for the franchise. However, don't expect them to be released any time soon.Dana Goldberg, Skydance Media's chief creative officer, recently spoke ...
| Full Article
Know Your Terminators Before You Go See Terminator Genisys
6/19/2015 12:59 PM EST
Terminator fans, It's time once again to brush off your best Arnie impersonation in anticipation of the latest release in the Series TERMINATOR: GENYSIS. Coming to Theaters in time for the Fourth of July Holiday weekend, TERMINATOR:GENYSIS once again...
| Full Article
The Terminator Takes Over Waze Navigation
6/15/2015 1:49 PM EST
HOLLYWOOD, CA (June 15, 2015) - To celebrate the release of the highly anticipated film "TERMINATOR GENISYS," Paramount Pictures, Skydance Productions, Arnold Schwarzenegger and Waze (www.waze.com), have teamed up to give drivers around the world the...
| Full Article
Schwarzenegger to Star in Terminator 6
2/25/2015 2:14 PM EST
Terminator Genisys will be released this summer, bringing about a new trilogy for the franchise. Arnold Schwarzenegger will be reprising his role for this year's film, but many wondered if he would make it into the other two. But the Terminator himse...
| Full Article
Arnold Schwarzenegger Reveals Latest Terminator Film Title
8/6/2014 3:19 PM EST
Arnold Schwarzenegger has revealed, via Instagram, the title of the latest film in the "Terminator" franchise. Schwarzenegger is sitting in the picture, with the words "Terminator Genisys" emblazoned on the back of his chair. Check out the full pic h...
| Full Article
Arnold Schwarzenegger On Terminator Genesis Film
3/18/2014 9:49 AM EST
Arnold Schwarzenegger recently spoke about his upcoming film, "Terminator Genesis"; something he has been a bit tight lipped about.  "The way it reads, it has the same feel of Terminator 2. It's big. There's hardcore action and it has some really gre...
| Full Article
Jai Courtney to Star in Terminator Reboot
2/19/2014 3:45 PM EST
Jai Courtney, who starred in "A Good Day to Die Hard" and "Jack Reacher", has been cast as Kyle Reese in the upcoming "Terminator" reboot.The film will also star Emilia Clarke, who will be playing Sarah Connor and Jason Clarke, who will be playing Jo...
| Full Article
Terminator Series To Be Launched in 2015 Along With Feature Film
12/6/2013 4:19 PM EST
Skydance Prods. and Annapurna Pictures will be releasing a "Terminator" series in conjunction with the film that will be released in 2015.The show will follow the 1984 film, but will be going in a completely different direction. The same is expected ...
| Full Article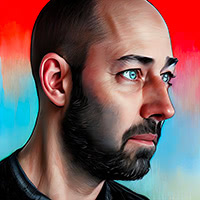 Movie / Film Review
I give Terminator Genisys 2.5 gigabytes out of 5, which is nowhere enough memory to get the Genisys program up and running!
SPONSORED LINKS