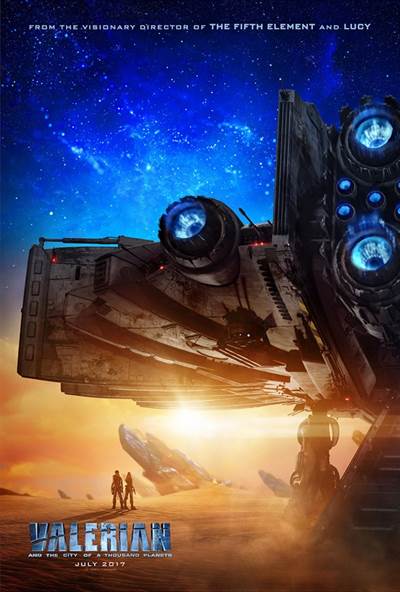 From the trailer alone, Valerian and The City of a Thousand Planets, seems to be sci-fi thriller made up of different parts of Doctor Who, Star Trek, Avatar, and many other popular Sci-Fi movies around. The combination alone - just in the trailer- makes me want to calendar the premiere of this movie - July 21m 2017- to make sure I don't miss it. So many Sci-Fi movies are one sided- they tell one story- one theme- but Valerian and The City of a Thousand Planets seems to be a thousand bits and pieces from different story lines, to include drama, romance, fantasy, and even a little bit of comedy, thrown in.

The description of this movie found on the internet seems bland compared to the trailer. Dane DeHaan and Cara Delevinge play special operatives, Valerian and Laureline. They work for the human government as special forces, keeping order throughout the universe. Traveling to an intergalactic city where diverse species share their knowledge to help one another, the Special Op become embroiled in battle with the evil forces threatening the city.

Besides DeHaan and Delevinge, Rihanna, Kris Wu, John Goodman, and Ethan Hawke, round out this all star cast. All well known and highly respected actors, each is usually cast in a specific genre. The combination of the casting of these particular actors shows how little the description of the movie reveals as compared to the trailer presented. If Director and Producer Luc Besson and Producer Virginie Silla created an entire movie as intriguing as the trailer, Valerian and The City of a Thousand Planets is sure to be one of the 2017 summer blockbuster hits in it's opening weekend, alone.