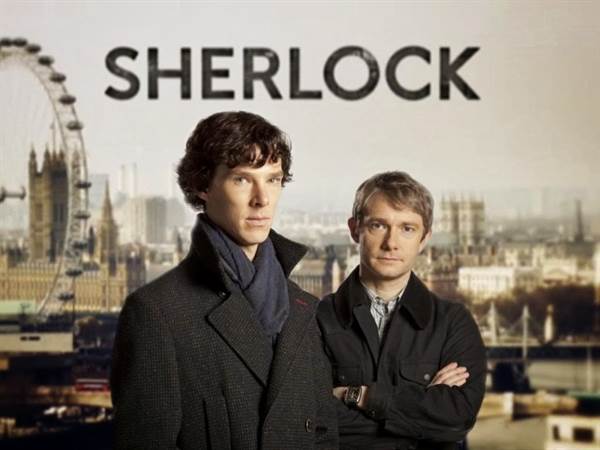 Is this is the End of Sherlock? Fans around the world are wondering if this could be the last episode we will see of this mystery-psyche thriller crime solving series starring Benedict Cumberbatch (Doctor Strange) as Sherlock Holmes and his sidekick, Dr. John H. Watson, cleverly played by Martin Freeman (Fargo, The Hobbit). Sherlock's series (season in the U.S.) finale that aired on television on Sunday, January 15, 2017, is not the last of Sherlock- you can still have one more chance to see it on the big screen on Wednesday, January 18, 2017 at 7:00 p.m. at a theater near you. Check out fathomevents.com for local listings and this not-to-miss-event.

Fathom Events brings this episode to the big screen. While the announcer tells you not to leave after the credits as they will air a short movie theater exclusive short, the short was actually played before the episode aired and after the way the episode ended, I, for one, and truly glad I left the theater with Sherlock on my mind. The short stars Mrs. Mary Watson (Amanda Abbington; The Booze Cruise) as she gives her perception of what it was like to be part of the famous crime-solving team. Abbington provides valuable insight into the relationship of Sherlock and Watson, and herself, as well as insight into what went into become Mary Watson. Abbington was clearly taken and fascinated with becoming Mrs. Mary Watson and she provides a clear perception of how she managed to become this character.

After the short, Fathom Events presents its feature presentation- Sherlock's Series 4 Finale - "The Final Problem". Mycroft Holmes, (Mark Gatiss; Co-creator and Co-writer of Sherlock) Sherlock's older brother, has always alluded to another Holmes sibling, but infers there may have been another brother, yet this episode is all about the Holmes' sister- Eurus Holmes, who has been locked away in high security lock down facility since she was a child. Mycroft provides many of the initial crime details for Sherlock to solve this mystery because this is a psychological thriller and one that involves Sherlock directly. A thriller in that this mystery has been hidden away for many years - in the deepest part of the unknown abyss that we call Sherlock Holmes' mind. In fact, one of the surprises is that Mycroft is as devious as Sherlock can be and the lengths that he has taken to protect Sherlock all these years is surprising, considering that it has always appeared that neither brother really liked each other all that much. Gatiss has not gotten enough credit for his role as an actor in Sherlock. He provides a much needed road block for Sherlock to run up against all the time and he challenges Sherlock with a genius that even Watson cannot comprehend. Where many other actors are overwhelmed by taking on too many roles, Mark Gatiss proves that not only can he create and write his lines, but he can deliver them as if the words roll off his tongue. His disdain for Sherlock is present at every turn and it is natural. There is nothing in his acting that would make anyone think he has any compassion for his little brother and when you see that big brother side to him, it hits you like a brick wall.

Martin Freeman has played Dr. John Watson throughout the entire series. Dr. Watson is a former army doctor who suffers from PTSD and walks with a cane. After trying to constantly catch up to Sherlock, literally, the cane disappears and it's a wonder he functions so well with Sherlock with the PTSD. In this final episode, he tells Sherlock that "Today we are soldiers", being the backbone of the team as he has done in every episode. In prior episodes, Dr. Watson's character has always been put in danger without advance notice. In this episode, their lives are at stake and they each know that as fact. It is Dr. Watson that reminds them and keeps everything in perspective. Freeman is excellent at his portrayal of Watson. Throughout series 3 and 4 , Steven Moffat and Gatiss, co-creators and co-writers, have really developed Watson's personality. He role is classically acted - not too gentle and not too forceful- just the right mix for you to realize that Watson is the reason everyone is still alive to play Eurus' game.

It's funny to hear Amanda Abbington refer to Benedict Cumberbatch as "Ben" in the short, but he is the star of the show. Narcissistic, sociopath, and ego-centric to say the least, Cumberbatch's performance as Sherlock Holmes is captivating. Whatever pops into his head comes out of his mouth, he talks too fast, and he's a genius that makes sure that everyone knows he's smarter than they. Cumberbatch has this persona so down pat that it's no wonder that he was chosen to play Doctor Strange, an egocentric surgeon, on the big screen. Cumberbatch brings forth almost a strange calmness to his character because you know he'll always solve the crime and get his man. Yet, in "The Final Problem", Sherlock is faced with realizing that there is someone who rivals his thought process and possibly even exceeds it. He has to face his past- albeit one he doesn't even remember- and the fact that there was one mystery/crime he was never able to solve hangs over his head like the plague.

"The Final Problem" is all about the whole Holmes' family and not just the relationship between Mycroft and Sherlock. After all, everything has always been about Sherlock and if the series is truly coming to an end, the "The Final Problem" was written brilliantly to bring closure to the story of our favorite crime-solving detective and his sidekick. The genius Moffat and Gatiss had with this episode was the closure it provided with most of the story lines, yet the fans can still have some hope of a Series 5. The storyline was clear and the ending provided deep insight into the psyche of those involved, which is the true purpose of Sherlock to begin with. Is "The Final Problem" the end of Sherlock? Or, will there be an announcement confirming the actors' commitment to continuing the story of Sherlock and Watson?

Fathom Events took one of the most watched television series on TV in both the U.S. and the U.K. and brought it to the big screen for a can't miss opportunity. The short with Abbington provides insight that cannot be gleaned from watching Sherlock on TV or an app and the dynamic of watching Cumberbatch and Freeman on screen together is breathtaking.

Don't miss the final night, Wednesday, January 18, 2017, at a theater near you for this incredible event. Check out fathomevents.com for advance tickets and times.