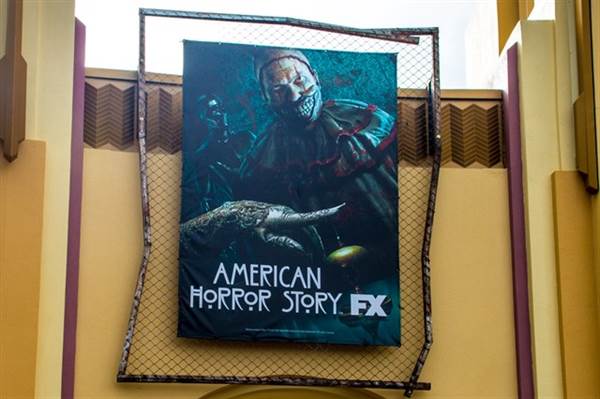 It has been announced that American Horror Story will once again make an appearance at Universal Orlando's Halloween Horror Nights.

Starting on Friday, September 15, guests will encounter iconic scenes and come face-to-face with the memorable - and horrifying - characters from the series, as well as a new maze.

Michael Aiello, Sr. Director of Entertainment Creative for Universal Orlando Resort, said, "We are thrilled to bring the incredible storytelling and iconic characters of 'American Horror Story' back to Halloween Horror Nights for a second year. Last year, 'American Horror Story' was the highest guest-rated haunted house in Halloween Horror Nights history - and we can't wait to immerse our guests in all-new horrors from the show."

Universal Orlando's all-new, incredibly-detailed maze will bring three new installments of the "American Horror Story" anthology to life. In Asylum, guests will travel through the decades of the notorious Briarcliff - evading Dr. Arden's grotesque human "Rasper" experiments and coming face to "face" with the serial killer, Bloody Face. In Coven, New Orleans aesthetics will surround guests as they're drawn into the bloody rivalry between the descendants of the Salem witches, the voodoo Queen of New Orleans Marie Laveau, and the sadistic Madame Delphine LaLaurie. And finally, guests will relive the horrific story of the Millers in Roanoke - where they'll be at the mercy of Piggy Man, the grisly Polk family and the ghosts of the blood moon.

"The thought of guests once again experiencing up-close multiple installments of Ryan Murphy's incredible 'American Horror Story' series is deeply disturbing, bone chilling, and immensely satisfying. We are thrilled to partner with Universal Studios to present an all-new version of last year's "Halloween Horror Nights" all-time fan-favorite maze," said Greg Lombardo, SVP of Global Live and Location Based Entertainment, FoxNext Location Based Entertainment.

Halloween Horror Nights is an extremely popular event held at the resort annually, and this year will be held for an unprecedented 34 select nights from September 15 to November 4.

More details will be available soon, so be sure to visit www.HalloweenHorrorNights.com/Orlando.